Dundee United and its fans need to call a three-month truce. That's my conclusion at the end of my first madcap week as club consultant, and concessions will need to be made on each side.
Two of the fans groups I have met want Stephen Thompson and his board to resign. As a consultant I've put that to the United chairman but cannot guarantee to deliver it, because like it or lump it he and his sister are the major shareholders.
At one stage some of the groups thought administration was a good option until the brutal realities were pointed out that liquidation and the death of the club might follow. It's one thing buying a football club; it's another thing finding the money to run one.
My early advice to him was that he needs to have an exit plan and soon, and he accepts that, but he is not leaving tomorrow. He may not be there in a year's time though. He knows his time at the club is nearing an end, but he won't walk out the door and hand the keys over to anyone without the means to run the club.
Folk offering a pound for the club is all very well, but can someone run it for a pound? Thompson and the United fans need to work out a dignified exit solution which sees him leave and a new stable board with expertise and money replace him. That takes time and possible investors naturally take fright at the hassle and venom involved in football.
Many fans also want him to be more open about where the money from transfer fees has gone. He says that is all in the club accounts, but the club is a private company and he and the shareholders have the right to withhold certain information. Fans don't have to like that situation but they at least need to acknowledge it.
Fans also have the absolute right to withhold their purchase of season books, but it will cause cash flow problems for the new manager and hamper his chances of a one-season return to the top league. But it's their call and has to be considered with full possession of the potentially dangerous outcome for the club.
I have been trying to assess broad supporter goodwill for change and will end the practice of speaking only to small selected groups of fans. Changes to be implemented will include an Arab battlebus to tour Dundee, Angus and other areas for all United fans to meet the manager, players, chairman and other key folk at the club.
Monthly open meetings for all fans will be held and there will also be a weekly drop-in surgery at Tannadice for supporters to have a cuppa and raise any issues troubling them.
The nonsense of not being able to buy a ticket on the day of the game at the George Fox stand will also be sorted.
Rome wasn't built in a day and neither will United be rebuilt in a day.
But the job is now under way so it's all aboard the Arab Battlebus.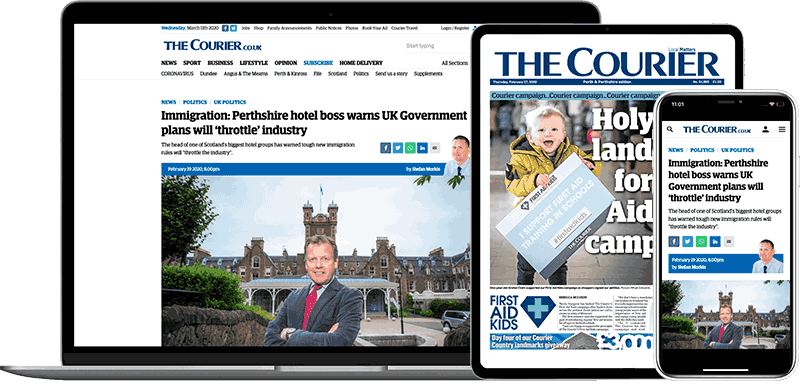 Help support quality local journalism … become a digital subscriber to The Courier
For as little as £5.99 a month you can access all of our content, including Premium articles.
Subscribe