The excitement surrounding Scottish domestic football is currently in inverse proportion to that surrounding the national team.
While apathy envelops Gordon Strachan's side, Premiership season books are hurtling out the doors at Celtic Park, Ibrox, Pittodrie and Tynecastle and other grounds in big numbers.
Meantime, the Championship, comprising some of our game's strongest clubs has set the imagination of fans ablaze.
Scottish cup winners Hibs, buoyed by new manager Neil Lennon, are shifting tickets like ice cream on a summer's day and closing fast on a figure of 10,000.
At Tannadice, Dundee United are already almost halfway to meeting their season book target while Dunfermline sales are also reported to be very strong.
A sense of tribalism is ultimately why we support our teams and this season some great rivalries are assured, which means that fans' taste buds have been tempted and titillated.
Strong season book sales allow managers and clubs to get ahead of their rivals and plan their signings, giving them more freedom to build their teams and capture the right players.
The Scottish game is constantly beset by doomsayers, yet regularly proves to them that rumours of its imminent demise are greatly exaggerated.
Next season already looks like being a hugely exciting one and the fans are already voting with their wallets and booking their seats.
* Truly great athletes are a species apart and this last week, we've witnessed one sadly pass away, and another continue to prove himself on the world stage.
All men die, but not all men live goes an old saying. Muhammad Ali's death robbed boxing of a man who encompassed grace, panache, substance and style in and out of the ring. He lived life to the maximum and was a towering giant either side of the ropes.
Boxing is a brutal sport and was arguably in a terminal state of decline when Ali's entrance to the ring helped to rescue it with his showmanship and pzazz bringing the fight game alive, and ensuring massive audiences on television and in the arenas.
We are unlikely to ever again witness in one package a man who could entertain and philosophise, let alone box, so magnificently.
Andy Murray on the other hand is very much alive and despite his defeat on clay in the French open to Novak Djokovic last weekend, we are fortunate to have him in a country where great tennis players are as rare as the lesser-spotted Yeti.
Some complain that Murray does not have what it takes at the very top level, but that is a ludicrous assertion given that he plays in an era where Djokovic, Federer and Nadal surely rate as the finest players in the history of the sport.
The level of competition he has faced at top level has been tougher than teak yet Murray is currently ranked number two in the world.
On grass at Wimbledon in a few weeks' time Murray will be in his element. Grass suits our man and if he can keep his mind focused he has already proven that he has the game to beat anyone on his day.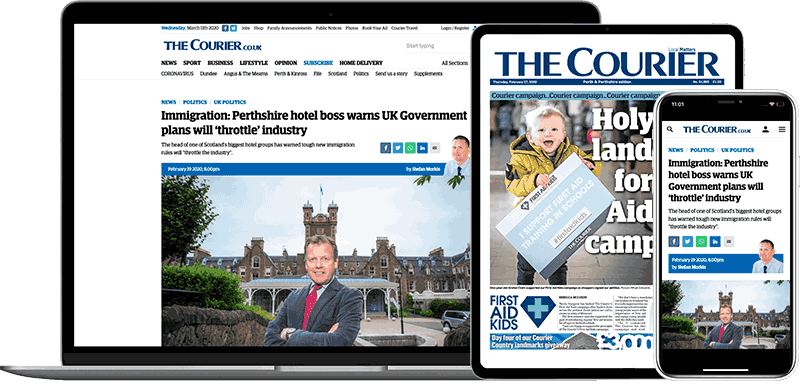 Help support quality local journalism … become a digital subscriber to The Courier
For as little as £5.99 a month you can access all of our content, including Premium articles.
Subscribe