Celtic's 7-0 hammering at Barcelona was hailed by some critics as a humbling. I disagree. A team is humbled if it doesn't give of its best in application, effort and commitment.
Brendan Rodgers' side were not guilty of any of those things, they were simply incapable of matching the speed of action and thought required to compete with a Barcelona side of whirling perpetual motion, a once-in-a-lifetime assemblage of genius: A true Uber team.
Celtic's task was the equivalent of Hawkhill Harriers' fastest man racing Usain Bolt: mission impossible. Celtic played five at the back but at the level of opponent they were faced with, systems become irrelevant.
Against individuals gifted with both mesmerising natural and coached instant touch and precision ball control in the tightest of spaces, Celtic were simply incapable of the speed of reaction required to cope with the accuracy and tempo of passing, which confused and confounded them as less quick-witted opponents.
I worked as trackside TV reporter when Scotland lost 3-1 in Alicante to Spain in 2011 in the Euro qualifiers. Five yards from the pitch is an incredible vantage point to watch players who are almost superhuman in their football talents. That night with Xavi, Silva, Alba and others, the World and European champions were, as Stephen Naismith said to me in his post-match interview, 'unplayable'.
At their best, so too are Barcelona who have elevated football to an art form, one which lesser football mortals cannot hope to imitate.
In Scotland we need to find out exactly how that level of Barcelona brilliance is reached. My view is that it's nothing unearthly, but simply a combination of identifying the finest natural talent and freeing it to express itself within a coaching environment where the ball is at the centre of every waking moment: where skills are honed and perfected before the terrors of formations and systems can destroy the natural inventiveness and inquisitiveness of players.
There is also something in the physiology of the truly top players which I think confuses us in Scotland. An athlete is not necessarily as we seem to think, someone who is six foot tall and can run all day — a "good engine", in our dated and traditional football parlance. The best footballers, as Barcelona proved, are graceful, supple, balletic, with perfect balance and poise, and a smooth natural body rhythm which marks them out from stiffer less agile journeymen pros.
The also have an instinctive natural feel for the ball which is allowed to flourish on the training ground. That's perhaps the reason the Catalan players perform with a smile on their faces.
Barcelona are simply the best on the planet, their heavenly football exists on a spectral plane to which others cannot ascend.
The Real Mackay
St Johnstone's Dave Mackay hung up his boots this week after a long battle with injury finally inflicted defeat on him.
He never took losing well but this is one battle he concedes with honour.
As a dedicated club man he was a shining example to his trade. As a role model, 'Cup Tie' McKay, was the perfect professional.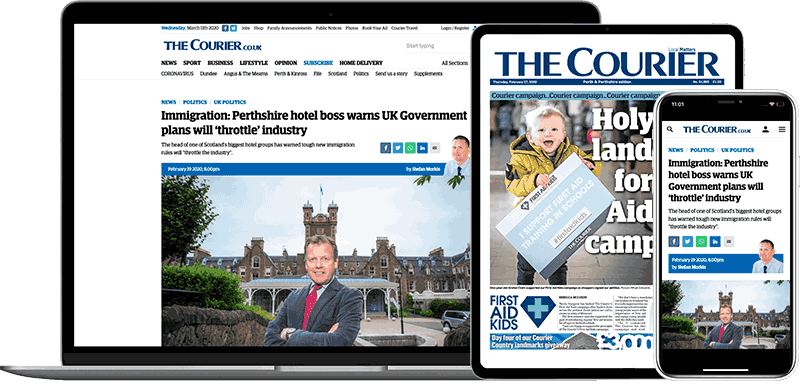 Help support quality local journalism … become a digital subscriber to The Courier
For as little as £5.99 a month you can access all of our content, including Premium articles.
Subscribe