Robbie Neilson's new job as manager of MK Dons shows how far down the pecking order Scottish football has fallen.
The Hearts boss has left Scotland's third best supported club for one in the third tier of English football. So is it a wise move?
His former rival at Hibs, Alan Stubbs, took less than five months to go from hero to zero in the brutal world of English football management.
Having ended their 100-year-old Scottish cup hoodoo last May, the likeable Scouser was sacked by Rotherham after a disastrous tenure with just one win in 13 league games.
Former Dundee United boss Jackie McNamara also had a nightmare at York City, where he bizarrely stepped down as manager, having left the side lying 19th in the Conference, to even more bizarrely become chief executive.
For every Scot who has found the managerial high road to England paved with riches and success, there are many who have found it to be a career graveyard.
There is an understandable financial attraction for Scots bosses to head for the bright lights of the south, but the dangers are all too apparent.
Stripped of their network of contacts and friendly faces in the smaller pond in Scotland, and without knowing the lie of the land, they can quickly find they are swimming with the piranhas.
As many have discovered they can be eaten alive very quickly. Sometimes the old saying East, West, Hame's best, is true in football.
* Should football follow rugby's lead and introduce bonus points?
From next season the six nation's championship will reward those teams scoring four tries or more with one point and will change from two points to four points for a win.
Would football benefit from such a system designed to encourage attacking play? The object of any sport is to win, so anything which encourages more attacking and entertaining play in theory should be welcomed.
The disparities in our top set up however, with Celtic threatening to be utterly dominant for years to come with their massive financial advantage over others, would result in a top league table which is even further skewed.
As it is the Premiership gap at the top between the Parkhead side and the rest is unbridgeable. Bonus points, although a good idea in theory, would leave our game looking like even more of an embarrassing one horse procession than it currently is.
* The Sports personality of the year award will undoubtedly be won by Andy Murray and rightly so since he is the nation's top sporting star by a country mile.
However, the roulette table nature of choosing who makes the list and who doesn't is emphasised by the absence of Chris Froome.
When the winner of the Tour De France, arguably the most demanding physical sporting event on the planet is absent, the event becomes a laughing stock. It's no more about sporting achievement than fly in the air.
The criteria for judging it is fundamentally and fatally flawed.
All top stars who have reached the pinnacle in their respective sports are winners as far as I'm concerned.
* Nico Rosberg's shock announcement that he is quitting Formula one should be applauded.
Great sports stars know that the time to get out is when you can achieve no more and that the only way is down.
At 31, the German must have known that the likelihood of repeating a win of his first world title, which he did on Sunday in Abu Dhabi, was slim.
With the prospects of beating team mate Lewis Hamilton to the title again next year very unlikely, the Mercedes driver has quit while he is at the pinnacle of the sport, having fulfilled his lifetime ambition.
He is wise to now leave an arena where mortal danger is a constant companion.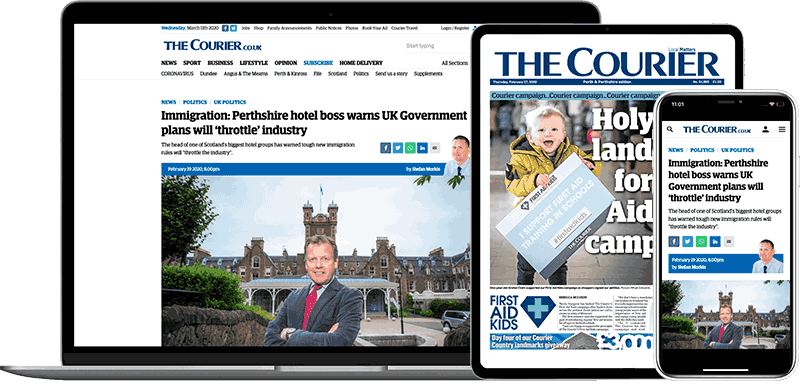 Help support quality local journalism … become a digital subscriber to The Courier
For as little as £5.99 a month you can access all of our content, including Premium articles.
Subscribe