Scotland's slim hopes of World Cup qualification will be tested to destruction by England at Hampden today.
Defeat won't be the final nail in our coffin but it'll pretty much squeeze the lid shut.
Last weekend our under 20's defeated Brazil 1-0 in a tournament in Toulon, albeit then losing 3-0 to England in the semi final.
That indicates that there is something going right in our game. If we can keep these young lads on track and progress them, we may be onto a winner in future.
There is nothing inherently wrong with our footballers that means they should be less talented than any other nation: Iceland with a population smaller than Edinburgh has proven what can be achieved.
Decent Facilities, good coaching, hard work, and organisation, are all required, but small countries can aim high.
None of that will help today's Scottish team which will be up against men who play at a higher level and tempo, and against better quality opposition every week.
That will give England the edge.
Commitment and passion will only take a team so far. If superior opponents can match you in those areas then you're done for.
We need now to look to the up and coming generation to carry the flag. The current squad won't stint for effort but at this level they are punching out of their weight division.
* Scottish football's rulers this week gave the green light to our clubs, or to be more precise, Celtic and Rangers, escaping to play elsewhere, probably England, in future.
Teams from the Republic of Ireland are to be added to those from Northern Ireland and Wales in next season's Irn-Bru Cup, and Neil Doncaster the Chief Executive of the SPFL said that the move was the direction of travel of the game within Europe.
If it can be done for cup competitions at lower level, it can certainly accommodate the big two, and indeed other ambitious Scottish clubs, should English leagues or others be willing to accommodate them.
The two big Glasgow clubs have been keen for a long time to escape to more financially lucrative pastures. The prison door is now being held wide open for their jail break, by Scottish football bosses.
* Andy Murray couldn't put his recent poor form behind him as he lost to Stan Wawrinka in the semi finals of the French Open yesterday.
Anyone contemplating writing Murray off though, is well wide of the mark. His talent, tenacity, and grit, have taken him to the very top of the tennis tree, and he'll not be falling out of it any time soon.
His four and half hour battle with Wawrinka showed he still possesses all of his qualities as he battled to find his top form after recent travails.
Both men served up a feast of enthralling tennis playing the full gamut of seemingly impossible shots, peppering the court from acute angles with near mathematical precision.
On the day the Swiss triumphed, but Murray showed enough to suggest that with the grass courts of Queens and Wimbledon looming, he is close to his best again.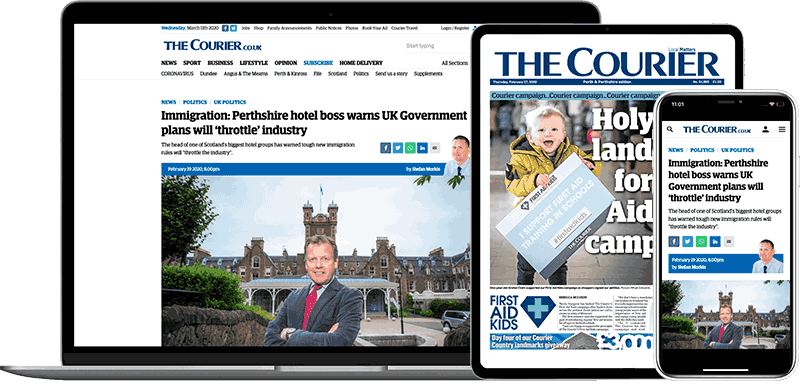 Help support quality local journalism … become a digital subscriber to The Courier
For as little as £5.99 a month you can access all of our content, including Premium articles.
Subscribe