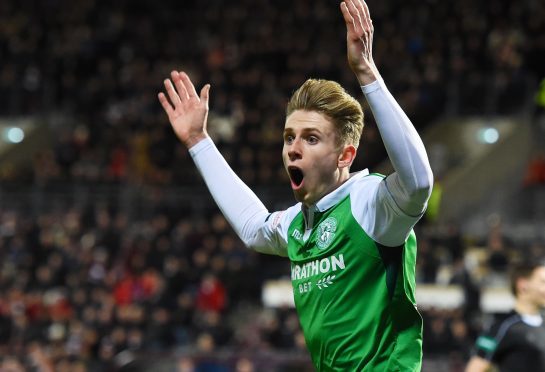 The debate over video technology in football was reignited in midweek after a crystal clear Hibs goal against rivals Hearts was disallowed by referee Steven McLean.
Television replays plainly showed that the whole of the ball from Oli Shaw's shot was well over the line, yet the ref missed it and no goal was given.
Refs are human: they miss things because angles are blocked by players, or they're not up with play, or the speed of a shot is so quick that the human eye can't process the information in real time.
Costs rumoured to be around £300,000 per stadium have been mentioned as inhibiting the introduction of goal line technology, but in midweek TV cameras were covering the game. It would have taken around 30 seconds for the referee to watch a trackside monitor and arrive at the correct decision.
Modern football is a business.
A disallowed goal can cost clubs a small fortune in league placing or cup success. When best evidence is available as it was with TV cameras at Tynecastle, then even if we don't yet have fully rigged up goal line video technology, that evidence should be used.
It's plain common sense.
Sadly that is something which is too often lacking in Scottish football.
* Manchester City have made England's top league a one horse race, and silenced  commentators and pundits south of the border, who used to insult Scottish football by calling it a two club show.
City, owned as plaything by mega rich Sheikh Mansour of Abu Dhabi, are proof that in football money can buy success, as long as it comes in enormous quantities.
Fifteen points ahead of their second placed rivals Manchester United, and 21 ahead of London giants Arsenal and Spurs, the money from the Middle East has turned England's top flight into a joke competition for second place.
The league, claimed by some to be the best in the world, was won before Christmas.
Even Chelsea, owned by Russian billionaire Roman Abramovich, have had to bow the knee to new overlords as City, traditionally the second team in Manchester, sweep all before them.
Having spent £400m since taking over at the club, Pep Guardiola, has set about annihilating the opposition, and reducing them to irrelevance.
Unbeaten in 20 league games, City now exist on a different planet from their rivals, who make up the rest of the bloated carcass of the Premier league: their own huge wealth now eclipsing clubs boasting historically much greater achievements.
City are driven by the kind of mega-wealth which buys the quality of player capable of steamrolling opposition. The financial opulence of the Premier league has elevated many smaller clubs in England to super rich status, but it's built solely on foundations of television money.
In a fast changing world with a generation whose viewing habits are changing rapidly, if that TV income dries up because the next generation stop tuning in, the English game will find that every bubble bursts eventually.
When it does, many clubs may be up to their necks in quicksand.