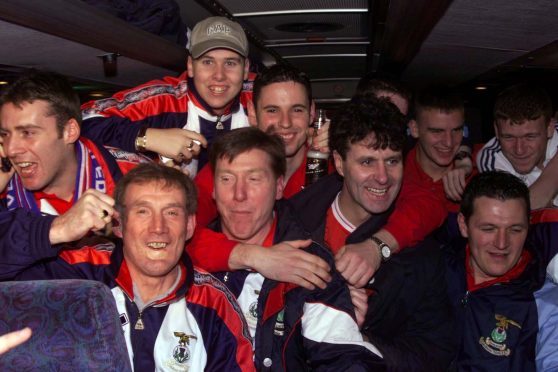 The Hindu Kush Mountains won't be remote enough for the big team which is knocked out of the Scottish cup by a minnow this weekend.
No valley will be deep enough to hide the shame and embarrassment of defeat of pampered full timers to men who lay bricks for 40 hours a week on a building site in sub zero temperatures, or to plumbers who spend their days in battle with U-bends, and ball-cocks.
I love the romance of the cup, but for the big teams, its hard-hat time, with serious business to be taken care of.
Fairytale endings may allow lower league players to dine out on the story for years to come, but they can mean a brutal ending for full-time careers.
Former Celtic manager John Barnes found that out in February 2000, when he was sacked after an ignominious defeat to First Division Inverness Caley Thistle.
For the full-time sides in this area, a good cup run is a huge lifeline in running businesses where cash flow is tight and finance a constant worry. Dundee, United, Dunfermline, and St Johnstone, are all expensive shows to keep on the road. Every penny counts. Tumbling out of the cup early isn't good for the health of club treasurers.
This round of the cup is when the top players must remind themselves why they strut their stuff at Dens, or McDiarmid Park, and not at a part-time club, where combining a love of the game means holding down a full-time job, and juggling training two nights a week, alongside other work commitments.
Dundee face a tough tie against rapidly improving Championship side, Inverness Caley Thistle, who as a full-time side have strength and pace aplenty. Connor Bell's trickery combined with George Oakley's physical presence in attack, and Jake Mulraney's lightning speed on the wing are all serious threats.
Neil McCann's side, though, have sufficient quality in all areas of the pitch to win this game. If the Dens men bring the correct attitude to the match then they'll be in the hat for the next round.
St Johnstone face a potentially awkward afternoon in Coatbridge but like Dundee, a professional approach will remind the Perth men why they enjoy the glamour of playing in a top stadium, instead of the faded glory of the ramshackle Cliftonhill.
Dunfermline could be on a sticky wicket with the visit of full-time championship opponents Morton, managed ably by Jim Duffy, a wise and capable boss, and a replay at Cappielow to force the issue, wouldn't come as a shock.
Dundee United face a potentially perilous trip to Alloa. An artificial surface, and a Wasps team who will know the fragility of current Tannadice confidence, pose a health warning for Csaba Laszlo's team.
Again, United are the superior side by a long way, so the correct attitude will ensure progress. In the Scottish cup though, slips, trips, and falls, are only ever a misplaced pass away.
So the big boys will all nervously negotiate this weekend's ties with caution, to avoid a costly and calamitous exit.