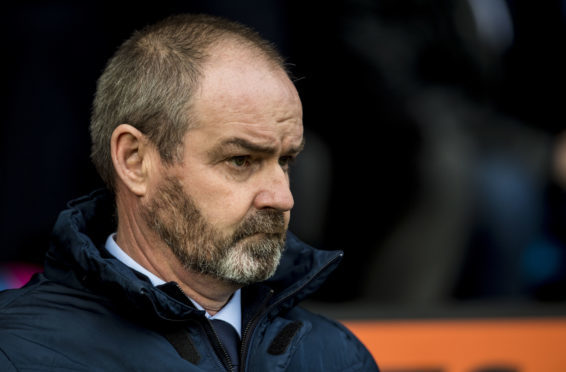 The question of who the next Scotland boss should be is currently dividing the nation.
Steve Clarke of Kilmarnock would be my choice.
Tactically astute, a good motivator and organiser, with top level experience in England as player and coach and, at 44-years-old, a good age to be attuned to modern demands of football.
The call in some quarters for Walter Smith, who has now declared himself out of the running, upset those who feel that he jumped ship for Rangers last time around.
Alex McLeish, another ex Scotland boss, also attracts strong opposing views. I interviewed him for TV in Paris 11 years ago after James McFadden's wonder goal had dispatched the French. His Scotland side gave a terrific show that night, but the feeling among many is that he's old school.
Malky Mackay is of an age with Clarke, and currently SFA performance director. He has experience at top flight level in England too, but is blighted in many quarters by his previous troubles regarding text messages of a discriminatory nature.
With the question lingering over him of when, if ever, an individual has completed sufficient penance to return to mainstream employment in his chosen field, Mackay could be another potential appointment which would split the fans.
There's a very strong argument that no manager should be appointed until a new chief executive is in place.
The relationship between the two individuals could be crucial to the success of any appointment, just as it is in club football.
Any appointment will be divisive. That's the nature of football.
That's why fans need to have belief in the SFA board and any chief executive they appoint.
How we miss a man like the sadly departed David Taylor.
The Forfar man, educated in Dundee, was a beacon of honesty and transparency, and the best SFA chief executive in living memory.
Currently, public trust is severely lacking in the SFA as an organisation, and any managerial appointment will be compromised by that situation.
For me though, Clarke looks a sound choice in an arena where any appointment is always a gamble.
* Football is often played more in the mind than on the pitch. 
Sir Alex Ferguson was a master of the wind up: who can forget Kevin Keegan's epic meltdown on live television, as he fulminated at Fergie in his, 'I would love it if we beat them' rant, after the Man Utd maestro had succeeded in winding his Newcastle Utd opponent to fever pitch.
Now Hearts boss Craig Levein is at it claiming that players need more protection from Scott Brown, and that Brown had incurred a deliberate booking to ensure he didn't miss a forthcoming game against Rangers.
Celtic boss Brendan Rogers suggests Levein is obsessed with Brown, and says it's a huge compliment that he keeps speaking about him
Mind games have been part and parcel of football for as long as the ball has been round.
It all adds to the fun of the game and is a harmless distraction, as long as the game is played on the pitch in the right spirit.