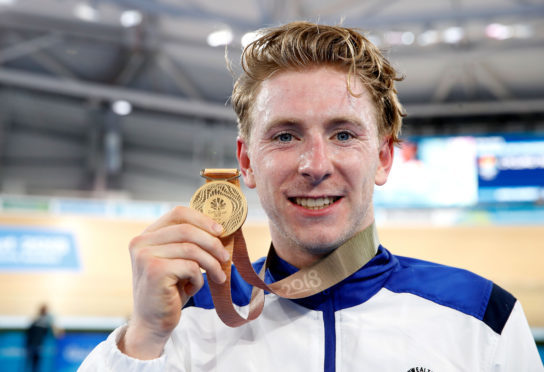 Dundonians winning Commonwealth Games gold medals are as rare as hens' teeth, so Mark Stewart's return to Dundee with one from Australia should be celebrated in style.
He joins Dick McTaggart and Liz McColgan in a rarefied trio, and plans to rename the Caird Park Velodrome after him are fitting.
They would also recognise the great work of the many volunteers who have put huge efforts into developing the Discovery Junior Cycling Club of which Mark was a member, from scratch 13 years ago to its current successful position.
Mark's brother Kevin, a sprinter, represented Scotland at the Delhi Commonwealth games, and some fine young cyclists are currently emerging from the club.
The gold medal gives them, and kids who may now flock to the club, an enormous boost.
In the wake of the Glasgow Commonwealth Games, the legacy saw a big uplift in the number of kids joining.
Words of caution though – track and road racing are not for softies.
They are tough, gruelling sports.
Mark Stewart's face after the demands of the 40km points race was testament to the stamina sapping, and lung bursting demands on the body.
As Sir Chris Hoy Tweeted: 'Last time I looked like this was when I stepped on one of my wee boy's bits of Lego'.
He was right. Etched on Stewart's face was all of the pain and suffering from a phenomenal physical effort to take gold ahead of England's Ethan Hayter, and New Zealand's Campbell Stewart.
I've watched Mark's fierce ambition and drive to be the best he could be since he was a 12-year-old, and in the 10 years since, that has strengthened and increased.
His Australian gold medal is rich reward for the sacrifices he has made, and further glory surely lies ahead for this 22-year-old, who shows courage and heart in abundance every time he mounts his bike.
* Dundee FC took some stick in midweek for announced price rises, which would see games against Celtic and Rangers costing £30 next season.
Running a professional football club though is not easy, and the American owners are already making significant losses.
The rent for an old stadium, long past its sell by date, and the wage bill for a big squad, doesn't come cheap.
When Dundee fans had control of the club they couldn't wait to offload it to someone with money.
As neighbouring United fans have discovered, there is severe unwillingness of local buyers or investors to put their hard earned cash into either of the city sides. Both appear to be guaranteed to cost the owners money.
The financial upkeep of both outfits is, I think, becoming a major issue, and may yet force serious thinking as to what the future of the two clubs is.
Dundee are hoping to move to a new stadium, but still need to overcome some obstacles if it's to happen. United need to escape a division which is crucifying them financially, and are hoping that possible American investment will secure their future.
Neither club currently can be filled with optimism for the road ahead.