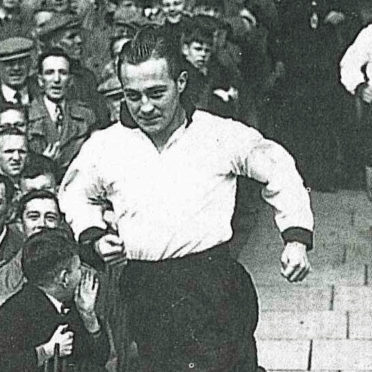 When the finest ever Dundee FC side captured Bob Seith from Burnley in 1960, he left a club which he had just helped win English football's top league.
He would repeat that success in his first season in dark blue, winning the first division title.
The stunning capture in 1950 of Billy Steel, arguably Dundee's greatest ever signing, for a British record transfer fee from Derby County, had shown that Scottish football could splash the cash.
Now, Dundee fans still see the club sign players from English football, but from the lower reaches. Kidderminster Harriers of the Vanarama national league north, being the last port of call for their most recent acquisition, Elton Ngwatala
This is not a criticism of Dundee.
Rather, it's a reflection of how far we have fallen behind the English game financially.
Figures this week revealing prize money for the Premier League in England show astronomical earnings, ranging from £149 million for winners Man City, to £94 million for relegated West Brom.
That situation is replicated at all levels.
The English game is much richer than ours.
This week, Motherwell lost out on a player whom they offered a wage of around £1,000.
He understandably rejected it in favour of around three times that amount at lower league club south of the border.
Yesterday I spoke to an agent pal of mine based in Liverpool.
He told me that he can get a better wage at a club in the sixth tier of English football for a player just out of contract at his Scottish Premiership club than anything on offer in the lower half of our top league.
With television deals providing income which dwarfs that available here, with a bigger population relative to the number of clubs, and more wealth, and richer owners, the Scottish game is the much poorer relation to its neighbour.
Often the players who we can persuade to come north of the border are those trying to resurrect their careers after injury, or loss of form, or who simply haven't been able to secure a place on a regular basis.
England can be a very good marketplace though, as Motherwell and others have proven.
It's certainly one I would expect Dundee United to shop in, given last week's clearing of the shelves of almost the entire stock of Tannadice underachievers.
That clearout at United leaves plenty of room for Paul Sturrock, who is identifying and sourcing new players, to try to replenish the squad needed for a third bash at the Championship.
Two years ago, when initial moves to bring 'Luggy' to Tannadice failed, he said he could bring players who could aid the promotion hopes of the club.
With his contacts in England he'll now be able to deliver some of those players, from a football market which produces players with pace, heart, and physique – some of the many things which United lacked last season.
Attracting players from England can be a difficult job, but it's one which can be very fruitful for those clubs who have in place the right people, with the right contacts, and recruitment skills.