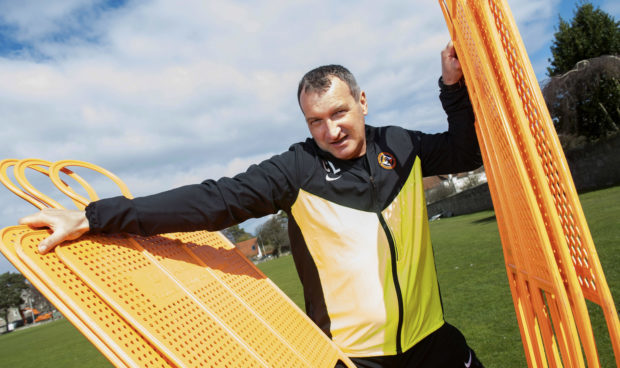 Both Dundee and Dundee United seem ready to run with smaller squads next season. That's a good thing.
Carrying a large squad means a heftier wage bill and increases the problems of keeping players happy when they're not playing.
Every manager knows the pitfalls of having players around the squad who can become disruptive influences when they're not included in the team.
Factions and splinter groups abound in every dressing room, from amateur to professional, so when livelihoods and futures depend on it, ensuring cohesiveness and harmony in a smaller, tight-knit squad, is better than juggling with an unwieldy gaggle of players, who bring their grievances to work, and upset others when they're out of the picture.
As a rule of thumb, managers want as big a squad as possible, to cover for injury and loss of form.
Increasingly though, and with tighter budgets, many realise that it's better to run with a leaner, hungrier, more committed group.
Players singing from the same hymn sheet, and bonding tightly over a long season, is crucial to success.
When it comes to squad sizes, smaller really is better.
* The advances in modern sport will be clearly visible in the coming weeks.
The World Cup will exhibit football players with levels of fitness and technique undreamt of even 20 years ago.
The Open will display a range of driving power and ball manipulation which previous generations couldn't achieve.
The Tour de France will showcase riders with bike handling skills, and speeds, which have improved on those previously held by the legends of the road.
And Wimbledon will again demonstrate that the power and strength of the modern professional has outstripped the greats of yesteryear.
In every sport, advances in equipment and all round knowledge have driven competitors to new heights, leaving the achievements of previous generations trailing in their wake.
In football, lightweight boots, balls, strips, and manicured pitches make the game much easier for top players than in the days of Pele or Best.
Vastly improved knowledge of diet, sports science, and psychology, has moved those at the top of the game onto a much more advanced level than the greats of the past.
In golf, the big hitters have taken full advantage of new and vastly improved aerodynamics and lighter components of clubs, to regularly strike the ball greater distances than before.
Modern graphite shafts and bigger heads, coupled with better ball technologies, allied to modern science techniques, and players who bulk up with rigorous gym work, have all seen driving yardage lengthen.
In the hills and valleys of France, lighter carbon frame bikes and components, coupled again with modern advances in sports science, and improved medical and dietary knowledge, will give the riders an edge over those who went before them.
Some things haven't changed though. Modern advances won't affect the desire and hunger to win, and the spirit to be the very best. In every sport and in every age, those are still the key components of the top stars.
In the coming weeks, those who have them in greatest abundance will once again triumph, as they always have.