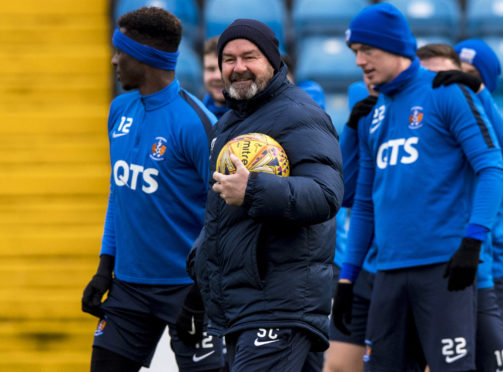 Dundee look like they may have turned the corner under boss Jim McIntyre.
The midweek 4-0 demolition of Hamilton Accies was a highly impressive show of appetite, desire and organisation.
Throw in some clinical finishing from Kenny Miller, one of the best strikers in the business, and the recent winter chill at Dens Park is suddenly a few degrees warmer.
One swallow doesn't make a summer, but a win and two draws in the last three games are hugely positive.
January is a difficult month for any manager to add quality players, but with a good contacts book, McIntyre looks well placed to add the extra ingredients needed to ensure that the Dark Blues start the serious fight-back to claw their way out of the Premiership basement battle.
At the other end of the table could Kilmarnock be the team to break a stranglehold on the top title which has ended up at Celtic Park or Ibrox since 1984/85 season?
Steve Clarke has done a phenomenal job with the Rugby park side that went top of the table in midweek.
He has worked a miracle on crowds of around 5,000, and with practically the same squad of players he inherited from Lee McCulloch which seemed set to be relegation fodder last season.
Clarke does what it says on the tin – he manages.
He has taken what he was given and coached, and organised, and motivated his team with spectacular results.
The true competitiveness of a country's football shouldn't be in the occasional cup win shared between teams, it needs to be for the big prize.
A real challenge for the top league currently features six clubs separated by just seven points, with the Ayrshire side sitting proudly above Celtic and Rangers, who have incomes which dwarf that of Kilmarnock.
Will it last? Probably not, but it's been a blast of fresh air for a league which has gone stale in terms of real competitiveness.
I know that top leagues elsewhere are dominated by a handful of super rich clubs – that's nothing to celebrate.
Killie's showing so far though is definitely a cause for joy, and it's also enormously encouraging for others.
Why shouldn't a Dundee or a Dundee United achieve the same success?
The organisation and hard work which has led to a Rugby Park revival can be replicated elsewhere, with the right manager, players, and boardroom, pulling in the same direction
* There comes a point where criticism of Scottish referees seems futile.
The officials are human, and will make mistakes, and could do with assistance from instant replays and VAR.
When you see a penalty awarded to St Johnstone against Hearts in midweek though, when a player clearly hasn't been touched and flips into the air under his own gravity, with a referee within spitting distance, who seems to be the only one in the ground who doesn't see that no contact has been made, then despair gives way to desperation.
Just as players don't make the cut if they're not good enough, referees must suffer the same fate to stop our game descending into an absolute farce.