Dundee United fans will have to trust that new owner Mark Ogren can lead them to the promised land.
Unless a football club is fan-owned then fans have little option but to hope that any rich individual, who puts his money in, has the best interests of the club at heart.
Until he flies in from America in early January and makes his first serious moves, Tannadice devotees will have to wait and see whether his promises and plans for the future are any more solid and sustainable than those of previous owners.
A quick return to the Premiership is essential. The Championship may be an exciting and competitive league but it's a financial wasteland for ambitious clubs.
There's a trend towards business people buying several different types of sports clubs which makes them more valuable to eventually sell on as a lot, rather than as individual clubs.
Mark Ogren has interests in baseball and ice hockey, so that may tie in with his thinking.
Yesterday I spoke to a former Scottish football chief executive involved in the buying of football clubs, who told me there's no money to be made in Scottish football, and that the United purchase may simply be a hobby.
It's an expensive hobby, though.
The late Eddie Thompson let his heart rule his head when he took over at Tannadice. Very early into his ownership he realised he'd made a big mistake and that the money needed required much deeper pockets than he had anticipated.
However, as one former director told me, the problem with football is that once you're in you can't get out easily. Any new owner is tied into expensive contracts with players, which have to be honoured.
Former chairmen Stephen Thompson and Mike Martin hawked United around for three years trying to find investment so the club can't have been that attractive a proposition, that a buyer has only now been found.
Across the street at Dens Park, Dundee FC's American owners have found that there's no land of milk and honey in running a Scottish football club.
The fear with foreign owners is what happens if they tire of the dream and decide to pull out. They don't live here so there's little of the daily pressure which a local owner is subjected to.
Any flak if things don't go to plan will fall upon the shoulders of the directors and staff that do live in the city. Perhaps that's a good thing, allowing distant owners to make tough decisions unencumbered by local sentiment.
Dundee fans will recall the madness of the time when Canadian owner Ron Dixon was in charge at Dens, with nonsensical proposals to build a huge stand and ice rink underneath it. That all ended very badly.
This is a nervous time then for supporters of United, a club which has been around for 109 years. If it transpires that they've got the right man in charge, the future could be tangerine.
If it turns out they've got the wrong man, the future may be uncertain. In fact, there might not be a future at all.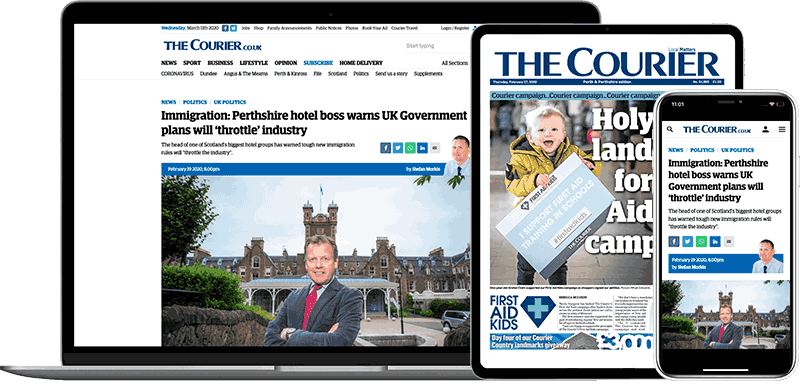 Help support quality local journalism … become a digital subscriber to The Courier
For as little as £5.99 a month you can access all of our content, including Premium articles.
Subscribe