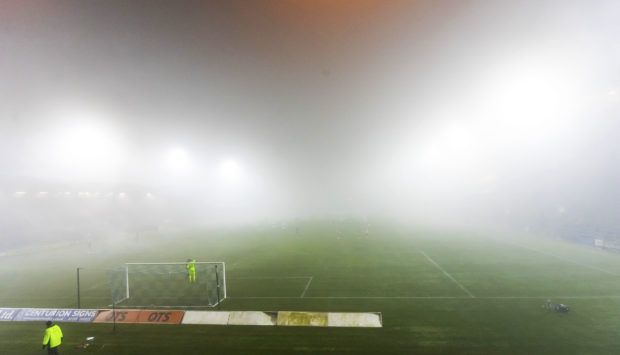 Referee John Beaton faced the cameras after abandoning the midweek game between Kilmarnock and Motherwell, and explained that the fog had made things impossible.
It was completely sensible for him to clarify his thinking for fans.
However, it has opened the floodgates.
If a ref can, rightly in my view, talk to the media about his reasons for one crucial decision, why can't he address other big issues like red cards and penalty awards?
The fans at Rugby Park couldn't see the game and the explanation by Beaton was welcome. Yet, week in, week out fans pay good money to watch games but are regularly left in a red mist over key decisions made by match officials.
In no other business would customers be treated like this.
Beaton's explanation to the media was the sensible thing to do but it should also lead the way to a much clearer picture being painted in future when game changing decisions are taken.
Football fans are being short changed.
In rugby we hear the referees clearly explain what's going on when decisions are made.
Football supporters are no longer prepared, in a modern world, to simply accept decisions which can radically affect the outcome of their team's fortunes without a proper explanation.
~ Brendan Rodgers' abandoning ship at Celtic Park left Hoops fans all at sea.
The language used by many to articulate their outrage at him would have made a sailor blush.
I never thought Rodgers would linger for the holy grail of 10 in a row but many fans bought the false notion that the manager was, like them, a supporter.
His reputation among them is in tatters but Rodgers is unlikely to lose sleep over that.
There will be a combination of reasons – from ambition to personality clashes, to money, to quality of football – to explain his decision, which I suspect has been in the planning for some time.
It is a reminder to fans, though, that they are the one constant at a club.
Managers and players are jobbing professionals. If they are actually supporters of the club that is simply a bonus.
~ The business end of the season, as it's come to be known, could prove to be a dirty one for the top trio in Tayside.
Dundee are scrapping for their lives and each step forward is accompanied by one backward. The relegation trap door is only a few missteps away unless they can find their feet, and quickly.
St Johnstone are on a poor run of form. I saw them lose in midweek to Hibs. They should have taken something for their pressure but a debatable penalty and lack of goal threat left them empty-handed.
A top six-finish isn't beyond them but they need to rediscover their self-belief.
Dundee United's hopes of automatic promotion aren't dead but they will need to beat Ross County, whom they face twice, and hope the Highlanders suffer a form lapse, to avoid play-offs.
The Scottish Cup offers potential reward financially and psychologically but everyone at Tannadice would forego that for a return to the top flight.