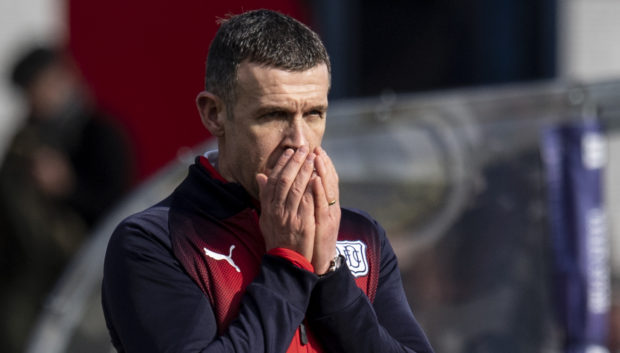 Having watched Tayside's top three teams in the last week my fear factor has grown for two of them – the Dundee pair.
My optimism that both would be in next season's Premiership now looks somewhat exuberant.
Last Saturday, United played some good football and created a clutch of chances – yet still lost two one to a Queen of the South side which had been beaten in their previous seven games.
Last night, they threw away a golden chance to make ground on leaders Ross County by conceding a late equaliser in Dingwall which all but ends their title hopes.
In midweek at McDiarmid Park, Dundee crashed to a sixth defeat on the bounce, despite actually playing some entertaining, and arguably too much, open football.
Defensively, they were slack twice and were punished cruelly against a Saints side, which has disappointed by finishing out of the top six this season, but which in fairness has lowered its average age by around six years.
It's been a disappointing season all round though for the three outfits.
Hefty investment from Tim Keyes and Mark Ogren has found scant reward either side of Tannadice Street, while in Perth there are a few players I would not expect to see wearing the blue shirt next season.
However, all three clubs have to find room for optimism somewhere and there are some positive signs.
United have started building for next season whatever league they find themselves in.
In signing central defender Mark Reynolds and attacker Paul McMullan on new deals they have done very decent business.
Reynolds has bags of experience and is a leader and organiser. He's had his injury concerns and a three-year-deal may look risky to some. But the team badly need men of his calibre, who are good on the training ground, and in the dressing room, as well as on the park.
Solid professional habits should be ingrained at a club and Reynolds is in possession of those.
McMullan too is a sensible move.
Some fans think he drifts out of games, but all fine players do.
It's what they do when they're on the ball and on their toes that counts, and the wee fellow has a wonderful ability to glide by opponents at pace and provide others with opportunities near goal.
At Dundee, Jim McIntyre is in the early days of rebooting the club, from youth set up onwards. A lengthy period of stability is needed at Dens – sadly that may be time served outside of the Premiership.
However, in goalkeeper Seny Dieng and striker Andrew Nelson, McIntyre's shown an eye for two fine performers. If the keeper's loan can be extended that would be sound business, and Nelson has already penned a two-year deal.
Tommy Wright is in season six as manager of St Johnstone, and stability and success have been constant companions. As a man who doesn't pay to watch football I'll not be a hypocrite with those who do and who find cause for complaint about Saints this season but I'd caution them to be careful what you wish for.
Wright in my view shouldn't have let the grass grow under his feet.
He's had offers elsewhere but stuck with Saints, who remain in the safest of safe hands with the former goalkeeper.