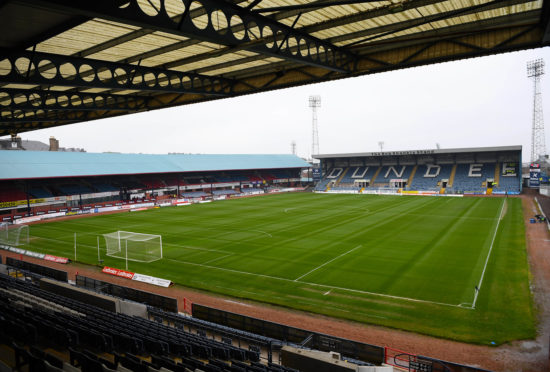 I liked the idea of a new stadium for Dundee FC, but increasingly doubt it will ever happen.
Between the costs, the planning hurdles and a proposed model of retail and housing use, which some experts suggest is past its sell by date, redeveloping Dens Park looks a better bet.
With rumours in the city that the move may never happen, a senior figure in the property industry suggested to me that the old main stand and the Dens road enclosures could be replaced for around £10 million.
If true, that might be a wiser move.
Finding the backing and huge sums required to fund the proposed Camperdown Park ground is a major challenge.
We're always being told that we need to wean ourselves off private cars and on to public transport, so why replace a stadium with a rich history, close to the city centre, near pubs and shops, and available to bus and train users, with a potentially soulless model miles away from much of the DFC fan base?
Finding the money to redevelop Dens would still be tough, but current owner John Bennett is a man who has been a good friend to both city clubs, and has previously suggested he'd be amenable to selling at a price which wouldn't cause financial hardship to the club.
Relegation for Dundee would see income greatly reduced.
Club owners Tim Keyes and John Nelms might be better shelving the new stadium plans, buying Dens from its present owner, and looking for funding and fresh ideas for renovating the ancestral home.
United right to play the long game
Dundee United's public backing of manager Robbie Neilson is welcome.
Sporting director Tony Asghar has publicly pledged his support to the Tannadice boss irrespective of which league United end up in next season.
Mark Ogren the club owner has put his money where his mouth is and the new off-field management structure is recalibrating the entire structure at the club on and off the park.
Often such support is the kiss of death for a football boss, but Neilson is a young coach who working in tandem with the new methodology of a sporting director, has the opportunity to rebuild the club from the bottom floor up.
Emotional energy and invention was sucked out of Tannadice under the previous regime, like a black hole swallowing up light beams.
Trying to revamp and revitalise a club which has been staggering about like a punch drunk ex-fighter won't be easy, but investment has been forthcoming, and from youth level up commitments are being made.
In football nothing is guaranteed and trying to halt failure can be like trying to impede a runaway train: but the recognition of the need for stability and rebuilding should be embraced by utd fans.
The two greatest periods in the club's history coincided with two managers of real longevity – Jerry Kerr and Jim McLean.
Both men had sound strategies which built from the bottom up, and resulted in great times for United.
Those football essentials remain unchanged – ambition and leadership and vision in the boardroom, allied to solid coaching are still the pathway to success.