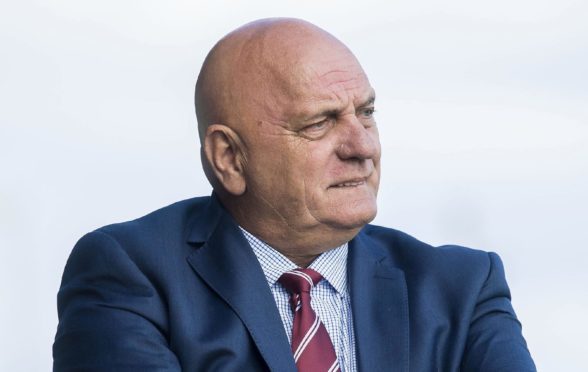 I had my first visit of the season to Gayfield last Saturday, at the end of which, Arbroath sat proudly fourth in the Championship table.
I'm not suggesting the two are connected, but I'm not nicknamed lucky white heather for nothing.
In all seriousness it's great to see the Lichties doing so well.
They're the biggest of the four Angus sides and the Championship could be a natural home for them.
They have great potential in a sizeable town, and with over 1,600 fans at the game, the support, albeit with a large Dunfermline contingent is there to tap into.
In Dick Campbell they have a motivator and magician at the helm.
The description old school manager is often regarded as a criticism.
In Dick's case it's a paeon of praise for doing things the proper way.
Attention to detail, treating players like men, ensuring high levels of fitness for par- time players, and most importantly, good player identification skills and letting the players enjoy what they're doing.
Those running the club deserve great praise too.
They run a financially sound set up, have backed their manager in bringing in quality players, and yet they temper ambition with realism.
I suspect Arbroath will stay in this league for more than one season, but you sense that if they don't, any disappointment will be met with equanimity from folk who know that in football enjoying the ride while it lasts is the important thing.
The game is a fickle master and clubs can fall off the roundabout quickly, but on the evidence of last week's performance, Arbroath look to be firmly aboard and strapped in for the duration.
Between the constant seaside wind and a highly competitive side, trips to Gayfield this season will be no pleasure-land for visiting teams.
* The fortunes of Arbroath's near neighbours Brechin City have taken a serious turn for the worse, so I hope that the appointment of former Dundee United player Mark Wilson goes well.
Barry Smith's sacking after just three league game shocked many folk, but it's a sign of how potentially perilous a situation the Glebe Park club face.
Consecutive relegations from the Championship have left them contemplating life outside of League Two in the Highland league.
The Scottish game has changed dramatically at lower level with the pyramid system.
Clubs like Cove Rangers are now not just competing but outbidding older established clubs for players and are attractive options for youngsters to go on loan to.
Dundee United currently have Declan Glass and Matty Smith farmed out at Balmoral stadium. At one time Glebe Park would have been a more likely staging post for them.
The thought of attracting players next season, many of whom will come form the central belt, to play matches in Wick and Fort William, will be giving the Brechin committee sleepless nights.
In the event of relegation the stakes are high for all four Angus clubs. Given current boundary lines, dropping out of League Two could threaten their very existence with the issue of costs, and attracting players to play in the Highland League.