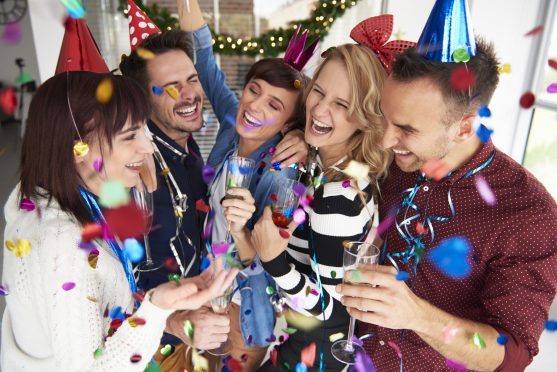 Fear not, the wait is over and your essential cut-out-and-keep guide to surviving the Christmas party season is here. This should be particularly useful for anyone who, like me, would rather curl up under a blanket, mince pies within reach, watching Elf, than attending such events.
On the style front, remember, sparkle is key. Even I relax my "any colour as long as it's black, grey or navy" rule at this time of year. The rule still applies, but a light sprinkling of sequins is acceptable.
Novelty jumpers/antler headgear etc are not, unless you are: a) taking part in a charity fundraiser; b) a student; c) a child under the age of eight.
If you are not in the first flush of youth, remember not to spread the sparkle as far as your face. Glittery makeup looks great on anyone under the age of 30. For the rest of us, it tends to pool into our wrinkles after a while. Never a good look.
Avoid all those articles telling you footwear should be strappy, sparkly and sky-high for Christmas parties. This is, frankly, madness. Many of us have done that thing of sobbing loudly as we wait in a never-ending taxi queue at the end of the night, numbed feet buried in slush, with only 10 denier between us and pneumonia, trying to avoid the guy with the mistletoe who has just vomited into a bin. Boots. Always.
When attending a festive shindig, it can be tempting to try food and drink you would avoid at all other times of the year. This includes mulled anything, eggnog, savoury things covered in cranberries and prawn things on sticks. Rest assured, you can be Christmassy without having to digest any of the above and your chances of a pre-Christmas visit to accident and emergency are probably halved.
On the office party front, there are so many possible pitfalls, my sage advice would be that although it's not big and it's not clever, if there is any day of the year on which you might be tempted to throw a sickie, this should be it. No good will ever come of it.
You're welcome. Enjoy!
---
---