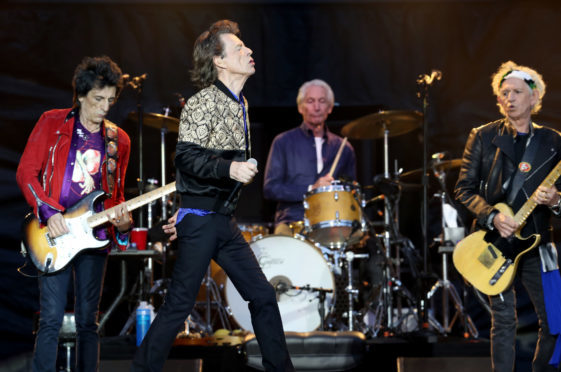 I know I promised to report on the latest pilgrimage to see Bruce Springsteen on Broadway, but I am afraid one wrinkly rocker has been eclipsed by four others since then.
Yes, your special rock 'n' roll correspondent (accompanied by Mr P, even though his knee is playing up again) saw the Rolling Stones at Murrayfield, for we are incorrigible old rockers, much like the Stones themselves.
I last saw them live at Hampden in 1990 and remember thinking then how lucky I was because they were so old, that would be the last chance I'd get. Ha, how young and naive I was.
I know it's easy to mock the Stones because of their age – insert your own hip replacement jokes etc here – but they have lost none of their swagger.
Every rock legend box was ticked: Mick – camp and pouty with the kind of hip action that a teenager would envy; Keith – kohled and piratey; Charlie – cool, laid-back to the point of disengagement and vaguely aristocratic; Ronnie – cheeky, twinkly and bedecked in silk and sequins.
Together, they were utterly in sync and relentlessly enthusiastic as they belted out the classics.
I have to admit, the audience this time round seemed in rather poorer shape then the band, with many having trouble getting up the steps to their seats.
However, what we lacked in general bendiness we made up for with our ability to sing and sway along to every song.
It became clear, as I chatted to various fellow audience members, that many people had come from various points south of the border to spend a weekend in Edinburgh, with the Rolling Stones gig as an excuse.
Fair play. We did similar on our New York pilgrimage and I have to say, these wrinkly rockers give excellent value.
As well as inspiration.
Bruce Springsteen and his brilliant one-man show in an intimate theatre and the Stones rocking a massive stadium – both gigs give some of us hope that in 20 years' time, we will have grown into our heroes and will somehow have become the same as them: Cool. As.