 The phrase "James Bond-style lair" was what caught my attention. Having occasionally pondered world domination, perhaps with help from "lasers" attached to the heads of sharks, I was fascinated by an online article describing the ultimate home, except of course for all the other ultimate homes described in similar online articles.
Written by Grand Designs TV presenter Kevin McCloud, the piece described a 90ft water tower, surrounded by ultramodern additions transforming it into a headquarters that would make any megalomaniac proud, right up until the spectacular explosion that could be predicted during the entire third act.
With a gym, sauna, rooftop garden and more bedrooms and bathrooms than anyone would want to clean, it had all the features that only a lottery win, gilded inheritance or career in the City could bring. I quivered with envy and ignored the £2.5 million price.
It's easy to be seduced by property porn, because we all dream of having an ideal place to lay our heads, like modern-day Eliza Doolittles.
The first flat I owned was in Ballantine Place, Perth. Pretty much everyone in Perth has either lived in the street, or knows someone who has, or has been to a party there. I think I hosted many of those parties.
I loved that wee flat, if I may be permitted a jumpers-for-goalposts moment. It had no heating, walls the texture of a cobbled street and visibly-flawed double-glazing, but it was a place I could call my own, as I mulled my conquest of the Earth.
Now, housing prices makes it difficult enough to own a home at all. There's a whole generation of young people who can only dream of affording what their parents had, unless their parents give it to them.
But it doesn't take much effort to find reports of the high cost of living and low pay rises, if any, in the UK. It's a situation that can't – and won't – continue. Something's got to give, before we end up in a Victorian-style society with a tiny minority of wealthy people owning everything.
They're the real villains, and their lair will be everywhere.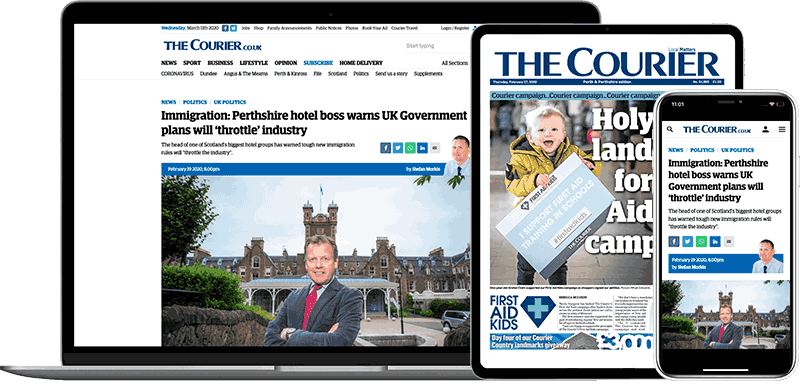 Help support quality local journalism … become a digital subscriber to The Courier
For as little as £5.99 a month you can access all of our content, including Premium articles.
Subscribe