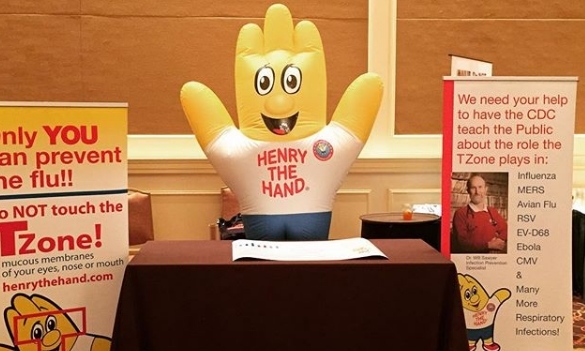 I'm writing this during National Handwashing Awareness Week, an American thing that happens during the first week of December every year.
It seems like a good idea, except that it is utterly terrifying. Its mascot is Henry the Hand, a yellow, anthropomorphic, five-fingered hand with a face and clothes. He is merely frightening. The terrifying part is what Henry says.
"Let's work together to minimize the fear factor of infectious disease pandemics or seasonal," he declares cheerfully on promotional materials.
I have a number of difficulties with that sentence. First, it makes no sense but never mind. I can also ignore that Z.
But I didn't have a fear factor until Henry suggested I should. There is no positive way to surprise an audience with the word "pandemic". I want to hide under my bed.
I agree with the sentiment, though. Everybody's had that moment when they realise someone has used the facilities without washing their hands.
As a parent, I often bark at my children to wash properly (many kids won't even flush unscolded) and I feel you should keep your hands clean if you've survived to adulthood. I'm not a germophobe but I do have strong views. People should wash.
The issue is also raised each October 15 on Global Hand Washing Day, which includes UK participation. According to one BBC report, which I could only briefly read while peering through my (clean) fingers, faecal matter is present on a quarter of British people's hands. Ew.
And that parental nagging carries a point. Hygiene has real implications for public health and the spread of flu, for example. The use of the word "pandemic", though alarming, is not accidental.
So, in the interests of public safety, I'm activating Full Dad Mode with this message, which is vital in the winter as we gather in enclosed rooms to swap viruses. Wash your hands, with warm water and soap. Scrub, too, for as long as it takes to sing Happy Birthday twice. Yes, twice. Stay clean, or maybe Henry the Hand will get you. There's that fear factor.