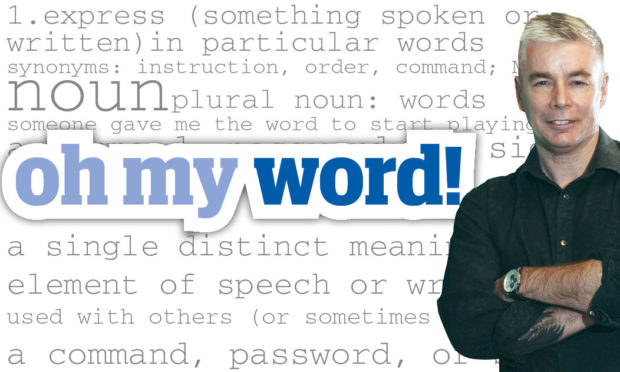 The weather turned a corner this week, there's an autumnal taste on the wind. The words my mother would have used are: "a nip in the air".
I enjoy autumn, it is the long Sunday tea-time of the year. The USA term, "the fall", with its images of tumbling red-gold leaves, is one of the few Americanisms I like.
The weather vocabulary that Britons use is often much more robust. We talk of being whipped by wind, bitten by frost, scorched by sun, battered by rain. Compared to other parts of the world our weather doesn't live up to those powerful words. Our temperate climate means that, with a few notable exceptions, it might get a bit blowy, fairly warm or quite cold.
In my opinion, instead of those violent terms, there are many descriptive, and quite beautiful, Scots words that should be used more often. Scottish terms, which mix through the language spoken across these isles, are often the best part of English.
"Dreich" is probably the best known of these, and it is a lovely word, redolent with meaning. Wet, dull and gloomy. It is even fun to say, with the Scots fricative "ch".
"Snell", is another superb word. It describes a cutting-to-the-bone wind and you shiver a little when you say it. "Drookit" (sometimes droukit) meaning very wet, or soaked through, is another tremendously expressive term.
The word "mochie" (which I feel is a west of Scotland term) means warm and moist. To be honest, I can't remember many days on the east coast that could truly be described as warm and moist. We get haar rolling in from the North Sea which is moist but not usually warm.
Flindrikin, a few flakes of snow spun on the wind, is an old word. For reasons I can't quite fully explain, it feels like an inland term — something that would happen in the foothills of the Mearns, or Highland Perthshire.
And I have to admit that I turn my nose up at more modern terms, like "Baltic" or "brass monkeys". They are slang. Too new, a little unsavoury.
My favourite Scots weather word is "smirr", a very light rain. The word has a gentleness. The adjective that accompanies it will be "soft". Doesn't "a soft smirr" suggest a feeling of peace? Doesn't it conjure images of quiet, still days? Even though it is rain it sounds enjoyable.
---
Word of the week
Flaggie (noun)
A large snowflake. EG: "As children, we would run through the snow, competing to catch the biggest flaggie."
---
Read the latest Oh my word! every Saturday in The Courier. Contact me at sfinan@dctmedia.co.uk