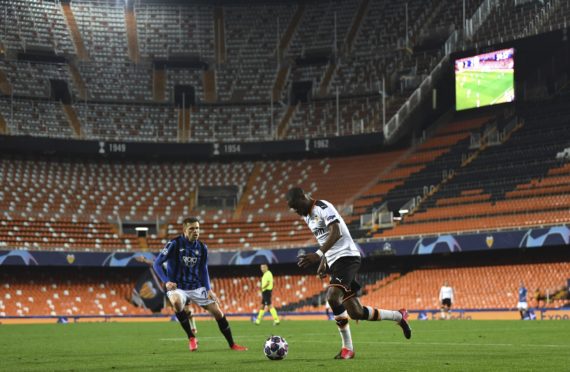 The coronavirus situation is changing every day and the expert opinion seems to be that it will get worse over here before it gets better.
Let's hope they are wrong, of course.
It goes without saying that there are far more important things in life than football but it's a situation that needs to be dealt with by our game all the same.
For me, I think there could come a point when there will need to be different approaches across Britain.
In an ideal world, Uefa would delay Euro 2020 for another 12 months which would give everybody a bit of breathing space.
That would mean all the leagues in England and Scotland could take a break for a couple of weeks when the virus reaches its peak and extend the season into the early summer.
If that doesn't happen then I think there is a case for one rule for the English Premier League and Scottish Premiership and a different one for the lower divisions.
The big clubs could afford to play behind closed doors for a few weeks, particularly down south.
But for smaller clubs, no gate receipts could finish off a few.
And the idea of abandoning a season doesn't sit well with me at all.
I'd rather they took as long as was needed and then get going again, maybe even not having a Betfred Cup for one season to squeeze in a few more league games.
But once you start a campaign you have to finish.
Could you imagine telling Liverpool they aren't champions or not letting the likes of Leeds United or Dundee United get promoted? The lawyers would have a field day!
How can you possibly say that a season with a couple of months left in it is less important than one that hasn't even started.
It will be up to governments and football governing bodies to make sensible decisions but whatever they choose to do, I don't know any players who would say they are unwilling to play.
* Dundee United's form has dipped over the last few weeks but I wouldn't be getting too excited if I was an Inverness Caley Thistle fan.
I know I wrote in a column a while back that if the lead was cut to single figures then there would be a possibility of United getting caught.
There is a chance that might happen – but by the time it could, games will be running out.
United's winning run before the turn of the year took the league away from everyone else and it would have taken something similar from another team to make the title race interesting.
* Dundee are now showing the sort of form that could have kept them in the hunt if they'd done it a few months ago.
The clean-sheets are clearly important but Kane Hemmings' goals have been just as crucial.
James McPake won't be getting carried away, though. He knows the real hard work will begin if they get into the play-offs.
The good news for him and Dundee fans is that there is still room for improvement at Dens Park.