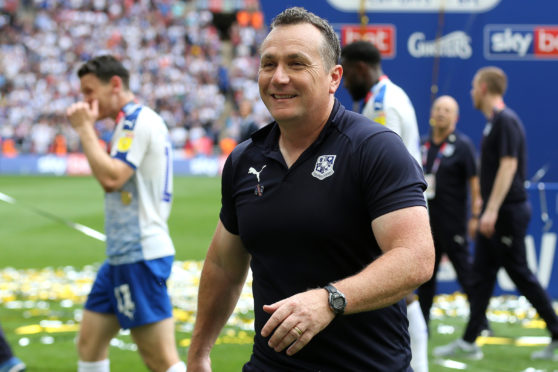 From the point that Steve McClaren and Malky Mackay were being interviewed it became clear that Dundee United were going to do something a bit different with their choice to replace Robbie Neilson at Tannadice.
In the end Micky Mellon has got the job.
It's certainly not a bad thing that they haven't gone for one of the familiar faces in Scottish football.
This was sporting director Tony Asghar's first appointment since the American takeover and, as good a job as Robbie did, this was an opportunity to choose his own man.
It's a good time to do it.
Yes, there are issues for a manager new to the country and the league, even though Mellon is Scottish.
But there's nothing that can't be overcome by getting his backroom team right, speaking to people in our game he trusts and going through hours and hours of footage of his own players and the ones his United team will be facing in the Premiership.
Three-and-a-bit weeks before the season kicks off is plenty of time to do that and, remember, United will be playing a few bounce games against other top flight sides before they come up against St Johnstone on day one of the league.
There have been successes and failures over the years when clubs have taken a gamble by going for somebody untested in Scottish football but there is no great mystery.
Basically the good ones who have been diligent, done their homework, been backed in the transfer market and have shown man-management skills have been great additions to our game.
Those who have fallen down in one or more of those categories have been the ones who have bombed in Scotland, never to be seen again.
And, it doesn't matter what your background is, you have to hit the ground running.
* I don't want it to sound like I'm constantly on Dundee's case but news that the club are looking into making cuts at their academy is slightly alarming.
They certainly won't be alone it has to be said.
But for clubs the level of Dundee, Hibs and others, the only long-term strategy to make any money is to produce your own players.
Dundee have done that with the likes of Gavin Rae, Lee Wilkie and now Finlay Robertson.
It's a tough balancing act when savings have to be made but the focus can't just be on protecting the first team.
* Arsenal fans are getting to see the real Kieran Tierney now.
Tuesday night was a man of the match performance against Leicester and comes as no surprise to anyone in Scotland.
Making a big move when he had an injury was far from ideal and the fact he was going into a poor Arsenal side didn't help either.
But all sets of supporters love to see an old-fashioned defender like Kieran who will never pull out of a tackle or stop running.
The game may change in lots of ways but throwback characters will always be the fans' favourites.
I can only see things getting better and better for him in London now that he's over his injuries and he's playing for a manager who looks like he knows how to get the best out of him.