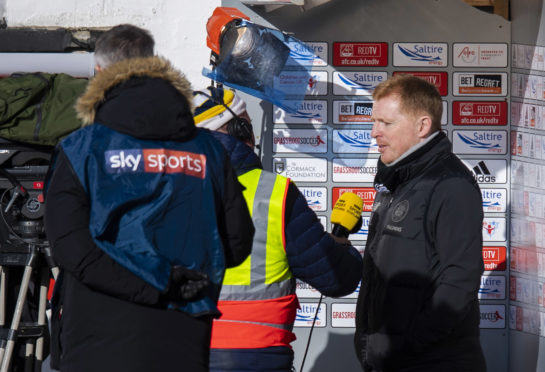 After the longest close season in history we can finally see the light at the end of the tunnel.
Yes, it would be great to have fans in our grounds but just to be able to say that the Scottish Premiership is only a couple of days away from starting is a huge step forward.
The way things have fallen, it's also a huge opportunity to market our game.
Sky Sports will be the home of Scottish football and let's hope they do as good a job as BT Sport in talking up our product.
It's not often you get a window like this when the English leagues are between seasons and we'll virtually have TV audiences to ourselves.
People will always want to watch football and our top league will never have a bigger platform. Some cracking games on the first weekend would be perfect.
It won't come as a great shock to read that I'm predicting Celtic will win the title again and get to 10-in-a-row.
Consistency has got them to nine and it will be key again.
Getting the goalkeeper situation sorted out in the next few days is important.
I'm still not convinced that a deal for Fraser Forster is 100% dead but it looks like Vasilios Barkas is the favourite to come in and he certainly has the pedigree to be a hit.
There will be other signings to follow.
I also think Neil Lennon made the right call with the message he sent out to Leigh Griffiths.
Sparky must now realise this is last chance saloon and I've got a feeling that the penny will have dropped.
Lenny is happy with the improvement he has seen in his fitness. He can still be a big asset if that stays the case.
If he stays professional and stays off social media, this could be a big season for club and country.
A  move to France for Alfredo Morelos looks to be on the cards. If Rangers get the £18m that is being talked about, I think that's a great deal.
He's a talented player but the baggage has become a bigger factor than the goals.
If – and it's a big if – Steven Gerrard gets the funds to reinvest, and he puts them to good use, that would help close the gap to Celtic.
I still can't see it being close enough, though.
* Our two Tayside teams face each other on day one and I'm intrigued to see how Lawrence Shankland gets on.
I've got a feeling he'll be at Dundee United for the whole season and, if that's the case, I'm convinced he'll get well into double figures.
We've yet to see what a Micky Mellon team looks like but you can be sure his main priority will be the same as Robbie Neilson's – get the ball to Shankland.
United fans would have been hoping for a top six finish if they'd spent big in the summer but that hasn't happened. Establishing themselves in the division would be mission accomplished in their first season back.
For St Johnstone, I'm sure my old Scotland team-mate Callum Davidson will pick up where Tommy Wright left off.
I can see them being back in the top half, as they've become used to over the years.