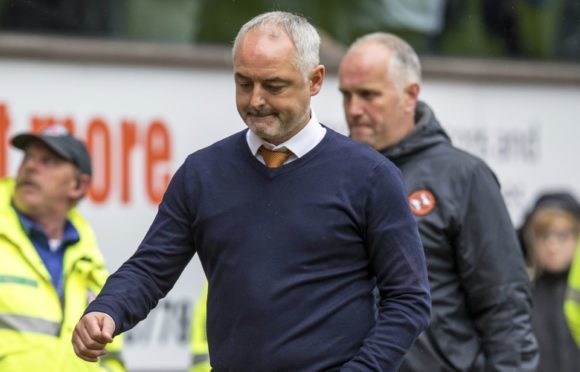 The big story of the week in these parts is of course the departure of Ray McKinnon as Dundee United boss.
Saturday's 2-0 setback at Tannadice to Inverness was their second defeat in a row and proved to be the final straw for the club's board.
However, I think it was harsh on Raymond especially so early in the season.
Managers are getting less and less time now but I still feel sorry for him.
When United drew with Dundee in the first derby at the start of the season, I thought they were decent.
Admittedly, I haven't seen a lot of them recently but it was still a surprise to see them part company with Raymond so soon.
Obviously financial considerations will have played a part in the decision but how much longer can United go on chopping and changing managers?
There has to be a solid basis for the club to try and build.
With Raymond being an ex-player, you would think he would be the one who would get the time but it didn't seem to be.
The players have to accept their share of blame as well. They will no doubt all come out and say how sorry they are that the manager has been sacked.
But they still have their contracts and that's modern-day football unfortunately.
Raymond will probably reflect on some signings he maybe wishes he hadn't made.
It is a hard one because United weren't going to bust the bank when they were relegated but some of the players they have brought in have done it at Premiership level.
So the fact they are struggling is a concern as well. Is there a problem within the team, are they not getting on or do they simply not fancy it in the Championship?
I don't know but one thing I am certain about is that I genuinely feel sorry for Ray – it is a hard one for him.
I think the desperation for United to get back up to the Premiership has been the major factor in his sacking but after the recent Dunfermline game they were right up there. It is so fickle and very strange.
As to his successor . . . there are a lot of names in the frame such as John Hughes, Jim McIntyre and Steven Pressley but I would have gone for Alan Stubbs.
However, it now seems he has ruled himself out of the running.
Whether to take the job is a big decision for whoever United go for. He will be thinking if I don't get them up, then I will be for the chop at the end of the season.
That could leave your CV up in the air. I certainly wouldn't like to guess how many managers United have had in recent years.
In complete contrast, Brechin are at the bottom of the Championship without a win to their name but there is absolutely no suggestion that their manager Darren Dods' position is under any threat.
I remember when I was at Forfar when he started and they were rock bottom but the board stayed faithful to him and he kept them up. The next season, he won promotion which just shows you are sometimes better giving bosses time.
There is though one manager who may be living on borrowed time – Rangers boss Pedro Caixinha.
His side lost again to Motherwell in the semi-final of the Betfred Cup at the weekend with Caixinha then slaughtering his players, calling them an embarrassment to the club.
I think I said at the start of the season that if he survives until Christmas I would be amazed and my opinion hasn't changed.
They seem to have one or two results then a massive bump.
Caixinha certainly seems to give journalists plenty of ammo. To come out and have a go at your players like that is quite a strange one.
He picks them and he signed them so we will wait and see.
As a Motherwell fan it will be great to see them in the final but it looked like Rangers thought they just had to turn up to win the semi.
I was on the bench for Arbroath at the weekend as we hit a magnificent seven goals against Airdrie at Gayfield with only one in reply.
The lads were brilliant and it was good to see the goals being shared around as well.
We actually went 1-0 down and I said to the gaffer Dick Campbell that I would take 1-1 at half-time but we went in 4-1 up.
To be fair, our keeper David Hutton made a great save when it was 2-1 for us which was good to see.
But I felt sorry for the young Airdrie goalie Rohan Ferguson.
He didn't do too well at a few of the goals so I just went on the pitch at the end to put an arm around him and tell him not to feel sorry for himself but to keep going.
It is the loneliest place in the world as a keeper when you let in seven – believe me I have been there myself loads of times.
So it was good to get a word with him and I also spoke privately with him on Twitter.