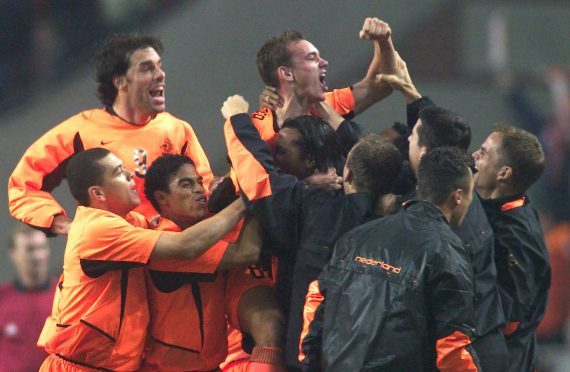 Scotland v the Netherlands is a fixture that certainly brings back mixed emotions for me.
We went from being world beaters after our 1-0 against them in the first leg of the Euro 2004 play-offs to carpet beaters after the 6-0 in Amsterdam a few days later.
Both nations would much rather be looking forward to another home and away play-off for the World Cup than the friendly we've got at Pittodrie.
Looking back on the 6-0, there's no doubt that a lot of the criticism was over the top.
You have to take into account the players we were facing that night.
Some of them are Dutch football legends. Van Nistelrooy, Van der Saar, Sneijder, Cocu, Davids and Overmars all started. Seedorf, Kluivert and Frank de Boer came on as subs!
They were in the mood after our 1-0 at Hampden and played brilliantly.
Myself and big Elvis seemed to take most of the flak in the press.
I've always been honest about mistakes I've made in my career and on that night I would say one, maybe two, of the goals could be put down to my errors.
It was a defeat that stuck with me for a while, that's for sure.
With proper qualifiers being played across Europe, this could be looked upon as a bit of a meaningless match in a lot of ways. Especially as Malky Mackay is only a caretaker boss.
It won't be meaningless if we see a couple of new faces link-up well, though.
I really hope that Malky goes with Callum McGregor and John McGinn in the middle. It could be really important for Scotland moving forward if that proves to be a good combination.
And playing a left-back at left-back and a right-back at right-back would be a start, as well.
Berti Vogts took a lot of stick for friendly results but players like James McFadden got their chance in between qualification campaigns.
Now is the time to find out if we've got a few new lads who are capable of stepping up to international level.
* I don't agree with Kris Boyd that the Aberdeen players are in the Scotland squad to sell tickets for the game.
It can't just be Celtic players ion the side, and Aberdeen are the next best team in Scotland.
Kenny McLean won't start ahead of McGregor or McGinn but he's one who should be looked at. Graeme Shinnie has been a consistent performer for a few years and Ryan Christie looks a real talent.
One of the big moans at the end of Gordon Strachan's time in charge was he was favouring guys down south over Scottish-based players.
Malky's gone a bit the other way and I don't think there can be too many complaints about the Premiership lads who have got the nod.
* I must admit I don't remember that much about Csaba Laszlo from his time as Hearts manager.
His appointment at Dundee United is a bit of a risk but I suppose you could say that with any appointment.
The way United have picked up in the last couple of weeks will be a real sickener for Ray McKinnon, though. I'm sure he will feel that would have happened if he'd been given a bit longer.