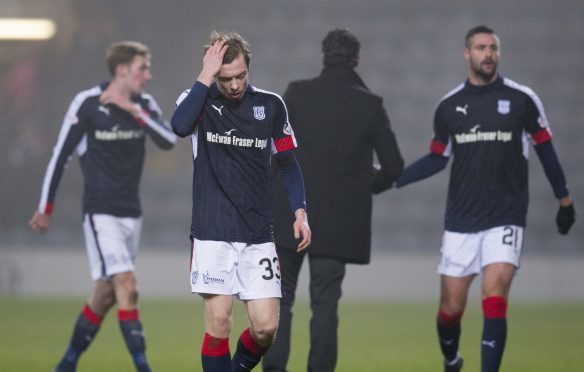 Dundee fans desperate to see their team go on a cup run for the first time in ages will probably disagree with me but I don't think Neil McCann will see the Scottish Cup as a priority.
I totally understand why supporters want to go all the way to Hampden.
And I also understand that losing to a lower league team in the cup will get the second part of the season off to the worst possible start. You could argue Paul Hartley's troubles began when St Mirren came to Dens and won 12 months ago.
But I'm looking at the bigger picture and I think Neil will be too.
Things are pretty positive with Dundee at the moment – the last result before the break at McDiarmid Park certainly helped that.
But that shouldn't disguise the fact that the team is still at the wrong end of the table.
They're one bad result away from dropping into the play-off position.
It's a football cliché that the league comes first – and it's true for Dundee.
The consequences of going down are too severe.
Losing to Inverness wouldn't be as bad a result as losing to St Mirren last season.
John Robertson has got his side playing well, they're match sharp and will see this as a free hit.
If Dundee do lose – I don't actually think they will – it shouldn't be looked upon as a disaster.
It's all about beating Hibs at Dens the Wednesday after, and going on a run that will take them clear of trouble.
* You could have predicted this – the Premiership teams go for their winter break and when they come back the country gets covered in snow!
It's just one of those things. This could happen any time from November to February.
I'm still a fan of the break, though.
It does you the world of good as a player. I got a double hernia operation during one of them and I see Stuart Armstrong has also used this as the right time to go under the knife.
Other players will feel the benefit of some family time away.
If your club can afford to go to the sun for a training camp, all the better. You're guaranteed good facilities and good weather.
The most important thing for me, though, is these trips bond a squad before the business end of the season.
You don't have to go to Dubai….Whitley Bay will do!
That was where we went with Dundee one winter and even though we played a bounce game on a pitch that was more like a car park, it turned out to be a great trip at just the right time.
* It's good to see Paul Lambert get another chance at Stoke.
Managers are written off too soon and his tough times at Aston Villa and Wolves will have made Paul a better boss.
We were team-mates with Celtic and Scotland and I also played under him on loan at Wycombe for a few games.
The one thing you can be sure of is he will have put his time off to good use and will be ready for a big challenge.