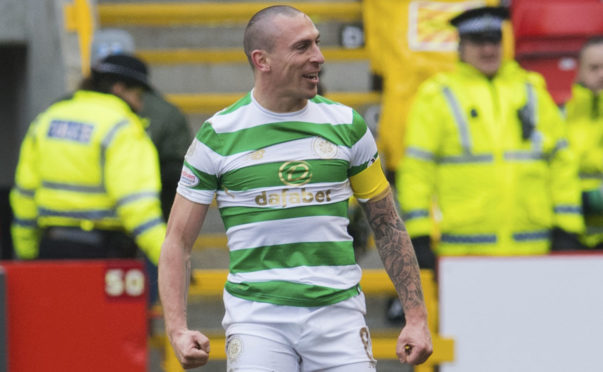 Scott Brown announced his retirement from international football for the second time earlier this week and I think it is the right decision.
It will be a body blow to new Scotland boss Alex McLeish but on the other hand he can start with a fresh slate.
Scott is now 32 and Celtic will probably play about 60 games most seasons because of European football with the Champions League, Europa League and all the qualifiers.
So if you look at the bigger picture for Scott, you can understand why he has decided to call time on his international career.
He has been a superb servant for his country and a great captain as well but you have to respect his decision.
I had the pleasure of sitting and having a beer with him after a charity game last season.
I spoke to Scott for an hour and I think he was getting only about 12 days off in the close season. It was crazy.
He showed once again when Celtic beat Aberdeen 2-0 at Pittodrie on Sunday just what a big loss he will be to Scotland.
I thought he was superb and I have to admit I absolutely loved his reaction to the bad challenge that rightly earned the Dons Sam Cosgrove a red card.
Scott could quite easily have rolled about but instead he just leapt up and got on with it. There are some players who probably would have been out for three weeks after that but he was determined he wouldn't stay down and show any softness.
There had been three or four challenges, the ball hitting him on the head but that just fired him up more.
That's the type of player he is, the exact same as Neil Lennon was.
Love Scott or loathe him – and I love him – he is a player most opposition fans dislike but I think they would grudgingly admit they would have him in their team any day of the week.
Overall, the Aberdeen game was a big statement by Celtic.
We used to say when I was at the club that if you lose two matches back to back it is a crisis in the media.
If you win games, you silence your critics and they had a few after the Zenit game last week.
As good as they were in the first leg at Parkhead, they were disappointing in the second leg over there.
So they have stepped up to the plate again with a good away win.
As for Aberdeen, if they want to kick on, they have to start taking points off the Old Firm.
Motherwell proved to be Dundee's bogey team yet again on Saturday with their 1-0 win against Neil McCann's side at Dens.
The Steelmen have now won three games and drawn once against the Dark Blues this season.
The latest victory all but ended Dundee's hopes of a top-six finish and instead they now have to concentrate on staying well clear of the relegation play-off spot.
Neil has them playing a certain style of football and it can be very attractive but he will want them to get to the next stage where they can string together a run of wins.
By all accounts, they battered Motherwell at the weekend and that will be the most frustrating part for Neil, having so much possession and chances but not taking them.
But the last thing you want Dundee to be involved in is anywhere near the play-offs so they will be looking to pick points up as soon as possible.
The home form has not been the best this season but I keep going back to the Deefiant campaign.
That was one of the best atmospheres ever at Dens.
The fans probably don't realise just how much that spurred the players on as well.
There was a collective togetherness from the supporters not just behind the goals and in the Derry but the main stand as well. It was from everywhere.
Hopefully they can get that back and help roar the team to safety this season.
For once common sense prevailed and the SPFL called off all last night's games early yesterday morning because of the bad weather.
I drove up from Lanark on Tuesday evening back to Dundee and it was actually scary and horrible.
So the ruling body deserves a pat on the back. We are quick enough to criticise them so praise where praise is due.