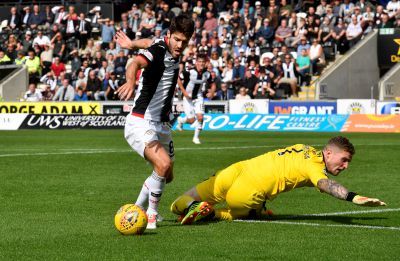 The whole Jack Hamilton episode has made me conclude that Dundee are looking at a trade-off.
It is between the benefit gained, as manager Neil McCann sees it, from playing the ball out from the back and the risk of making a mistake when trying to do so.
There is absolutely nothing worse for a goalkeeper – or any player for that matter – than making an error that costs your new club the match.
It was a bad one for Hamilton but no one will appreciate that more than him.
I will also predict that it will probably happen again this season – to Hamilton or his fellow goalie Elliott Parish – if Dundee continue to play that way.
McCann was absolutely right not to throw Hamilton under the proverbial bus at Paisley on Saturday, despite the mistake (he stood on the ball after it was returned to him by Cammy Kerr) helping St Mirren secure a 2-1 win that seemed an extremely unlikely outcome.
No one tries to make an error, obviously, but they do happen. As I certainly know, when a goalie is involved then it usually costs a goal whereas others can get away with it.
So while it was extremely disappointing and frustrating for Dundee's excellent travelling support, maybe we all have to realise it may be the price you have to pay for playing out from the back.
I think what might have helped Hamilton is if Dundee had a natural left-back for him to play the ball to (right-back Kerr was playing on the left side).
That way it might have been fired up the line rather than sent back to him.
The most important thing now is that Hamilton puts it behind him.
I personally think McCann will keep him in the team for Saturday's home game against Aberdeen and you wouldn't bet against Jack playing well.
He is a good keeper – as is Parish – and I for one am backing him to get over this. Indeed, I bet he can't wait to get out there again.
~ I agree with the decision to downgrade the red card shown to Rangers striker Alfredo Morelos in the match against Aberdeen.
He did kick out but I saw it as more of a yellow card offence.
However, given what he has achieved in the game and the way he has conducted himself in general with England and Liverpool, I thought Ibrox manager Steven Gerrard would have been above his "world is against us" comments.
I guess it's a case of: 'Welcome to Scottish football!'
I was still surprised that Gerrard went down that path and it will interesting to see how he deals with the challenges Rangers will face this season.