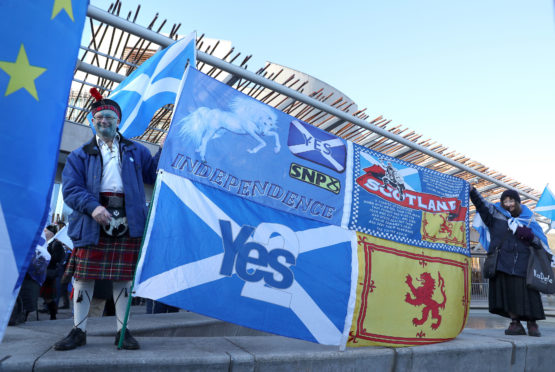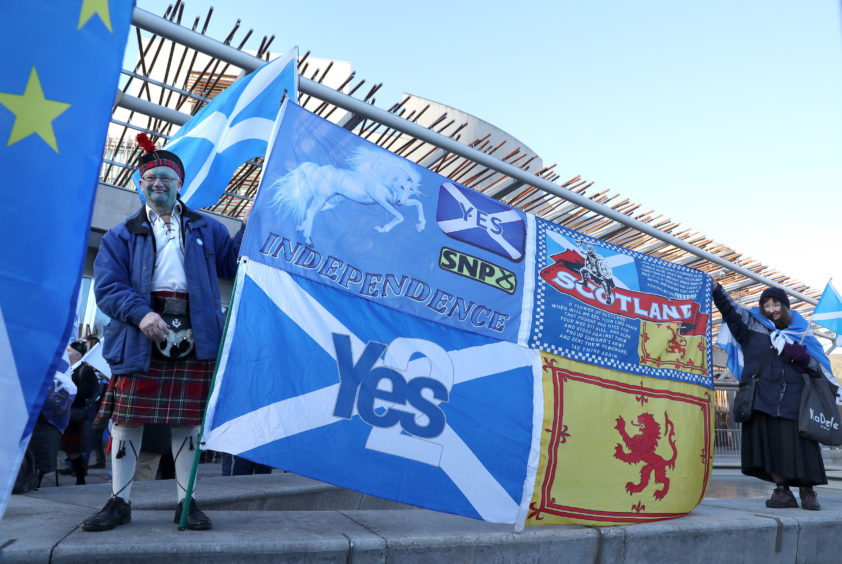 Madam, – With reference to Alex Bell's opinion piece on Indyref2 "Be careful what you wish for" (The Courier, October 17) may I recommend to your readers that if you enter an orienteering competition, do not take Alex Bell along as your navigator, or you will never reach your destination.
What an exercise in confusion and obfuscation!
His thesis is that you should never have a referendum or plebiscite on independence unless you make absolutely sure the electorate knows every jot of what independence can possibly mean.
I cannot think of any country which won its independence by agonising over what the precise details of its defence policy or what the tariff on imported olive oil would be.
When Ghana, as the first African British colony, won independence in 1957 those voting for Nkrumah knew exactly what independence meant, as did all the successive African countries who rid themselves of British colonial rule.
The Baltic states when shaking off Soviet rule in the 1980s were clear what independence meant.
Today the people of Catalonia know what they mean by independence.
Of course the transition to independence means the details of trade, defence and economic policy have to be sorted out, but the principle is that these matters are negotiated and dealt with by the representatives of a sovereign nation, and not by its imperial masters.
Oh and by the way Alex, in 2014 prior to Indyref 1, the SNP Government of Scotland produced a 600-page white paper setting out exactly how it envisaged Scotland managing its affairs after independence – as you should know because you were advising Alex Salmond at the time, and a criticism of the document was precisely that its detail led to some not being able to see the wood for the trees.
Alexandra MacRae.
8 Jubilee Park,
Letham.
Politicians' rude debate display
Madam, – There has never been a greater incentive for the people of Scotland to vote SNP than during the Queen's speech debate, when Ian Blackford got up to speak and almost every other politician walked out.
The House of Commons is a debating chamber and in order to take part you are obliged to listen to everyone putting forward their view, not to do so is discourteous and extremely rude.
Alister Rankin.
93 Whyterose Terrace,
Methil.
Car drivers are the real danger
Madam, – In regard to Mr Farmer and his letter of October 16, "Our neglected, dangerous country roads", I take his point that some are indeed in a poor state and that vehicles are bigger.
However, to conflate this into the fault of the SNP is the act of a desperate man to increase his dislike of the nation he lives in.
I would assume vehicles are much bigger in order to make fewer trips and be more efficient.
It is true speed that is by far the biggest danger on our roads and drivers of these massive vehicles should take note.
The problem of roads is a UK problem, not just in country areas but towns as well.
Unfortunately hauliers and farmers have to keep the country supplied and to do this they also have to think about the best vehicles for the job.
I regularly walk and ride on the road and find it is not so much the state of the roads or the drivers of these big vehicles, but some in family-sized cars that terrify the life out of you when they don't slow down.
I find most lorry drivers and farmers are very considerate when passing me, but I can't say the same about some car drivers.
Bryan Auchterlonie.
Bluebell Cottage,
Perth.
SNP improving Scottish lives
Madam, – While saddened by the deaths of Derek Farmer's two relatives in cycling accidents (Letters, October 16) I am appalled by his appropriation of these events as a means of attacking Holyrood and the Scottish independence movement.
As a life-long cyclist, I have been knocked into a ditch by a lorry, and had drivers on two occasions deliberately attempt to run me over.
I have been beckoned forward by occupants of a van at a blind crossing only to find a car bearing down on me at speed.
As this greatly amused the van occupants as they passed me, I suspect their actions were deliberate.
All these incidents pre-date Holyrood, illustrating that sharing our roads with individuals who are careless, dangerous or downright idiotic is not a new phenomenon.
Mr Farmer believes Holyrood hasn't improved the lives of Scots. He is wrong.
Organisations such as the UN, Red Cross, Joseph Rowntree Foundation and many others regularly praise our Scottish Government for their efforts, which is reflected by satisfaction levels in Scottish public services being the highest in the UK.
Meanwhile Westminster is just as regularly castigated for wrecking lives, with claims that Tory policies, described by a UN poverty envoy as "punitive, mean spirited and often callous", are directly responsible for over a hundred thousand deaths.
Mr Farmer supports both Westminster and the Conservatives.
His two recent bereavements are indeed a tragedy.
Sadly, his own party, pursuing their obsessive political dogma, view thousands of deaths as merely a statistic.
Ken Clark.
Thorter Way,
Dundee.
Climate group not as it seems
Madam, – The European Climate Declaration referred to by some of your correspondents is not an EU-backed project as the name may suggest.
It is spearheaded by Amsterdam's Climate Intelligence Foundation headed by one Professor Guus Berkhout a former Shell employee who still promotes Shell technology.
While scientific debate is important, it is also important that all sources of reference are fully transparent.
Ian Auchterlonie.
93 Denoon Terrace,
Dundee.
Deal flies in face of Good Friday
Madam, – The latest Brexit deal agreed between the UK Government and the European Commission flies totally in the face of the Good Friday agreement. This requires that any arrangements must have the consent of both unionist and nationalist communities.
However, the continuation of EU customs arrangements under the new deal will require a simple majority in the Assembly.
The DUP is correct to raise these concerns, the irony being that while it is playing up the professed sanctity of the Good Friday agreement, it voted against it at the time.
Alex Orr.
2 Marchmont Road,
Edinburgh.
If there's a deal it's about time
Madam, – Can there really be a deal in the offing for leaving the EU?
I think I speak for most in saying we are sick of it, although the time taken does indicate the complexity of the matter.
An ex diplomat, being interviewed on the BBC Parliament channel, perhaps summed it up with a quote from the Eagles' 'Hotel California' – "you can check out, but you can never leave".
William Ballantine.
Dear Road, Bo'ness,
West Lothian.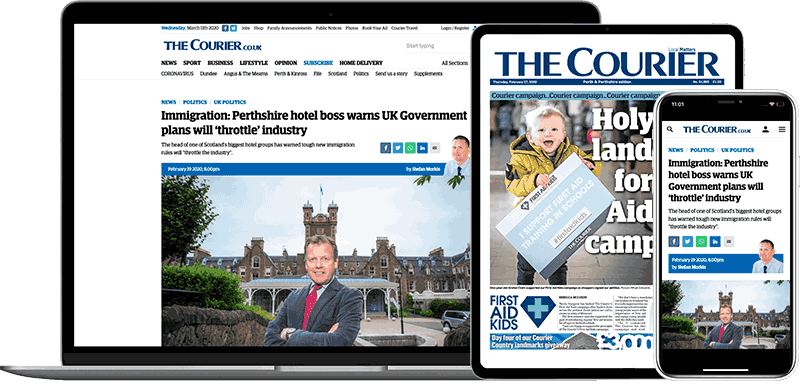 Help support quality local journalism … become a digital subscriber to The Courier
For as little as £5.99 a month you can access all of our content, including Premium articles.
Subscribe