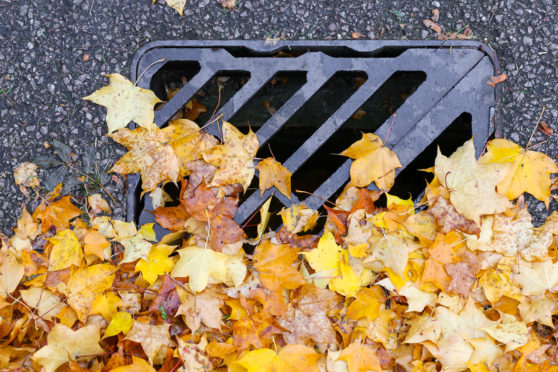 Sir, – Amidst ever increasing council cutbacks it is well known that numerous drains in and around Dundee are blocked.
I regularly walk down Castleroy Road, Bughties Road in the Ferry, en route to the bowling club, and for many years all of the drains have been completely blocked solid, and not just by leaves but by gravel and earth.
Two or three months ago four drains were cleared, at the junction of Camphill Road and Castleroy Road, but the rest remain blocked for some reason.
Every time it rains there is a torrent of water flowing down Castleroy Road and Panmure Street.
The biggest problem is caused by one half way up Castleroy Road.
Five yards uphill from this drain (up an access road) water constantly appears from underground and runs down the road.
I worked for the water board for many years and suspect the blocked drain is causing the water to back up and it's leaking out from the nearest gap in the pipe.
The surface has been dug up twice in the last year or so in an attempt to locate the leak, but it's made no difference.
Never, in all this time, have they thought about clearing this drain to allow the water to escape and probably solve the problem.
Two weeks ago we had a power cut during the night, during torrential rain.
SSE came out and traced the problem to an electricity access manhole, two yards uphill from this infamous blocked drain.
Again a massive area was dug up and a connection in this manhole was repaired or replaced.
It is highly likely that this blocked drain has caused the rain to back up to this connection and cause it to be waterlogged and yet still they didn't think to unblock the drain.
The hole they dug actually goes right up to this drain.
We pay one of the higher rates of council tax in this area and feel we get very little in return.
Instead we live with blocked drains, as well as the terrible condition of Bughties Road surface.
Adrian B Fuller.
Castleroy Crescent,
Broughty Ferry.
The upside of online shopping
Sir, – I write in reference to the letter from Mr Archibald A Lawrie ("Internet purchasing closes our local shops", The Courier, October 29).
I sympathise with the many shop assistants who are losing jobs due to the closure of High Street shops to the online shopping customers.
Not everyone enjoys tramping round the shops, having to strip off clothing to try on articles, which may not fit, then re-dressing, only to go through the same performance again.
If a purchased item proves not to be suitable after taking it home, the return journey into town is again time-consuming.
It either means a journey by bus or finding a distant car park to get back to the shops.
Also many modern shops have loud music blaring out, which can be so annoying.
If an item can be delivered and tried on at home, surely the comfort of doing this at leisure can only be a good experience.
F M McMillan.
6 Ethiebeaton Terrace,
Monifieth.
Companies' role in retail crisis
Sir, – The letter by Mr Archibald Lawrie (The Courier, October 29) regarding the ongoing crisis in the retail industry, including store closures, reduced profits and job losses, is unfortunately very true.
While in Dundee recently I visited the premises of a national chain store and examined their clothing range – ladies', men's and children's.
The labels on each item states the name of the company and where the garment is made.
They were manufactured exclusively abroad, Bangladesh, Madagascar and Myanmar to name but a few.
All this employment shifted abroad, with factories closed down, lost earnings and lost revenue to the national and local economies.
An American retailer in the 1930s famously stated the obvious: "If your customers ain't workin', they ain't buyin'".
Thus if this company, and the retail industry generally, continue with their current practices, the downward spiral will continue.
Just a thought.
Robin Love.
4 Station Cottages,
Dubton, Montrose.
Forget all these divisions
Sir, – As someone whose first vote was for Menzies Campbell at the 1992 general election, it was good to read that Francis Melville, a former Liberal Democrat provost of north-east Fife, is realising what I realised a long time ago – the hard working nature of SNP Members of Parliament.
Although I no longer have a vote in north-east Fife I fully agree with many former Liberal Democrat voters that the best candidate to represent the area is Stephen Gethins of the SNP.
It is truly time to forget the thinking that "a vote for the Liberal Democrats is a vote to stop the Tories" or as is now, the SNP, and all the divisive unionist and nationalist nonsense that should have ended after the 2014 Scottish independence referendum.
It is an opportunity to regard Scottish independence supporters as much a part of the union as the most ardent unionist.
It is time to vote for the best candidate and forget all this remain/leave and unionist/nationalist nonsense.
Thomas Ovenstone.
6 Orchard Grove,
Peterhead.
Brexit? Riddle me this
Sir, – Questions that need answers: "Name one law imposed on the UK by the EU that the UK didn't sign up for?"
Or "Name the EU laws that should be scrapped?" or "Why is the principle of UK sovereignty and self-governance a valid reason to leave the EU, but that principle shouldn't apply to Scotland within the UK?"
The world must look on and wonder why any working-class person wants the corrupt incompetent Westminster elite having more control over their lives.
Rod Selbie.
45 Silver Birch Drive,
Dundee.
Election points to ponder
Sir, – What a relief. Six whole weeks without Boris Johnson's Do or Die Brexit.
The paralysis in Parliament was all down to Theresa May calling an election to get Brexit through, and losing her majority instead.
There were too many sensible people voting against Boris Johnson's hard Brexit. And he much preferred holding an election than being forced to fulfil his promise of more police, more NHS spending, or more money for Scotland.
Instead we have six weeks to consider the SNP's plans. They are looking to secure 59 seats out of 59 to show Scotland wants out of the UK and into the EU.
So let's make the election all about the loss of the £14 billion Barnett formula money, the austerity needed to provide even basic services, and the whopping tax increases.
And the SNP's plans to go back into the EU even though a million Scots voted to Leave.
For Labour, it is said to be all about Jeremy Corbyn,who will not be on any ballot paper here.
They are promising an end to austerity, building lots of affordable houses, more investment in the NHS and re-nationalising the railways, something everyone can agree on.
Phil Tate.
95 Craiglockhart Road,
Edinburgh.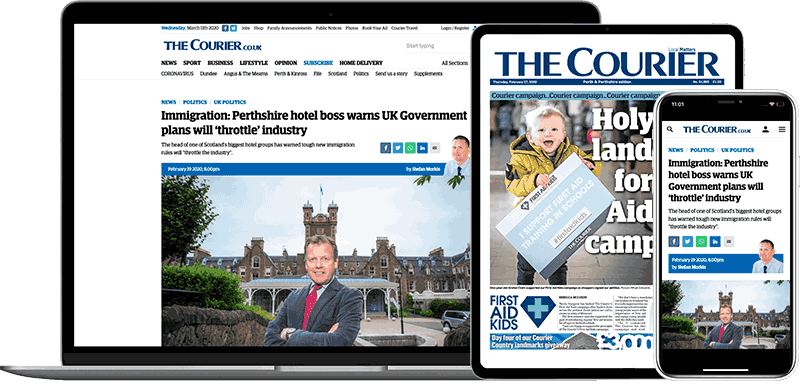 Help support quality local journalism … become a digital subscriber to The Courier
For as little as £5.99 a month you can access all of our content, including Premium articles.
Subscribe