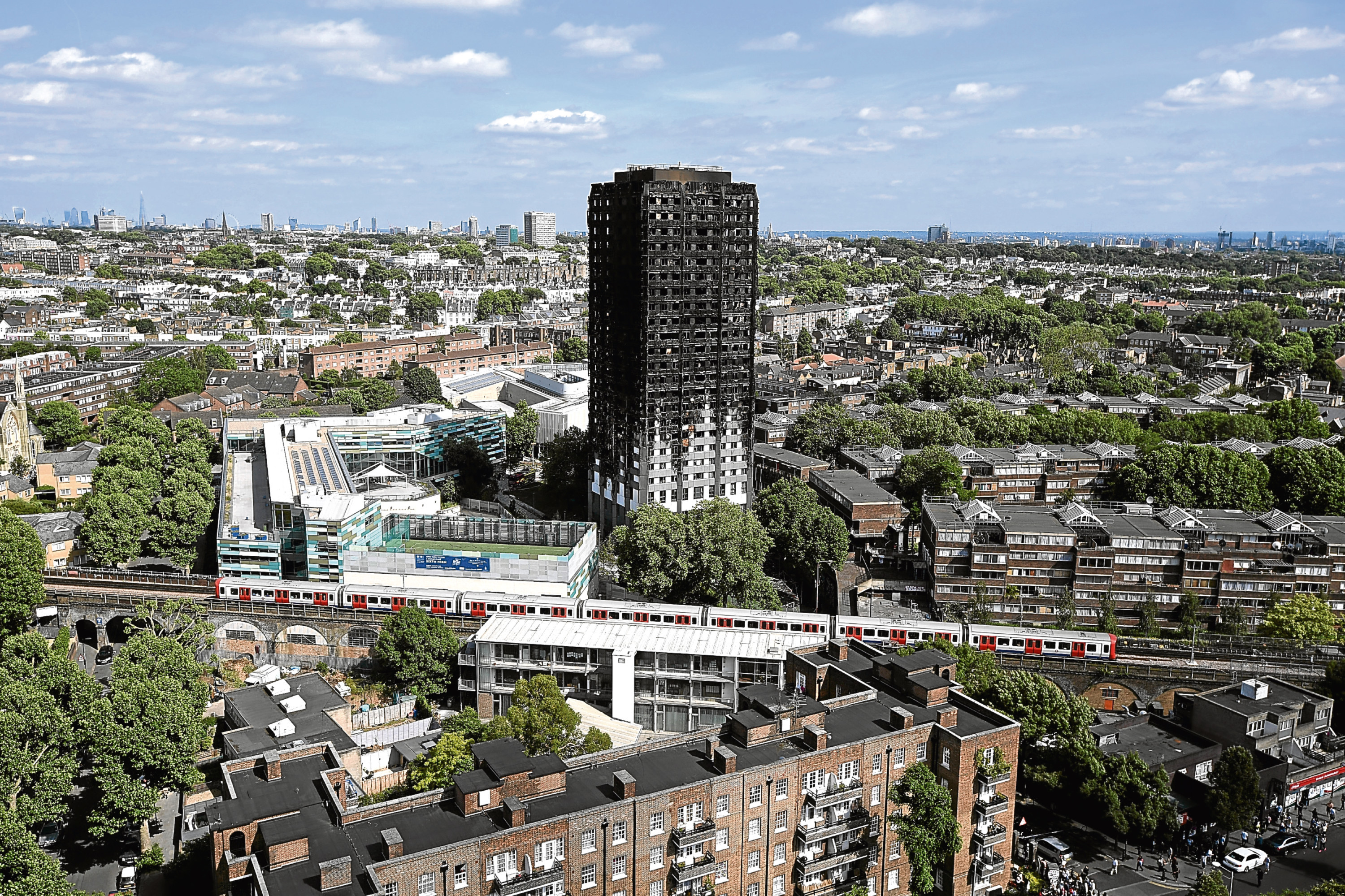 Sir, – The report of Phase 1 of the public enquiry into the Grenfell disaster points the finger of blame at the firefighters.
Now there may well have been faults in the operations of the fire brigade, but this seems to me to be the usual establishment response: blame the little people.
There is no mention in Judge Sir Martin Moore-Bick's report of the role of our esteemed Prime Minister Alexander Boris de Pfeffel Johnson, who, when Mayor of London, presided over an administration which closed 22 London fire stations, reduced fire brigade staff by a quarter, and those involved in enforcement of fire regulations by half.
This Tory Government has, as one of its main principles, the reduction of regulation or red tape as they would call it.
This was the background to a situation where unsafe cladding, which caused the deaths of six people in a blaze in 2009, was still permitted on Grenfell Tower in 2017.
Kensington and Chelsea Borough Council, arguably the wealthiest in the UK, put cheap, unsafe cladding on Grenfell Tower, not to make the houses warmer and more economical for the residents, but, as they said in one of their planning documents, to ensure 'the character and appearance of the area are preserved and living conditions of those living near the development suitably protected'.
In other words, to disguise the existence of accommodation perceived as for poor people from their wealthy neighbours, presumably for fear that this might offend their delicate sensibilities, lower the tone of the area, and, heaven forfend, affect house prices.
Life is cheap when it's poor.
Les Mackay.
5 Carmichael Gardens,
Dundee.
Greens are real power brokers
Sir, – Ken Clark's letter (Disrespect from Westminster not Holyrood, Courier, November 7), is probably one of the most bizarre I have encountered in many years.
A referendum was held in 2014 offering the people of Scotland the right to self determination and was dismissed by 55.3% against that of 44.7% in favour.
A decision that has been disregarded by those who favoured seperation.
A decision that all sides agreed to respect, no matter what side they supported.
Since the resignation of the then First Minister, to the election of the next, there has been a total disregard to that decision by the governing party in Scotland's devolved administration.
An administration propped up by the Green party, who are the real powerbrokers at Holyrood.
The same administration have refused to accept a nationwide referendum on EU membership and have disregarded the 38% of the Scottish electorate, who voted to leave.
Again, hugely disrespectful, to those who would dare to disagree with them.
Even more incredulous they condemned the DUP for propping up a beleagured Conservative administration.
Pot and kettle, come to mind, Mr Clark?
With respect to Mr Clark, the Scottish electorate, not the political classes have the right to demand referendums.
Perhaps the next referendum should be, whether or not the Scottish people want to keep the Scottish Parliament?
After all it is a generation ago since we narrowly agreed to it!
Brian A Falconer.
30, Market Court,
Perth.
Nationalists are bad losers
Sir, – Nicola Sturgeon and her less than merry band are always grumbling about Scotland's status in the UK.
But Scotland has formed part of that Union for over 300 years.
Her SNP chums may yearn for Scotland to become 'independent', but we all know that was not the will of the electorate in 2014.
And it was stated at the time that a referendum on the question of 'independence' would be a once in a generation event.
And in any case what is so independent about becoming part of the EU?
Since the nationalists lost we have heard nothing else but grumbles from them.
And they do not even have a majority at Holyrood. What bad losers.
Robert I G Scott.
Northfield,
Ceres.
Church's abuse rhetoric 'empty'
Sir – It has been confirmed at the child sex abuse inquiry for England and Wales that the Holy See has claimed diplomatic immunity arising from its statehood in order to refuse to assist the inquiry into child sex abuse by its priests and the cover-up by its hierarchy.
No doubt this same prerogative will be exercised in relation to the current Scottish child sex abuse inquiry.
This clearly demonstrates the emptiness of Pope Francis' rhetoric about the Catholic Church adopting a 'zero tolerance' policy on child sex abuse.
It is also worth noting that the Holy See's claims to statehood change depending on the circumstances. In recent years the Holy See has, when convenient, both asserted and renounced its statehood.
In 2009 it claimed statehood to ask for diplomatic immunity from sex abuse cases in the United States while almost simultaneously denying statehood in order to refuse cooperation with the International Criminal Court.
It is therefore pertinent to ask why the Scottish Government is happy to continue allowing the Catholic Church to run a segregated sector of our education system.
Surely any organisation that has such blatant disregard for Scotland's governance and the safety of its children, combined with its appalling global record on child sex abuse and its cover-up, is not fit to have access to Scottish schools in this way?
Alistair McBay.
Lawmuirview,
Methven,
Perth.
Christmas will be anti-climax
Madam, – I find it scandalous that the council in St Andrews decided to switch on their Christmas lights seven weeks before the event.
This is a total waste of taxpayers money.
When Christmas comes round it will be an anti-climax.
Alister Rankin.
93, Whyterose Terrace,
Methil,
Leven.