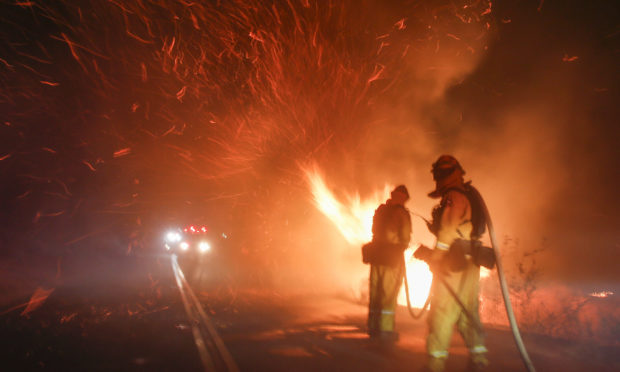 Sir, – I see regular letters denying the changes to our world are anything to do with our actions and I wonder: if not us, then what?
Venice is currently suffering from the second worst flood on record; our seas are treated as a sewer; species are being lost at a great rate; the Amazon is ablaze, as is California, Australia, and northern Russia; islands in the southern oceans are disappearing below the water, and the Great Barrier Reef is almost beyond redemption while vast areas of the world are becoming deserts creating refugees on a massive scale.
Nearer home, parts of Yorkshire are experiencing unprecedented floods.
Our cities are clogged with cars, mostly with one occupant; vans, cars and bikes traverse our cities delivering single items to individual houses, when before the postie did it all on his round.
Fertile farm land is being covered in concrete at a great rate; much of our uplands are a grouse farming desert and a couple of months ago seven old stone bridges in the north east, which had presumably stood for a hundred years, were washed away in a few hours by rain.
And so on.
If this is not man-made, then what's going on?
I'm no expert, but what I see and hear is enough to make me fear for the future of my children, and my grandchildren.
And indeed for all Jock Tamson's bairns.
Les Mackay,
5 Carmichael Gardens,
Dundee.
Puerile attack on the SNP
Sir, – Normally Jenny Hjul's predictable anti-SNP diatribes and her childish use of potentially inflammatory words such as separatist simply make me smile and feel sorry for her lack of journalistic ability and political knowledge.
However the statement in her latest rant that "the Nationalists fight on a pro-Remain, far Left and often anti-English platform" is only right on the first count. It is well adrift on the second and third and must be corrected.
It is generally accepted that SNP policies are in the Western European social democratic tradition and it is a fact that the party contains a wider spectrum of political opinion than other major parties as it is the only viable vehicle for Scottish independence.
Hardly the definition of far Left.
As for the anti-English remark she should be ashamed of herself for attempting to perpetuate this old lie.
Most SNP branches have English born and bred members currently living in Scotland and believing in independence, Nationalists happily holiday in England, do business there, perhaps have English partners, the list could on.
The puerile remark really does not deserve any more attention.
John Milne,
Rose Cottage,
Kirkmichael.
Bottle scheme will hit choice
Sir, – After trying unsuccessfully to engage my local MSP on the subject of the Drink Container Deposit Scheme (Courier 13 Nov), I decided that I had better read through the Full Business Case and give the Scottish Government the benefit of input from the viewpoint of the man on the street.
By including glass bottles, which have a recycling value of only £6 to £17 a tonne, it increases the weight and volume of product to be collected by over 80%.
Disregarding every other aspect, including danger, the cost and carbon emission content of diesel for the extra collection lorries involved, that should be enough to persuade the powers that be that including glass bottles is an expensive mistake.
My main reason for writing however is to highlight that whilst the Producer Registration Fee of £209 a year has been well publicised, I had previously not read anywhere about the 3.3 pence per item Producer Fee which is the main funding source for the whole ensemble.
This will inevitably be added to the retail price of every container of drinks and, unlike the 20p per item deposit return element, will not be refundable.
It may be pushing things to suggest this will impact on the retail price index but it is yet another stealth tax on the general public.
Since there is no "de minimis" provision, I fear many small producers, not least those in England with a small but loyal customer base in Scotland, will decide that £209 a year is an overhead they can do without.
This will result in a serious diminution of choice for soft drink and beer drinkers in our part of the world.
David Grant,
Sunnybraes,
Ladybank, Fife.
Cash-laden promises
Sir, – Extra spending promised by political parties – a billion or two here and there – begs the question of where this money is to come from?
Already our national debt is two trillion. That is to say two thousand billion, and the interest payable on that debt is one billion a week.
Jeremy Corbyn of Labour goes further, and wishes to nationalise public services, and has suggested spending a trillion to do that.
The word spending implies that the money is there to spend; but it is not.
We are already in debt, so what he and the others mean is borrowing to spend.
If the national debt ever went to three trillion, and interest rates were to increase, Britain could be unable to service sovereign debt.
So let us be cautious when we hear political promises that are easily made, but financially impossible to deliver.
Malcolm Parkin,
Gamekeepers Road,
Kinnesswood,
Kinross.
NATO has taken lead role
Sir, – As a LibDem office-bearer, Anthony Garrett (EU has helped keep war at bay, Courier, November 12) naturally opines that the EEC/EU has "so far succeeded in helping to prevent further major European wars".
But he and others of that ilk never say which state would have started a further war, nor why, nor who the victim nation(s) would have been.
If he means Germany for the fourth time in around 100 years, following 1870 (albeit that France mobilised first, to pre-empt clear Prussian aggression plans), 1914 and 1938 onwards, then he should say so.
Otherwise he should credibly identify others whom he might consider able and willing to initiate such "major wars", with their motives for such aggression.
Established liberal democracies do not invade each other.
It is NATO, facing Stalin's USSR and now a resurgent Russia, and with the collective defence doctrine of "an attack on one is an attack on all", which has prevented such major war in western and now all of Europe, with the sad regional exceptions of Ukraine and the former Yugoslavia.
John Birkett,
12 Horseleys Park,
St. Andrews.
Unfair portrait of candidate
Sir, – What a petulant and inaccurate letter from Linda Holt about Stephen Gethins (Re-election wil lead to division, Courier, November 5).
I live in Mr Gethins' constituency and he has been a conscientious, hard working MP for North East Fife since 2015.
He is certainly not a divisive MP and does not wave the independence flag while working hard for all his constituents, whatever their political persuasion.
Julia Young,
South Flisk,
Blebo Craigs,
Fife.