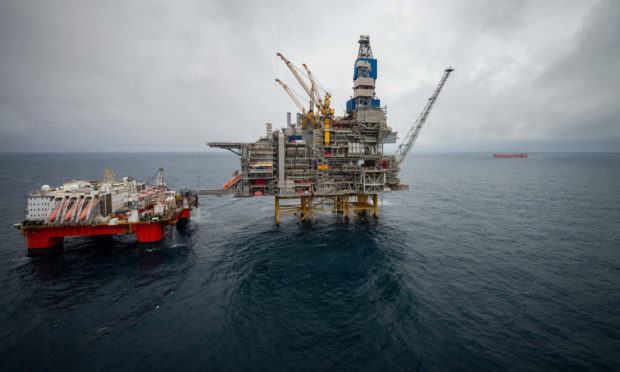 Sir, – The famous figure of £350 million a week, emblazoned on the Vote Leave campaign bus and purported to be the bonus to the NHS if the UK left the EU, has long since been discredited. But is still talked about.
However that big number can still be accurately applied to Scotland today.
It just so happens £350m per week is the value of the daily output of oil from Scottish Jurisdiction waters – and the figure has been a lot higher in the past.
Yet this astonishing value is never publicised, even in Scotland.
Just why Scottish oil – by far Scotland's biggest industry – rarely makes headlines requires some explanation.
My interest in Scotland's North Sea oil goes back a long time.
I wrote the SNP's 1970s Oil Campaign booklet "The Reality Of Scotland's Oil".
It pointed out the real benefits of having discovered massive amounts of oil in the North Sea would pass Scotland by if we did not become independent.
Well, we did not become independent in the 1970s, and we are still not independent in 2019.
And, yes, the benefits of the tens of billions of barrels of oil from Scottish waters over the past 45 years, all under the control and direction of the Westminster Government, have well and truly passed us by.
On the other side of our North Sea boundary lies our independent neighbour, Norway.
She discovered oil in her waters around the same time as we did. However being an independent country, Norway was totally in charge of the exploitation of her own oil.
How has she fared over the past 45 years?
For a start she has accrued a major stake in the ownership of her own oilfields. One of the most amazing outcomes of 45 years of Westminster control of the oil is, not only does Scotland have no stake in our oil, even the UK Government does not. But a whole raft of state oil companies have stakes in our oilfields.
Norway has also accrued a massive indigenous expertise and manufacturing capacity in oil exploration and development.
For example our so-called Scottish-located "floating" wind farms are actually Norwegian designed and built.
Norway also has the biggest Sovereign Wealth Fund in the world. A whopping £1 trillion and still rising.
How did they reach that figure? Easy, independence.
We cannot go back now but we must recognise that Scotland's oil is still a massive asset.
Oil and gas will still be coming out of the North Sea, and all around the world, for decades, such will be the timescale of any climate change transition.
Control of it will still bring tangible benefits to an independent Scotland, both in revenue terms and in terms of balance of payments.
The latter factor is one of the main reasons why Westminster will use every dirty trick to maintain control of our oil.
Nick Dekker.
1 Nairn Way,
Cumbernauld.
Kirkcaldy traffic chaos notes
Sir, – I read with interest the article regarding the congestion at the Bridge Street junction on Kirkcaldy Esplanade due to the resurfacing roadworks ("Double dose of roadworks leads to chaos", The Courier, November 14).
Having travelled through the roadworks at 8am last Wednesday and visited the junction at 11am to see if the chaos had been mitigated, I could not believe this had been allowed to happen.
That delay mitigation measures have now been introduced is welcomed but surely both Fife Council officers and traffic management contractors should have the expertise to foresee the inevitable chaos.
As an onlooker, there appeared to be three significant contributory factors.
Firstly, why was traffic coming from the Orrock Quarry road being held at the lights when traffic was heading away from the Esplanade to Kinghorn or Orrock Quarry? As a consequence, the phase for holding this traffic was unnecessarily long, thus adding to the delay for all vehicles.
Secondly, the control of the lights appeared to be from a van at the junction at Bridge Street and thus the operator had no knowledge of the length of queue coming into town on Kinghorn Road.
At 11am, three hours after first encountering the chaos, on Kinghorn Road the queue was still 90 vehicles and a maximum of 24 was being allowed through on the go ahead phase.
Finally, the delay at changeover of phases when no traffic was flowing seemed to be excessive.
At 5pm when I travelled into town from Kinghorn Road, thankfully the queue was significantly less, the traffic was met with the full-on headlight glare of the driverless traffic management contractor's truck making the unaccustomed manoeuvre at the junction even more difficult.
I wonder how my observations would have been met by Fife Council or the onsite workforce? At least The Courier intervention has brought some common sense improvements.
Andrew Blankenstein.
Hazeldene,
Balmalcolm, Cupar.
Richer things in life than money
Sir, – By his own admission, Dr John Cameron's letter "Climate change on the cheap" (November 14) accepts that carbonisation is a problem.
However he infers we should do nothing about it because of the financial costs!
I would like to remind him that there are richer things in life than money.
A doctor will fight to the last breath to save the life of a terminally ill patient, or should firefighters simply give up if they consider a fire to be out of control?
Humanity is better than that, and we must take responsibility for our actions instead of adopting an "I'm all right Jack" attitude.
Graham Ellis.
Moredun,
Auchterhouse.
Change starts with all of us
Sir, – I was saddened to read about a stag which became entangled in the plastic strips of washed up fishing lines in Jura, while it was grazing on seaweed.
The animal couldn't feed, and was discovered ill and distressed by a local gamekeeper on the island. It was subsequently put to sleep.
It brought home that plastic is having a terrible effect upon our local wildlife and environment.
Plastic pollution affects every corner of the world, and we must all wake up and take urgent action.
Solutions include massively reducing our use of single use plastic, not littering, and demanding that all fishermen clean up their act and stop polluting the water with their disused netting and gear.
Fortunately, now in Dundee, we have three zero waste shops to help us cut back on single use plastic: The Little Green Larder on the Perth Road, Love Your Planet in Broughty Ferry, and the Birchwood Emporium on Commerical Street.
Also, some of the local supermarkets sell some fruit and vegetables loose without plastic packaging.
At home, we get glass milk bottles delivered which are then collected, washed, refilled and reused.
We refill our washing up liquid bottle from the zero waste stores. We drink from refillable water flasks, and reusable coffee cups.
We use hand soap bars, body soap bars, and shampoo bars.
We can all help make a difference.
Leon Fields.
Dunmore Gardens,
West End, Dundee.