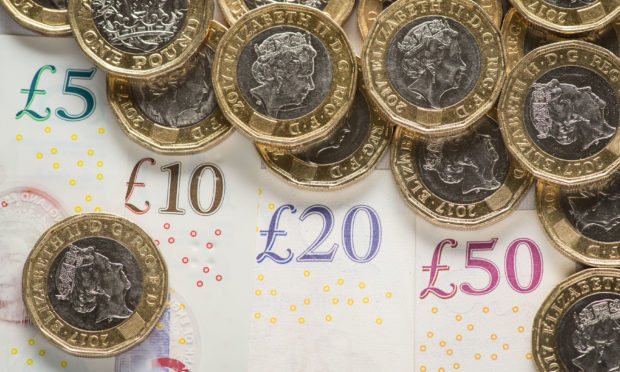 Sir, – The letter by Malcolm Parkin (Cash-laden promises, Courier, November 15) highlights the problem with our banking and monetary system and the competence of political parties.
The national debt of around £2 trillion under the present system is a perpetually increasing, unpayable, debt.
The interest owed to the private banks on this debt is equivalent to approximately £500,000 every single minute.
The banking system is looked upon as being honest, decent and respectable, but it is in fact dishonest, corrupt and parasitic as most banks, through fractional reserve banking, can lend many more times what they have on deposit and thus create money out of thin air to the detriment of society.
There is an old adage that says 'give a man a gun and he will rob a bank, give a man a bank and he will rob the world'.
The system is unlikely to change as around 85% of politicians don't know how money is created and are ill-equipped to deal with our economy.
The general public's knowledge is unlikely to be any better. In fact, the subject is rarely discussed.
In November 2014, a debate was held in the House of Commons on the creation of money and only around 30 MPs bothered to show up.
The banking elite don't want us to understand their fraudulent system so that they keep us divided through the party political system by expending our energies on matters of little importance.
The answer is simple.
Every government should take back control of the creation of money from the private bankers and issue it themselves, debt free, and spend it in the economy, thus solving all our social and economic problems.
So when an aspiring MP asks us for our vote we should ask them what their policy is on the national debt and how they intend to deal with it.
Only then will we find out if there really is anyone worth voting for.
David Mathieson.
2 Abbey Cottages,
Newburgh.
Labour's poor grasp of finances
Sir, – In my opinion Mr Corbyn and Mr McDonnell do not have a proper understanding of UK finances.
They are proposing to increase the tax burden on high earners who are the people most likely to be creating wealth not only for themselves but also their employees.
They also intend to increase taxation on company profits.
Their target of having a £10 per hour minimum wage along with privatisation of any business which takes their fancy is, in my opinion, the first step towards inflation.
They suggest one-third of UK billionaires support the Conservative Party. Do they know how the other two-thirds spend their money – could it be partly used in contributions to other political parties?
Their intention to borrow an unprecedented sum of money will increase the national debt to a horrendous level.
The present debt stands at £1.78 trillion. Heaven knows what the outcome of all this would be if our creditors sought repayment.
A A Bullions.
6 Glencairn Crescent,
Leven.
SNP's figures do not add up
Sir, – In the north east last week Nicola Sturgeon said that, according to the National Institute for Economic and Social Research, a no deal Brexit would reduce the area's GVA by 6.3%.
What she failed to mention was this is over a 10 year period and a no-deal Brexit is unlikely.
Neither did she mention the recent Aberdeen Economic Report for 2019 which, using ONS Regional GVA statistics states "relative to their population (9.0% of the Scottish total), Aberdeen and Aberdeenshire make a disproportionately high contribution towards Scottish GVA, accounting for 13.4% of Scottish GVA in 2017 (albeit down from 15.6% in 2014)".
Excluding oil revenues, GVA per head in 2017 was £47,583 for Aberdeen City and £29,481 for Aberdeenshire, an average of roughly £37k.
The Scottish average is £25,485.
Based on the 2017 figures, this means that, without the north east, Scotland's GVA and GDP per capita would be £24,200, a drop of 5%, a huge economic shock in the first years and each following year and almost ten times Ms Sturgeon's "no deal" wolf cry.
No wonder Ms Sturgeon didn't quote these numbers – she won't want to confirm what many of us know, which is we are a Central Belt subsidising, Scottish Catalonia on her doorstep.
It's the same with Edinburgh, the other city region that voted 60% no in 2014.
It has a similar GVA and population, and if it wasn't in Scotland there would be a 10% hit on the rest of Scotland per capita and actual GDP/GVA.
Allan Sutherland.
1 Willow Row,
Stonehaven.
Scotland must regain its mojo
Sir, – According to the latest opinion polls Boris Johnson has a commanding 16-point lead (albeit things could change) which would mean he would have a clear majority at Westminster to get Brexit done and give companies confidence to start reinvesting again.
Indeed Bloomberg has suggested that if this were the case the UK pound would jump to $1.39.
Given the above scenario, where would this leave the SNP's influence with regard to the new incumbent power at Westminster – not a lot and here is why.
Common sense tells you that with a committed unionist party in power at Westminster it would be hard for them to have meaningful discussions with the SNP whose whole raison d'être and survival depends on them breaking up the Union.
Under these circumstances the real power would be with Scottish Conservatives but should, in my view, include the Liberal Democrats and Labour who also have Scotland's best interests at heart.
So it is a nonsense for Nicola Sturgeon to claim that a vote for the SNP is a vote for Scotland or that there is a realistic chance of a re-run of the 2014 referendum.
My bet is that Mr Johnson would listen very carefully to all unionists –especially the Conservatives – to ensure Scotland regains its mojo.
Ian Lakin.
Murtle Den Road,
Milltimber.
Keep opinions to yourself, FM
Sir, – When Ruth Davidson stood down from her position as Conservative leader in Scotland this year, she eloquently set out her reasons why, and did so in a measured and persuasive way.
Most people will have accepted her version of events.
Political convention and good manners would dictate that others leave it at that.
But it appears our first minister knows better (Sturgeon gives views on why Davidson quit, Courier, November 19).
We all know there is an election on and politicians will take cheap shots, but do the current first minister and her advisers not have any red lines over which it is advisable not to cross?
She says the Conservative Party have now become the Brexit Party in Scotland.
I see no evidence of this. If anything, it will be her own supporters who vote for the Brexit Party here, the ones who cannot support her pro-EU at any cost stance, and the ones who do not switch across to the Tories.
Victor Clements.
Mamie's Cottage,
Aberfeldy.