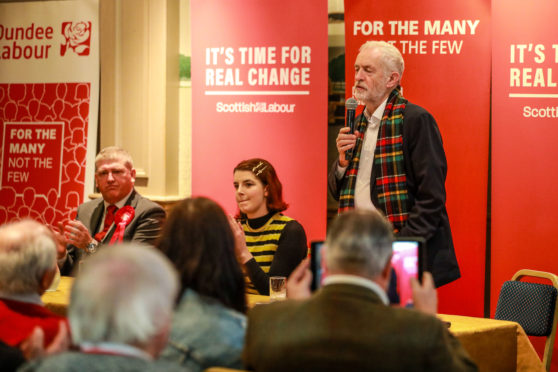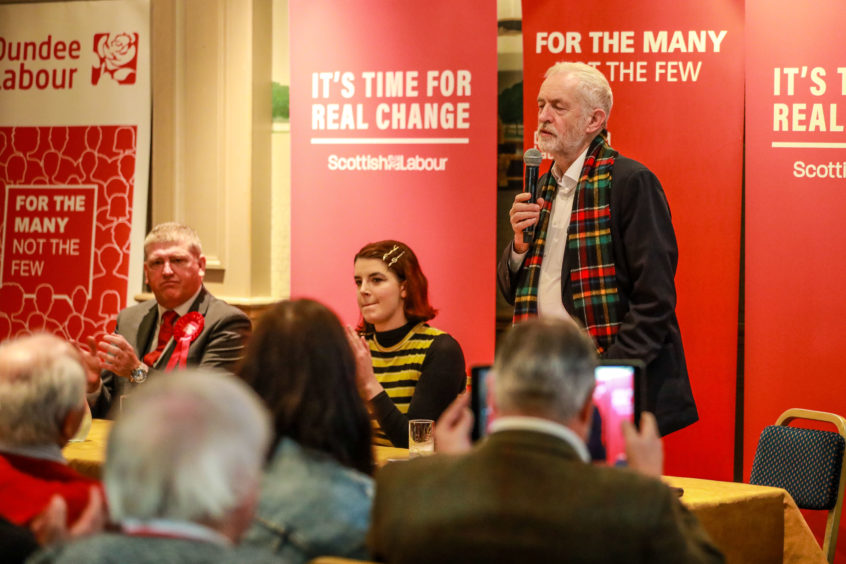 Sir, – Regular readers of The Courier letters page may know me as a supporter of Scottish independence.
However, I caught a bit of Jeremy Corbyn's launch of the Labour Party manifesto for the upcoming election on TV, and I found myself thinking 'that's good…I like that…great plan'.
But, the problem is, he won't be elected!
Labour in Scotland is now a fringe party.
England almost always votes Conservative and seems to be getting more right wing by the day.
Furthermore if, by some miracle, Corbyn was elected, he would be undermined by the dissidents in his own party.
He would be slaughtered by the media and, even if by some further miracle he managed to stay in power for a while and achieved some of his objectives, he would probably be turfed out at the next election.
Inevitably the Tories would come back and reverse any progress he had made.
As they always do.
Now given that this Labour manifesto is not too different from what most independence supporters want, and some of it is already being implemented in Scotland, would it not make sense for Labour supporters in Scotland to support the SNP, in the short term at least?
The independence movement in Scotland would then, I suggest, be unstoppable, and once independence is gained, politics in Scotland would re-align; the SNP, which accommodates a wide range of political views, would split and there would almost certainly be a leftist majority in the country.
We could then make long term plans for a fairer country, without the constant threat, as in the UK, that the Tories will be back shortly, to reinstate Boris, or Rees Mogg and others of their rapacious ilk, and reassert the rule of the rich.
Les Mackay.
5 Carmichael Gardens, Dundee.
Ideas aligned with grandpa's
Sir, – Dr John Thompson, former rector at Madras College for two decades, would be deeply concerned at the current state of affairs in our country.
A veteran of the Second World War and a student of history, he founded Scotland's first student exchange programme with a German school, believing in reconciliation and increased cultural awareness between people right across Europe.
He wanted to leave the world a better place for the generations that followed, and I don't think he could have contemplated such a backward step as Scotland being torn out of Europe against its will.
As Dr Thompson's grandson, I'd like to let your readers know that I am supporting Stephen Gethins at the upcoming election. After meeting him and his team, I can see he is a sincere and hard-working MP who shares the values Dr Thompson held.
I think Stephen is the best candidate to continue arguing for Scotland to retain membership of the European club, and to stand up for all of Jock Tamson's bairns.
I'd like to think grandpa would be on his side too.
Finlay Royle.
29 Westbury Road,
Croydon.
As the little meerkat says …
Sir, – Labour's 'audacious' plan to compensate the Waspi women will apparently cost a 'staggering' £58 billion.
How could we possibly pay for that ? We have no 'money tree' as Mr Johnson says.
Actually cancelling HS2 ( £80 billion ), Trident ( £100 billion ), North/South Crossrail in London ( £ ?? ) and not leaving the EU (£50 billion ) would pay for it more than four times over.
As the little meerkat says, "Simples''.
Nick Dekker.
1 Nairn Way,
Cumbernauld.
The deplorable war in Iraq
Sir, – My soldier son and his fellow officers weren't the kind of ingénues who joyously marched off to the First World War, but graduate entrants well aware of the Iraq War's dodgy legality.
They were simply caught up in yet another dirty little post-imperial war at the behest of a prime minister they didn't trust, with rotten kit funded by a chancellor intent on running an invasion on the cheap.
Mindless political incompetence made a shambles of post-war Iraq and set the Islamic Crescent ablaze, leaving our soldiers trying to contain the chaos.
Valid accusations of human rights abuse must be addressed but this should have been done long ago.
What is truly deplorable is that the politicians who created this blood-drenched shambles have swanned off into the sunset.
Rev Dr John Cameron.
10 Howard Place,
St Andrews.
Rising CO2, rising doom
Sir, – Well that's it folks, we are all on the "slippery slope".
The true facts are out, CO2 levels have reached almost 415 parts per million, from around some 290 ppm in 1900.
It is significant there is a direct correlation between CO2 levels & global population (human activity).
The 1960s show the sharpest rise in CO2 levels.
This corresponds with the massive development and production of cars, trucks, aircraft, shops and packaged foodstuffs.
What next?
Kenneth Miln.
6 Swallow Apts,
Union St, Monifieth.
On the climate bandwagon
Sir, – The rock band Coldplay have climbed on, if you will forgive me, the Climate Emergency bandwagon.
Singer Chris Martin says they will not tour again until they can make their concerts environmentally friendly.
Seems a bit late for that in view of their numerous world-wide tours churning out thousands of tons of emissions.
But wait a minute. I hope this does not catch on.
Imagine the green zealots licking their lips and demanding all entertainment is green taxed on the emissions created?
Football, rugby, music festivals, firework festivals, festive lights and other public entertainment.
You think it would never happen?
There are already calls to ban Christmas crackers .
What will happen when a green zealot realises that hundreds of thousands of CO2 absorbing trees are being cut down for Christmas decorations? Ba Humbug.
Clark Cross.
138 Springfield Road,
Linlithgow.
Our deadly toxic meat industry
Sir, – I have no wish to preach but I hope Courier readers were able to watch Monday night's BBC screening of animal biologist Liz Bonnin's investigation into the environmental impact of animals being raised to satisfy the demand for meat.
The message was simple and stark – our present level of meat consumption is quite literally poisoning and killing the planet.
The factory farming necessary to meet the huge and increasing demand for meat is devastating the environment and is directly responsible over the last few years for a 20% reduction in the size of the Amazon rainforest.
The process also entails barbaric torture of animals but it seems we are oblivious to the suffering of the planet or its creatures as long as we can stoke up on steak pie, bacon and eggs and chicken nuggets!
Alan Woodcock.
23 Osborne Place,
Dundee.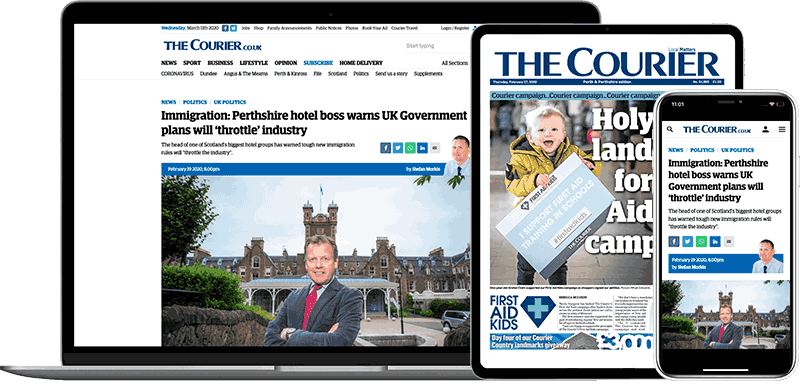 Help support quality local journalism … become a digital subscriber to The Courier
For as little as £5.99 a month you can access all of our content, including Premium articles.
Subscribe