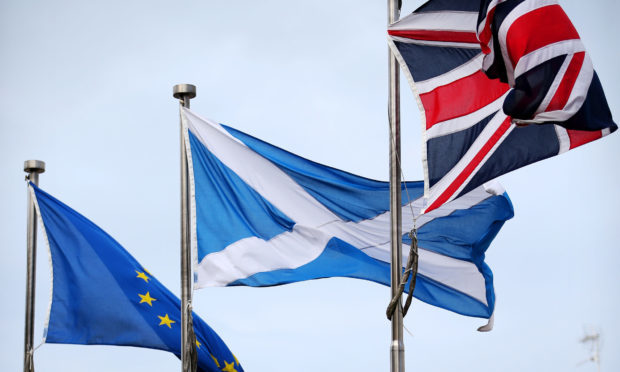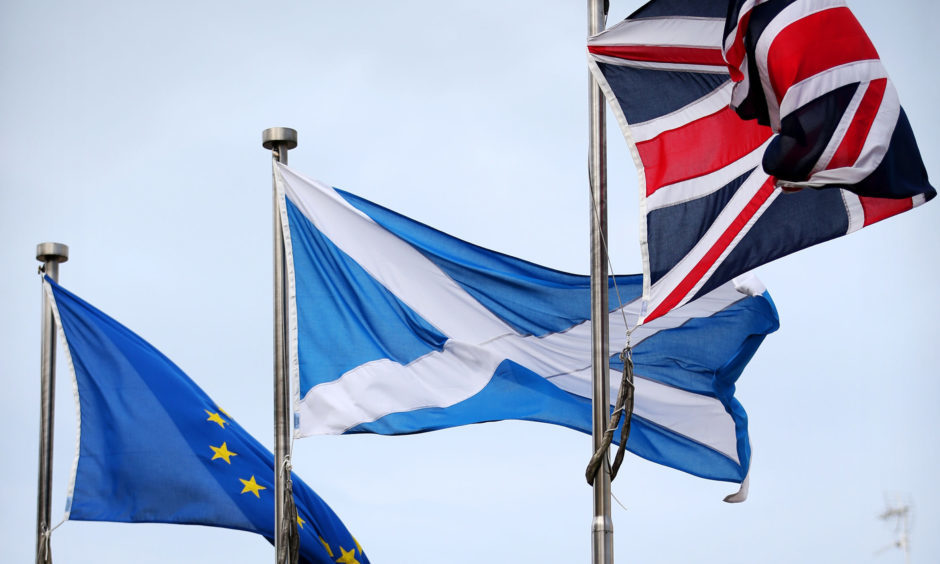 Sir, – Since 2014, the mask of the Union Scots depicting Scotland as a supposedly loved and respected partner has slipped ever further from the face of Westminster, revealing the stark reality hidden beneath.
The insincere platitudes have been replaced by the unadorned arrogance and ignorance of a London establishment used to getting its own way in these islands we share.
The day after the candidates for Uxbridge and South Ruislip and Islington North, Boris Johnson and Jeremy Corbyn respectively, had a televised face-off emphasising what they would and wouldn't allow Scots to do.
The English historian Simon Heffer reinforced their colonialist attitude on BBC2's Politics Live programme.
He stated: "Most people in England having seen how badly we got Ireland wrong 100 years ago would say, well maybe we should allow another opportunity to the Scots to decide their future."
He continued: "We have a duty towards Scotland at the moment because they are part of our United (sic) Kingdom and yes, let's grant them a referendum but let them make a proper case that they can govern themselves responsibly afterwards."
Once again, an example of English exceptionalism at its most absurd ignoring the more apposite argument for an EU staged intervention, allowing a care order to be issued as a means of protecting our southern neighbours from their seriously harmful electoral choices. This would be a humane act of neighbourly kindness.
Thankfully, we have another, independent path available, taking us out of Westminster's harmful reach.
Ken Clark.
15 Thorter Way,
Dundee
'Enlightened Scots' raised bar
Sir, – How did unprecedented numbers of enlightened Scots manage to crack the system and get their voices heard on the Question Time leaders' debate in Sheffield?
Their input raised the standard of questioning and discussion from the floor to an all-time high.
Compare that to the notorious broadcast from Dundee, where so many plants appeared in the audience a more appropriate title might have been Gardeners' Question Time.
James Stevenson.
Drummond Avenue,
Auchterarder.
Right wing Tory 'threat' to NHS
Sir, – I was delighted to see our old GPs (Drs Weir and Delaney) plead for voters to protect our NHS when they come to vote at the forthcoming general election.
The doctors did not say where the biggest threat to the NHS comes from, but those with sense know exactly where.
There is a huge and ongoing threat to the NHS from the extreme right wing gang now in charge of the Tory Party in London.
The Tory Party has moved so far to the extreme right, we now have the unbelievable situation that Winston Churchill's grandson, along with other life-long moderate Tories like Kenneth Clarke have been kicked out for telling the truth.
The Tories have become so toxic that died-in-the-wool Conservatives like Michael Hesletine have advised people not to vote Tory any more.
There are some clear reasons why you can be sure that a vote for the Tory Party is a vote to attack our health service.
Firstly, the current extreme right wing Tory gang has been endorsed by Nigel Farage, who has a record of supporting NHS funding by private health insurance.
Secondly, Johnson has been endorsed by Donald Trump, who is on record as making it clear that a post Brexit trade deal will involve the US getting hold of the NHS for profit.
Thirdly, Johnson has said he won't sell out our NHS to Trump. With his shocking record as a serial liar, nothing makes alarm bells sound louder than a promise from Boris Johnson. Make no mistake. Trusting Johnson with anything of even slight value, let alone our NHS, would be madness.
K Heath.
Cortachy,
Kirriemuir.
Holding nose at ballot box
Sir, – Although I am an independence supporter, I wonder if I might be allowed to make a plea to traditional Conservative voters: don't vote for Boris!
This is not the Conservative Party as you have known it: this is a different beast altogether and it is not worthy of your vote.
All the sensible, family- values Conservative MPs have left, or been expelled, and the new party has been captured by the hard right, in favour of the most damaging, divisive Brexit, laying the country open to pillage by President Trump and his rapacious colleagues, promoting even greater inequality in a country already obscenely ill divided, tax cuts for the rich, harder austerity for the poor, slashing workers' rights, victimisation of Scotland for not complying, and endlessly on.
The Conservative Party used to be known as the party of "family values". Now they are led by a man who is the absolute antithesis, and the shadowy figures supporting and funding him are even less palatable.
If this Conservative Party is elected with a majority, they will change the UK beyond redemption, setting in stone for the foreseeable future the desperately damaging divisions which they have engineered.
I have occasionally held my nose while entering the ballot box; it is not a nice feeling, but sometimes necessary!
Les Mackay.
5 Carmichael Gardens,
Dundee.
Benefits of other schools
Sir, – I have a suggestion for the poor freezing cold pupils of Dundee High School (Dundee High School pupils 'not allowed' to buy cheaper winter clothing, The Courier, November 25) .
They should move to the "other schools" not only enabling them to buy the cheap winter clothing, but also with the added bonus of saving their parents a lot more money in school fees!
Avila Murray.
1 Bailie Norrie Cres,
Montrose.
Best interests of Scotland first?
Sir, – As the election debate heats up and more and more smoke screens are used to muddy the waters, it appears to me that there are some simple questions to be asked that can help us decide for whom to vote.
Which party/candidate will best look after the interests of my constituency and country?
Would it be the candidate that will be subject to the control of the parent party in England or will it be the party/candidate that will work in the best interests of country in which I live?
Brian Batson.
7 Lour Road,
Forfar.
'Unrealistic and harmful' policy
Sir, – The geological archive reveals that Earth's climate has varied as long as the planet has existed.
With the Little Ice Age ending as recently as 1850, it should surprise no one we have experienced a period of warming.
What is surprising is that the world has warmed at less than half the rate predicted by IPCC anthropogenic forcing and radiative imbalance models.
That indicates we're a long way from understanding climate change.
There is no climate emergency and a net-zero CO2 policy is both unrealistic and harmful.
Dr John Cameron.
10 Howard Place,
St Andrews.