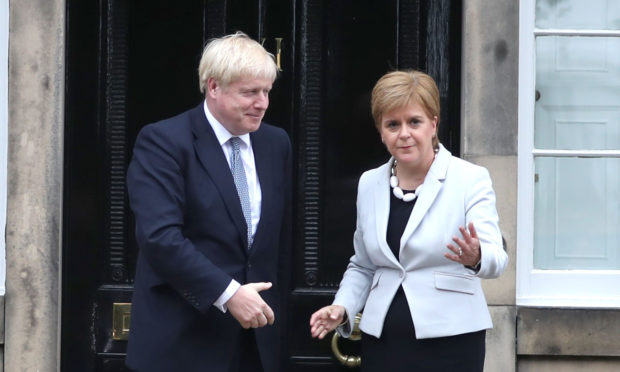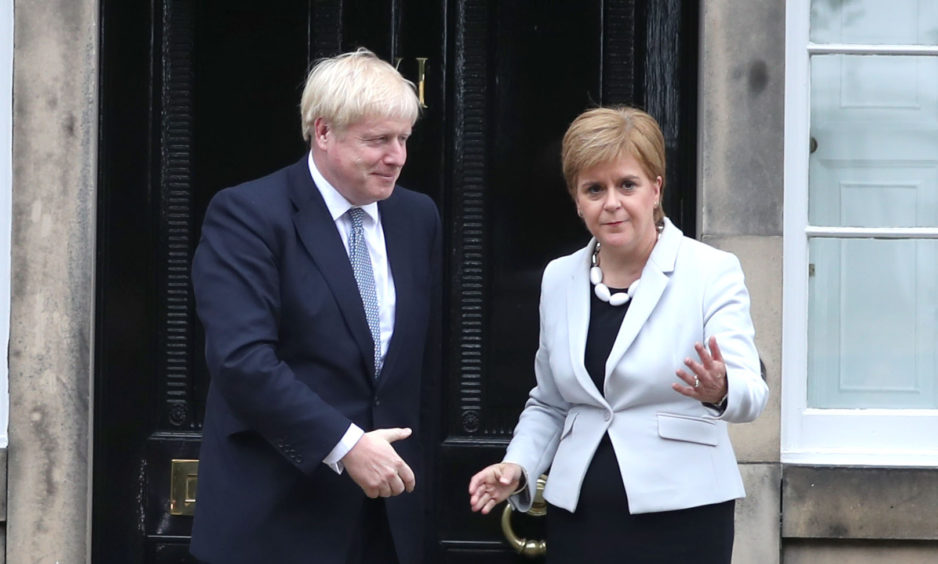 Sir, – In contrast to your correspondent Mev Braid ("FM 'out of depth' in TV interview", Letters, November 30), I thought Nicola Sturgeon comfortably held her own in her interview with Andrew Neil.
What is not in doubt, though, is that in the previous week's leaders' debate she outperformed Messrs Corbyn, Swinson and Johnson by a distance, but I note that Mev Braid fails to mention this.
Andrew Neil has a very abrasive, aggressive style and regardless of how well or otherwise we feel they did we must give Jeremy Corbyn and Nicola Sturgeon credit for agreeing to be interviewed by him.
Compare this to the example set by our prime minister who appears to be running "feart" of being interviewed by his former boss at the Spectator (Andrew Neil has known Johnson for a long time and Boris must be aware that he is unlikely to be fooled by the sartorially challenged, blustering clown act.)
Not only has Boris Johnson side-stepped the Neil interview, he failed to turn up for a vitally important Channel 4 climate change debate on Thursday night.
It is sad indeed for our parliamentary system when a prime minister who loves to pontificate about the importance of democracy is unwilling (or scared?) to submit himself and his policies to democratic scrutiny.
Alan Woodcock.
23 Osborne Place,
Dundee.
Anti Israeli govt, not anti-Semitic
Sir, – Reading the articles in Saturday's Courier about anti-Semitism accusations against Labour and SNP candidates, I am convinced this issue has been overhyped and weaponised for political ends.
All right-minded persons abhor racism, prejudice or intolerance in any form, and there are undoubtedly a few such bigots in all political parties, representing the wider population as they do.
However, the remarks for which candidates are being pilloried seem largely to reflect apparently legitimate criticisms of the Israeli Government, its continued illegal occupation of land, and its shocking abuse of Palestinian rights.
This is an entirely different issue to anti-Semitism, despite the partisan remarks of the Chief Rabbi last week, who conflates the two.
I also consider that, sadly, the abused has become the systematic abuser, while admiring other aspects of Israeli society – and I've read of a significant number of Jews in the Labour Party who support this critique of the Jewish state.
Historically, Jews have more to fear from an ascendant right than from the left, yet the unjustified quasi-moral veto now applied on any criticism of Israel as anti-Semitic may ultimately create greater risk for the diaspora in the UK.
The role of the media in this issue seems disgraceful across the piece, exaggerating its scale and impact.
It is also hypocritical of the Conservatives to point out the flaws in others while overlooking their own racist tinges and Islamophobia, demonstrated by several pronouncements by their leader. This whole situation is unhealthy.
Please note that I am not a member of any party.
Neil Stewart.
Omar Crescent,
Buckhaven.
We deserve better than this
Sir, – We have two candidates in Cowdenbeath and Kirkcaldy who by any normal standards of behaviour should not be standing.
One is the Conservative Kathleen Leslie who is notorious for tweeting that Nicola Sturgeon is "a drooling hag" and other inappropriate comments.
The General Teaching Council for Scotland barred her from teaching as a result, but the Scottish Conservative Party think her fit not just to be a councillor in Fife, but an MP at Westminster.
The other is the SNP candidate Neale Hanvey, who has recently been suspended for anti-Semitic tweets.
Despite his formal suspension by the SNP he remains the default SNP candidate, as his name and party affiliation cannot be withdrawn from ballot papers, and his supporters continue to be vociferous in promoting him on social media.
If elected, the expectation is that as things settle down, he will be readmitted to the SNP fold.
Both Leslie and Hanvey have apologised and, for both, it is business as usual, as if there are no outstanding questions about character or judgment.
Shame and honour, which might suggest to them that the residents of Cowdenbeath and Kirkcaldy deserved better, seem to have gone the way of the dodo.
What is worse is that their bosses in the Conservative and Scottish National parties put them forward as credible candidates.
No wonder the public regards politicians and politics as an amoral morass of cynical self-interest.
Bernard Davidson.
14 Netherton Rd,
Cowdenbeath.
Enforce cruelty sentences
Sir, – As an animal lover and owner I am appalled, outraged and disgusted that a "man" who kicks his dog is given a fine and allowed to keep the dog.
That sentence does nothing to deter would-be offenders, which is the whole point of court as well as to be punitive.
I am sick fed up of seeing animal cruelty reported in The Courier pages, but feel more frustrated at the paltry sentences handed out.
Currently sheriffs in Scotland have the ability to confer sentences up to one year, and from next year up to five years in prison for animal cruelty.
I have never seen such a sentence conferred, only fines and community service.
What is the point of having that additional sentencing power if sheriffs are not going to use it?
Gordon Kennedy.
117 Simpson Square,
Perth.
Why is Sturgeon debating?
Sir, – Why is Nicola Sturgeon taking part in election debates when she is not a candidate?
The leader of the SNP in Westminster, Ian Blackford, seems to have been banished to his croft.
Jay McGregor.
Droverhall Ave,
Crossgates.
Is this really a fate we want?
Sir, – Boris says "get Brexit done", knowing that people, fed up of the whole thing dragging on, may well vote for it.
Yet he knows full well Brexit will grind on for years – some say 10 years – before all the issues are resolved. And the experts are unanimous, the economy will suffer: large parts of our banking and finance industry have already moved to Europe, or have plans to do so; the car companies too are leaving, while non-UK nationals are moving out in droves, leaving the NHS and business short of skills and staff.
If England yet again imposes upon us a Conservative government, this time the most right wing government of my lifetime, we can expect further austerity for the poor, while their rich supporters will be rewarded with tax breaks and the slashing of workers' rights, environmental standards and food regulation, and be given permission to ransack the NHS.
And unfortunately our Scottish Government, its powers reduced by a Westminster Tory Government, will no longer be able to defend us from worst excesses of Boris' bandits.
Is this really what we in Scotland want?
Les Mackay.
5 Carmichael Gardens,
Dundee.