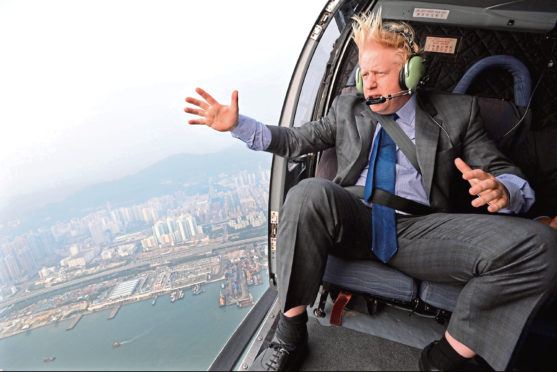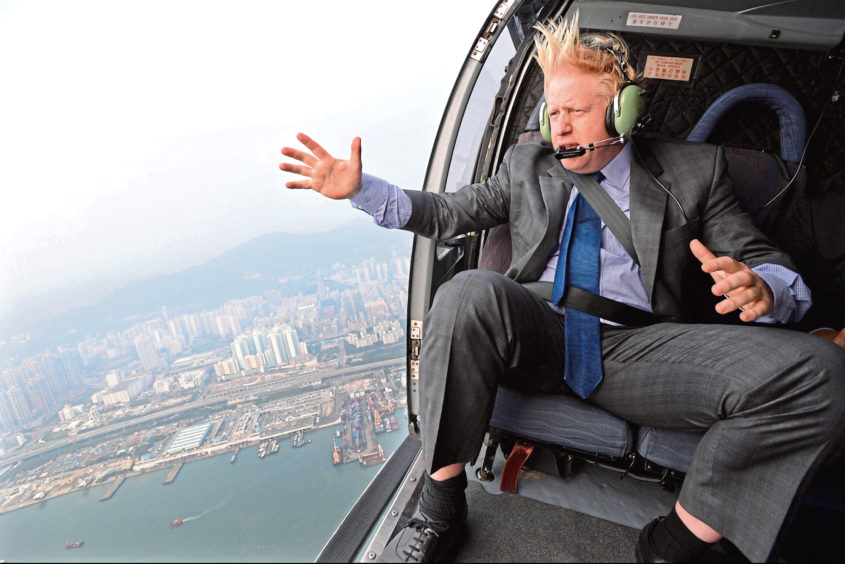 Sir, – As a former Conservative voter/canvasser, I will never vote for them again.
Supporting them in 2015, 2016 and 2017 was mainly tactical, to stop a second referendum on Scottish independence.
Now, I strongly oppose them.
The reason – Brexit. Regardless of anyone's motives for voting to leave the European Union in 2016, the reason we were even asked that question in a referendum was due to a cynical political move by David Cameron, that only a majority Remain vote would give him enough clout to control the rabid anti-EU MPs in his party.
Now, the Conservatives are morphing into a far-right party, with ugly streaks of English nationalism, intolerance of our fellow EU citizens, Muslims, a hostile approach to business and the economy and, worst of all, a complete lack of honesty towards us, the voters.
This can be seen in the campaign leaflets put out by Alister Jack, our current Conservative MP and Scottish Secretary in Boris Johnson's government.
They are a re-run of the Conservatives' 2017 strategy, promoting the SNP as a threat to Scotland and begging for our votes to block Indyref2.
Strikingly, there is no mention of Brexit and its consequences, like his Holyrood colleague, Finlay Carson, who has, in the past three years, avoided Brexit in any of his Twitter posts.
Leaving the EU just to satisfy some of Jack's fellow MPs and friends in his party – he told me in late 2017 that he enjoyed going to lavish dinner parties hosted by Jacob Rees Mogg – will be bad.
It removes many extraordinary rights and privileges, but for me the most precious is freedom of movement.
Far from being one way, as so many Conservatives claim, this right allows us to move, if we choose, to any of the 31 countries in the European single market.
If we want to move to Spain, France, Greece, Germany, Portugal or any of the European Free Trade Association states like Norway or Switzerland, we can.
Alister Jack's party wants to take that all away from us, and from future generations, who never got a say in 2016.
And for what? Lies about immigration and security? That is unforgiveable. Future generations of Scots should have this right, and everything it offers.
At a 2015 canvassing session I was walking behind Alex Fergusson, our late former Conservative MSP, as he was talking about a future independence referendum.
He admitted, openly, that he feared it because Yes "will win the next one." This is the real reason the Conservatives are so opposed to a second independence referendum – they fear they will lose.
I am now a supporter of an independent Scotland as a proud member of the EU, free of English nationalism, English insecurity and selfishness.
We deserve better opportunities for ourselves and future generations, and it is no longer clear the UK union can provide these.
Christopher Rosindale.
Aysgarth, Kippford,
Dumfries and Galloway.
Living beyond our means
Sir, – When Nicola Sturgeon asserts during interviews and leaders' debates how many services are free in Scotland but not in England, it amazes me that no one points out to her the reason Scotland had a deficit in 2018/19 of £12.6 billion, or 7% of GDP, compared to the UK deficit as a whole of £23.5bn, or 1.1% of GDP, is simply because under the economically illiterate SNP, Scotland is living way beyond its means.
Whilst these populist initiatives may be vote winners for some, they are clearly unaffordable and are subsidised by the UK Treasury. The SNP, whilst whinging and attacking Westminster at every turn, are perfectly content to treat the Treasury as the bank of Mum and Dad, who will help them to clear off their overdraft on a regular basis.
Nationalists should be careful what they wish for, as after independence the bank of Mum and Dad will no longer be there.
Donald Lewis.
Beech Hill, Gifford,
East Lothian.
Labour's dangerous plans
Sir, – Jeremy Corbyn is promising a most dangerous package.
Some freebies to sweeten up some of the voters, particularly aimed at young people, but underlying it is some of the most toxic and dangerous policies the UK will have ever seen.
Reversing years of relative stability with a dangerous mix of ideological plans that risk undoing years of UK policy.
With potential to irreparably damage the economy – making business (and our future jobs) very difficult, saddling the economy with debt levels we have never seen heretofore, and Corbyn's own history shows an unbelievably tolerant attitude to terrorism (IRA and ISIS for example) that would completely undermine efforts towards peace and world security in the future.
Offering free broadband goes nowhere if we end up with fewer and lower paid jobs as a result of the damage to the country and economy.
Neville Smerdon.
Westgates Coaltown of Balgonie,
Glenrothes.
Today's 'War of Political Posers'
Sir, – The War of The Roses (1455 – 1485) fought between two branches of the same family for the English throne, took place as a result of much social and financial unrest.
Although this was over 500 years ago, the event has a familiar ring to it.
Today we are in the throes of a general election (War) of Political Posers with, yet again, social and financial matters at stake.
Hopefully, events will unfold with decorum and dignity.
Kenneth Miln.
6 Swallow Apts,
Union St, Monifieth.
Christmas bonus savings
Sir, – I very gratefully received my heating allowance payment in the course of the last week, but I also received my £10 Christmas bonus.
I do think that the bonus is overlooked by many people, but I am of the opinion that the government do not have to carry on with the bonus payment.
I wonder if it was discontinued how much they would save?
Jim Balneaves.
4 Tayside Place,
Glencarse.
Palestine's role in the conflict
Sir, – Neil Stewart ("Anti Israeli govt, not anti-Semitic", Letters, December 3) writes of the prejudice and intolerance of those who would defend Israel and notes Israel's "illegal occupation of land and its shocking abuse of Palestinian rights".
The Arabs, now known as Palestinians, joined several Arab countries to attack Israel on the very day Israel accepted the UN decision to partition Palestine Mandate land between Arabs and Jews.
Palestinians have never accepted the UN decision.
Since the wars, the Palestinians have been offered peace, and a homeland, several times but continue to refuse and keep on terrorising Israel.
Were Germans still to be bombing our cites would Mr Stewart consider we were abusing their rights if we were still occupying that country?
The Palestinians were given the chance to establish their homeland but refused – while their official view of Palestine includes all of Israel.
Like Mr Stewart, I also "abhor racism, prejudice or intolerance in any form".
Andrew Lawson.
9 MacLaren Gardens,
Dundee.