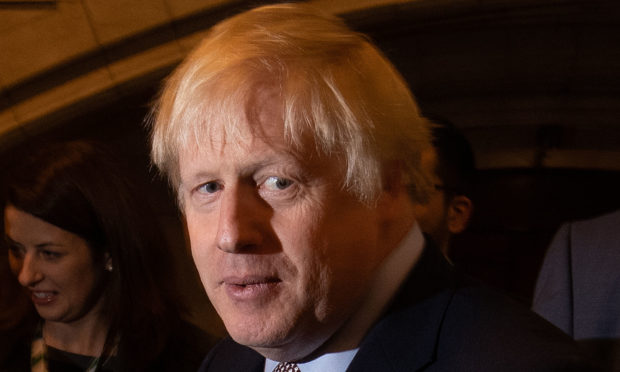 Sir, – The Tories won the election in England and Wales with 43.6 percent of the vote.
Boris Johnson claims this gives him a mandate to pursue Brexit.
In Scotland the SNP won 45% of the vote on an explicit pledge of holding an independence referendum.
The Tories are now trying to say there is no mandate.
Their reasoning is that several SNP candidates said stopping Brexit was more of a priority and did not link it to independence.
However the Tory house of cards collapses as they made the election about stopping another independence referendum.
They had no other policies.
They said nothing else. and neither did the Lib Dems who were also run out of town. Labour were wooly on the issue.
The United Kingdom is finished as a political entity.
Political parties seeking its dissolution hold majorities in two of its fourconstituent parts.
It's moribund, corrupt and despised.
The unionists are now saying that Boris Johnson will refuse a Section 30 order and that will be it.
This completely ignores the fact Johnson has no moral or democratic imperative to do this.
He is a Poundland Trump. It will be this almost inconceivable incompetence which will smash the UK into a thousand pieces and blow it into the wind.
Alan Hinnrichs.
2 Gillespie Terrace,
Dundee.
Arrogance lost Swinson votes
Sir, – I think Jo Swinson is wrong in blaming sexism for her downfall.
I assume at least part of the reason was her party chose to ignore the will of 17.4m voters.
The Lib Dems clearly said they would cancel Brexit.
As soon as they came out with a statement like that they would have automatically lost any supporters who voted for Brexit and any potentials they had hoped to pick up during the campaign.
In the UK we have always respected the results of elections and referendums and doing otherwise is undemocratic.
The Liberal Democrats absolutely deserved to lose the election and I for one am glad they are nowhere near the levers of power.
Jo Swinson also continues with her arrogance and has indicated she wants to see a woman replace her as the leader of the party.
Surely her replacement should be someone who is capable of doing the job and coming up with clear and sensible policies that the public want.
It is political correctness and such arrogance that puts me off voting for the Liberal Democrats.
Alastair Macintyre.
18 Webster Place,
Rosyth.
Dancing to their own tune
Sir, –I note Scotland in Union's two leaders, Allan Sutherland and Martin Redfern, took to the letters page to underline the message of the Tory Party they support in denying Scotland a voice.
Mr Sutherland argues a 45% SNP share of the vote doesn't constitute a mandate for a second independence referendum, yet the 43.6% Tory vote gives Boris Johnson the power to complete his own Brexit plans.
The desperation of dancing on the head of that particular pin also leads him to bizarrely redefine the Scottish independence "yes" and "no" groups as "leave" and "remain".
He also wants his Tory Party to "lovebomb" Scotland. Good luck.
Mr Sutherland talks of making "a positive case for staying in the UK".
Again, good luck.
Perhaps he, or Mr Redfern, will oblige in this regard.
When various hypothetical scenarios were put to Scots in advance of the general election, the reality we now face resulted in the highest support for Scottish independence, shattering the 50% mark.
Margaret Thatcher's own opinion of Scotland's future relationship with Westminster was "Scotland does not need a referendum on independence. She just needs to send a majority of nationalist MPs to Westminster to have a mandate for independence".
Yet another pinhead for Mr Sutherland's and Mr Redfern's terpsichorean exertions.
Ken Clark.
c/o 15 Thorter Way,
Dundee.
Respecting the will of the many
Sir, – In east Perthshire it was a two-horse race between the SNP and the Conservatives.
In effect we had a choice between voting for Brexit, or against Brexit and for a second independence referendum.
Because of Westminster's 'first past the post' system, voting for any other party was a wasted vote.
The SNP won a large majority of seats in Scotland and the Conservatives in the UK as a whole, and both now claim a popular mandate.
However, both parties got only 45% of the votes – in the UK as a whole 55% voted for another party, almost all of which are to the 'left' of the Conservatives.
It was a similar situation in Scotland.
I am sure I am not alone in wishing our elected leaders would show a little more humility and understanding and respect for the 55% who did not vote for them or their policies.
Dave Trudgill.
Newmill,
Blairgowrie.
Silence on electoral reform
Sir, – I look forward to the plethora of Unionists declaiming the SNP's 80% seat result with the mantric '45% of the vote'.
Such a pity they did not mention the Conservative share for an 80-seat majority in Westminster was 43.6%.
I presume, unlike the Unionist Liberal Democrat and Labour parties, the Conservatives will remain silent on proportional representation and House of Lords reform, let alone abolishment?
Calum JM Duncan.
16 Burn Street,
Downfield.
SNP quangos waste money
Sir, – Another week and another SNP quango comes in for criticism from Caroline Gardner, Auditor General for Scotland.
This time it is Bord na Gaidhlig, the body tasked with promoting Gaelic in Scotland.
The quango receives £5 million a year in state subsidies and its CEO earns £80,000 a year.
The findings of the review are that the quango suffered from ineffective leadership, inadequate planning and a woeful lack of transparency on how on decisions were made.
The review found that meetings were held in private, that it went without a head of finance for more than a year and previous recommendations, outlining the need for radical change had been ignored.
It faced significant challenges in filling vacant posts because of a requirement that all employees be able to speak Gaelic.
One has to question the selection process for members of quangos and what reporting and oversight procedures are in place to ensure the taxpayer gets value for money.
Quite obviously this is not the case at present. One has to question the standards for recruitment of quango members as it seems to be to be a case of a cosy, semi sinecure situation which wastes money which could be better spent on essential services rather than ideological vanity projects.
Donald Lewis.
Pine Cottage,
Beech Hill,
Gifford.