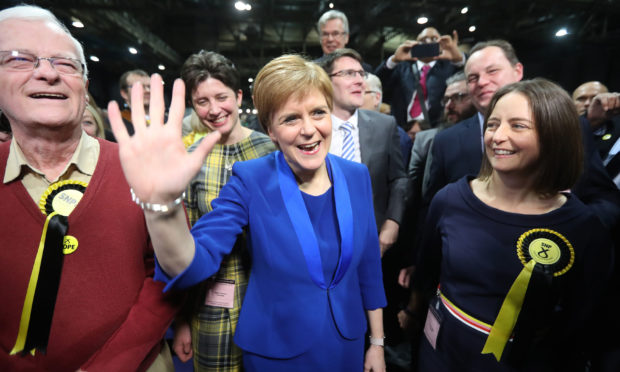 Sir, – The election is over, the people of Scotland have voted and democracy has been the winner.
Our first past the post system has delivered a stunning SNP victory sweeping all before it.
Let's look at the figures so no one is in any doubt what the result means regardless of any spin the losing parties may put on it.
Of the 59 Westminster seats in Scotland the SNP were successful in 48 seats or approximately 80%. In second place came the Tories with six seats ( 9% approx).
In third place was the Lib Dems with an approximate 6.5% share of the vote and in fourth was Labour.
In the first past the post system this result, by anyone's standards is a landslide of epic proportions for the SNP and a total humiliation of the also ran Parties.
Regardless of the result down south, Scotland has overwhelmingly rejected Brexit and re-affirmed its Remain credentials.
It is now a country that is outwardly European in its outlook and a bastion of social democracy for all the citizens of the UK, Europe and the rest of the world to see and digest.
Never before has an election shown the deep chasm between Scotland and England in terms of outlook, political and social policy.
As a nation we are all but independent and as we move forward the chasm will widen as both nations travel in different directions.
England is moving to an inward -looking state hankering after past glories with a Conservatuve Party with a large Westminster majority free to pursue an unbridled right wing agenda never seen before in these islands.
With the addition of the Lib Dems and possibly Labour votes Scotland is now 88% a Remain country, in sharp contrast to the now Brexit dominated England/Wales.
This total polarisation will have real consequences for the "precious Union". In fact it may over time prove to be the death knell of the so-called UK.
With the nationalist vote in Northern Ireland now in the ascendency, the future of this United Kingdom looks more and more at risk.
Depending now on what the Tories do with their unbridled power, the demise of the union may be sooner rather than later.
Dan Wood.
Charles Melvin Gardens,
Kirriemuir.
Be honest about independence
Sir, – So, here we go again. Nicola Sturgeon pretending that the SNP result in Scotland is a "mandate" for yet another referendum to break Scotland out of the UK and on to a highly uncertain future.
Holyrood was created by a Labour Party politician who believed that Scotland would be better managed from Edinburgh as opposed to London.
There was never the intention to break up the union.
That was, and is, a good idea supported by many Scots, irrespective of the cost of maintaining Holyrood and its MSPs.
The SNP has never, over the past 10 years, put forward any credible argument to show the precise detail of the benefits to be gained from breaking up the union.
The SNP spin has always focused on emotion, nostalgia for what Scotland was 300-plus years ago, and deliberately ignored the realities of a world in the 21st Century.
Surely if Nicola Sturgeon is inclined towards another referendum, it is a responsibility for her and her party to honestly present the plusses and minuses of independence over both a short-term timescale of up to 10 years, together with a strategic plan covering the further 50-plus years.
At least then, people would be educated on the consequences.
No-one seems to give much thought to the independence consequences and it is time for the SNP to show its hand on this issue, instead of playing an interminable game of poker with both the UK Government and the people of Scotland.
Derek Farmer.
Knightsward Farm,
Anstruther.
'Super stonking' SNP mandate
Sir, – The Conservatives, on a platform of 'Get Brexit Done', achieved an astounding' result, according to Boris.
Yet their vote increased by only 1.2% against the weakest opposition leader in living memory, with a campaign unprecedented in its mendacity and in circumstances which strongly favoured the 'let's get it done party'.
They now claim to have a cast iron mandate for any kind of Brexit they choose.
Meanwhile, the SNP ran on a mandate for a new independence referendum, given the extraordinarily different circumstances prevailing now, and achieved 45% of the vote, up from 37%, and increased their seats from 35 to 48.
Yet, allegedly, there is still no demand for a second referendum, and no mandate, despite what Boris himself would perhaps describe as a 'super stonking' victory for the SNP. How come?
Les Mackay.
5 Carmichael Gardens,
Dundee.
I do not feel like a prisoner of UK
Sir, – Nicola Sturgeon claims Scotland is being "imprisoned" in the United Kingdom against "its will".
I, for one, do not feel imprisoned.
I seem to remember that we were given a free and fair vote in 2014, and the majority of us Scots decided to reject the offer from the Nationalists.
There has been no change since then in public opinion.
Last week, the SNP could only muster 45% for their incoherent independence argument while 55% voted for Unionist parties.
Why won't she listen?
Alan Thomson.
Easter Dunochil,
High Street,
Kinross.
Robot fish could be Tay's saviour
Sir, – While some of us may not be keen anglers, sport angling is a growing and very profitable recreational activity.
However, in Scotland, where sport angling is a much sought after activity, declining fish-stocks are affecting both revenue from sport angling and tourism (Fishing chiefs ask for all salmon caught in the Tay to be returned, Courier December 11).
Towards resolving this serious problem I suggest replacing live fish with robotic fish which are designed to resemble a number of real fish species.
These battery/motor-powered fish could be programmed to swim speedily away when "hooked", dive to a metre or so, turn and leap about for around half an hour depending upon the size of the "fish" ranging from 0.5m to 1.5m long.
Although being unsuitable for the pot, this approach to sport angling would provide good sport and be acceptable to the anti-fishing lobby.
Any interest from the computer-gaming experts?
Kenneth Miln.
6 Swallow Apts,
Union St,
Monifieth.
Lifelong commitment
Sir, – Animals given as gifts or purchased on a whim this Christmas aren't guaranteed a loving, permanent home.
Even the kindest people can be overwhelmed by the responsibility of caring for a new family member who needs their undivided attention.
The outcome? Once the novelty wears off, thousands of animals are left at shelters or dumped on the streets.
Bringing a dog, a cat, or another animal into the family means making a lifetime commitment to loving and caring for them.
Jennifer White.
People for the Ethical Treatment of Animals.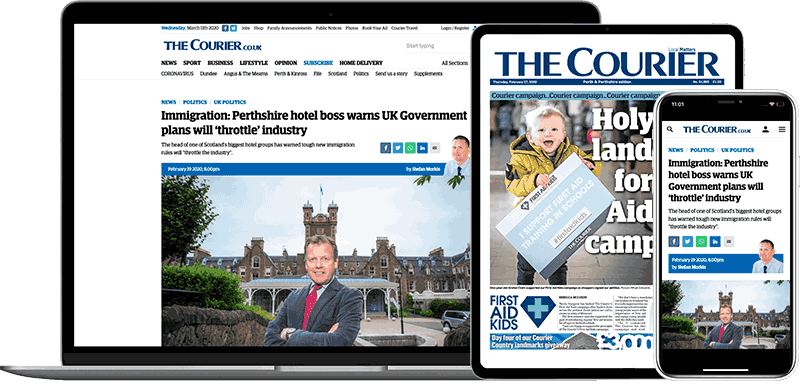 Help support quality local journalism … become a digital subscriber to The Courier
For as little as £5.99 a month you can access all of our content, including Premium articles.
Subscribe