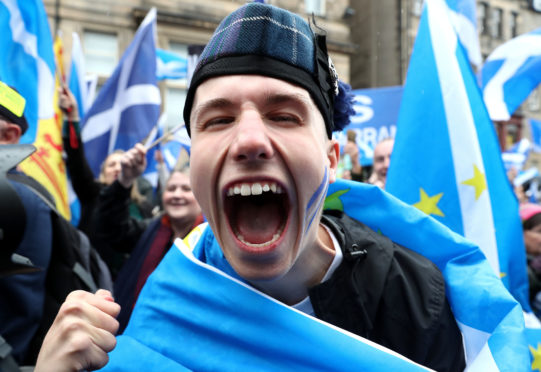 Sir, – Once again a leading member of Conservative-backed Scotland in Union takes to these pages to bemoan the fact that our democratically elected first minister dares to stand up for the rights of Scottish citizens.
Martin Redfern (Letters, January 14) is also aggrieved that a UK Government, funded by English, Welsh, Irish and Scottish taxpayers, provides "the salaries and expenses of every elected separatist SNP MP and MSP".
As a Tory supporter, Mr Redfern is obviously satisfied that Scottish taxpayers foot the bill for his preferred party, in spite of it being rejected by Scots for more than 60 years.
The gentleman's argument is that democracy in Scotland ended in 2014.
Rather inconveniently, in 2019, the Westminster parliament unanimously passed the "Claim of Right for Scotland", which states "this house… acknowledges the sovereign right of the Scottish people to determine the form of government best suited to their needs".
Mr Redfern and his coterie of fellow Tories need to acknowledge the fact that the form of government preferred by the majority in Scotland is not the one he supports and cease lecturing us from their minority position.
Scotland is a partner in a bipartite union. We have the same right to leave this union as England has of leaving the European Union.
Any denial of this right will be, in his own words, "an assault on democracy".
Ken Clark.
15 Thorter Way,
Dundee.
The truth about Scotland's position in 2020
Sir, – Martin Redfern (Definition of democracy, Letters, January 14) has finally lost it!
He complains that "The UK Government has for the last 13 years not only accepted in government the SNP, whose raison d'etre is breaking up the UK, but has funded it."
Where do I start?
It is not up to the UK Government to accept or reject the party of government chosen by the Scottish people for the Scottish Parliament.
As for the funding, is Mr Redfern not aware that people in Scotland also pay taxes which help to fund the Westminster establishment, and their imperial delusions, at a massively greater cost than Holyrood?
Mr Redfern then adds insult to injury by complaining that Scotland was "allowed" to have a referendum in 2014.
The 2014 referendum was granted willingly by the UK Government, to put us in our place, on their assumption that there was "no demand for independence in Scotland", much as we hear now, and what a shock they got.
He then suggests that the elected Scottish Parliament has no democratic mandate to govern, which is clearly absurd.
He ignores the fact that our new prime minister was appointed by a small cabal of elderly rich people living in the south of England, and he, and his government, were vehemently rejected by Scotland in the recent general election.
Next he complains that the Scottish Government ignores the result of the 2014 referendum: this is untrue.
They, and the people of Scotland, accepted, reluctantly perhaps, the 2014 result, on the basis presented, that we would have the most powerful devolved parliament in the world.
But what we now have is a different beast altogether.
A hard right English nationalist cabal, which considers Scotland, if at all, with contempt, led by a charlatan, backed by the power of questionable money, which has chosen to deliberately ruin the country by separating us from the world's biggest trading market, our friends and neighbours in Europe, and leaving us at the mercy of Trump's rapacious regime, all of this against the clearly expressed will of the Scottish people.
On reflection, maybe Mr Redfern hasn't lost the plot: maybe he's just doing the bidding of his Scotland in Union masters, and preparing the way for the coming attack on our Scottish Parliament by the new Westminster Government, keen to neutralise all opposition to their devious plans.
Les Mackay.
5 Carmichael Gardens,
Dundee.
Inevitable fate of Stone of Scone
Sir, – As Perth City Hall seems an uneasy fit as a resting place for the Stone of Scone it is likely the eventual winners in the tussle over the stone will be, as Dr Norman Watson amusingly suggests (Letters, January 9), Edinburgh.
When devolution was obtained a golden opportunity was missed in not siting the new Scottish Parliament and seat of power midway between Scotland's two major cities, in Stirling, but of course at that time nowhere else but Edinburgh was considered.
Since then bad decisions have cost taxpayers millions. An over-priced government building, the tram debacle, and the bailed-out Royal Bank of Scotland, for example.
The Forth Bridge became overloaded and a replacement bridge was built in a hurry, largely to serve the airport and routes to Edinburgh. We read (in The Courier of January 9) that the projected numbers of journeys across the Forth are soon to reach six million. How long will it be before there are pleas for another crossing to ease congestion?
A myriad of institutions, many attracting government funding, have flourished in the capital, so it is no surprise house prices have leapt up in Edinburgh.
Recent discoveries in astronomy have found that, in outer space, little can escape the pull of a "black hole". In a similar way London and the south east exert an influence over England; in Scotland it seems that gravity is stronger south of the Forth. And so it might be with the Stone of Scone.
One small, historical piece of rock that is likely to remain in Edinburgh.
Sandy Main.
Quarryhill, Kinloch,
Blairgowrie.
Rotten state of Scottish Rugby
Sir, – On the face of it, Steve Scott's report is cause for alarm.
There is indeed something rotten at the heart of Scottish Rugby,with a failure of proper governance and accountability.
The extraordinary escalation in remuneration of the chief executive from £455,000 in 2018 to £933,000 now and the award of a new contract some two years before the expiry of his current contract are symptomatic of "I'll scratch your back if you'll scratch mine".
Although CEO, he has a chief operating officer whose salary, combined with those of two other highly paid colleagues, have also more than doubled in two years.
And all of this against a background of a substantial fall in profits as well as disappointing performances by the Scottish team on the pitch. Scandalous!
There is an obvious source of money which should be ploughed into the game.
C J Allan.
Mansefield,
Tealing, Dundee.
Leafblowers in a high wind?
Sir, – I was out walking through Brechin recently, despite the winds gusting up to 50mph.
While walking down Bridge Street I heard council workmen with some machinery.
Believe it or not they were out with leaf blowers. Picking up the litter on Drumachlie Loan or further up the road on the way to Trinity, where it has lain for months, might have been more productive use of their time perhaps.
J A Watt.
Greenbank,
Park Road, Brechin.