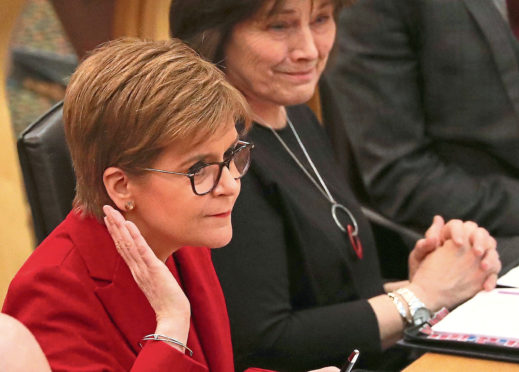 Sir, – First Minister Nicola Sturgeon wishes to introduce a 'Scottish visa' scheme for migrants.
Can she remind us of how the current UK immigration scheme prevents migrants from coming to Scotland?
The truth is that, of the substantial number of immigrants into the UK, relatively few actually choose to come to Scotland.
Further, would Ms Sturgeon tell us where these new immigrants would be housed?
Isn't there supposed to be a housing crisis?
And under which devolved powers does Ms Sturgeon propose to introduce this scheme?
I'm afraid this is just another SNP ploy to encroach on reserved powers and to promote difference between Scotland and the rest of the UK.
In this, if not much else, Ms Sturgeon is transparent.
Jill Stephenson.
Glenlockhart Valley,
Edinburgh.
Is FM preparing for political exit?
Sir, – As we all know too well, if grudge and grievance was an Olympic sport the SNP would be a medal hopeful, however, the governance of Scotland is somewhat more difficult.
Much of the SNP focus at the moment is based around the demand for another referendum vote later this year.
When you look at it closely I believe this is more about an exit strategy for Ms Sturgeon.
If you look at the tenure of previous first ministers, Alex Salmond is the longest serving at seven years, then Jack McConnell over five years and Nicola Sturgeon over five years.
In the bigger picture she has been at the heart of SNP government for over 12 years, which is a considerable time for a politician.
Had Labour won the election last year I believe Sturgeon would have been better placed pushing for section 30 order to hold a referendum.
Whatever the outcome, either way it would have given her an exit option.
On the governance of Scotland, things are not looking well with hospitals, education and so on.
I do not believe Ms Sturgeon wants to be there for the 2021 elections or beyond and the question becomes who replaces her.
Last year there were musings that Ms Sturgeon was looking to a job at the United Nations which was of course denied.
In most cases political careers end in tears, I am sure Nicola Sturgeon will control how she will leave the political stage in the not too distant future.
James Y Lorimer.
Kenmuir,
Main Street, Luthermuir.
Driven to distraction by DVLA's red tape
Sir, – In a couple of months I will be due to renew my triennial driving licence.
Because I suffer from MND my application will automatically go to the DVLA medical committee. Six years ago when I made the first of these renewals the time between application and licence was 444 days. Three years ago the gap was 335 days. On that occasion my constituency MP raised a question in Parliament about the time required to deal with such applications. In reply a spokesperson for the DVLA stated that these matters were normally dealt within an average of 31 days.
This provoked me to enquire of the DVLA why it required such a long time to deal with my application and requested that it be referred to the appropriate ombudsman. Rather foolishly I accepted an offer of £200 to compensate for the tardiness in dealing with my application. I say foolishly because I ought to have exposed the unsatisfactory performance.
Incidentally, DVLA pamphlets on the subject state that this type of licence examination is less arduous than a first time licence test. In my opinion this is not true. A first-time licence requires a theory test and a 45-minute test drive. The process for a medical starts at the Smart centre at Astley Ainslie Hospital which begins with a memory and cognitive examination followed by a reaction time assessment on apparatus in the doctors surgery, if these are deemed satisfactory, a driving test in a vehicle provided by the centre follows, initially in the confines of the hospital and eventually a 45-minute road test accompanied by an assessor.
This takes up most of an afternoon.
A minor point to note is that there used to be seven Smart centres in Scotland.
Now there are only two which means there are long queues.
A A Bullions.
6 Glencairn Crescent,
Leven.
Clean buses are key to the future
Sir, – Your Courier Comment (Speed up pace of change to save lives, Courier, January 27) regarding air pollution mentions Seagate, as the site of the bus station.
Whilst being correct in one sense, my understanding of the situation is that it is the western, narrow and enclosed, section of Seagate, that is giving real cause for concern.
The Courier seems, consistently, to avoid highlighting the efforts being made by local bus and coach operators to clean up their act in regard to emissions.
As far as local bus services are concerned, Seagate has more and more Euro 6 Ultra Low Emission, Smart/ Electric Hybrid Buses, serving it.
And, as you will obviously realise, the modern bus remains the key to cleaning up city centre air quality and reducing traffic congestion, as more and more restrictions are put on private cars.
Graeme A M Fraser.
41 Oxford Street,
Dundee.
Stoves are a burning issue
Sir, – A report from the charity Centre for Cities identified Edinburgh as having the highest proportion of deaths attributed to pollution linked to PM2.5.
The number of deaths was 157 but there is no indication of their ages.
Young people or elderly, unhealthy people? Did the report cover a year or more?
PM2.5 can be both man-made and natural, including dust, ash and sea-spray.
The report highlighted wood-burning stoves as a significant polluter of PM2.5.
Roseanna Cunningham said over a year ago: "This specific issue is being considered by one of the expert working groups".
So far nothing. So obviously health problems caused by PM2.5 emitting wood-burning stoves are not important enough for the Scottish Government.
Clark Cross.
138 Springfield Road,
Linlithgow.
Do doors offer fire protection?
Sir, – What a surprise no one and no firm involved in the manufacture and fitting of the cladding on Grenfell Tower in London is taking the blame.
I recently had the chance to see newly fitted doors that had been badly damaged by a child of seven.
They were made out of thin plywood with an inner structure of honeycomb made out of cardboard.
Does this type of door pass fire regulation?
Is there a fire regulation on house internal doors?
Just how long would this type of door hold back a fire in any part of the house before it broke through and spread? A few minutes would be my best guess.
So are these cheap-made doors fit for purpose?
God forbid this money saving product may cost some family their lives in the future.
John G Phimister.
63 St Clair Street,
Kirkcaldy.