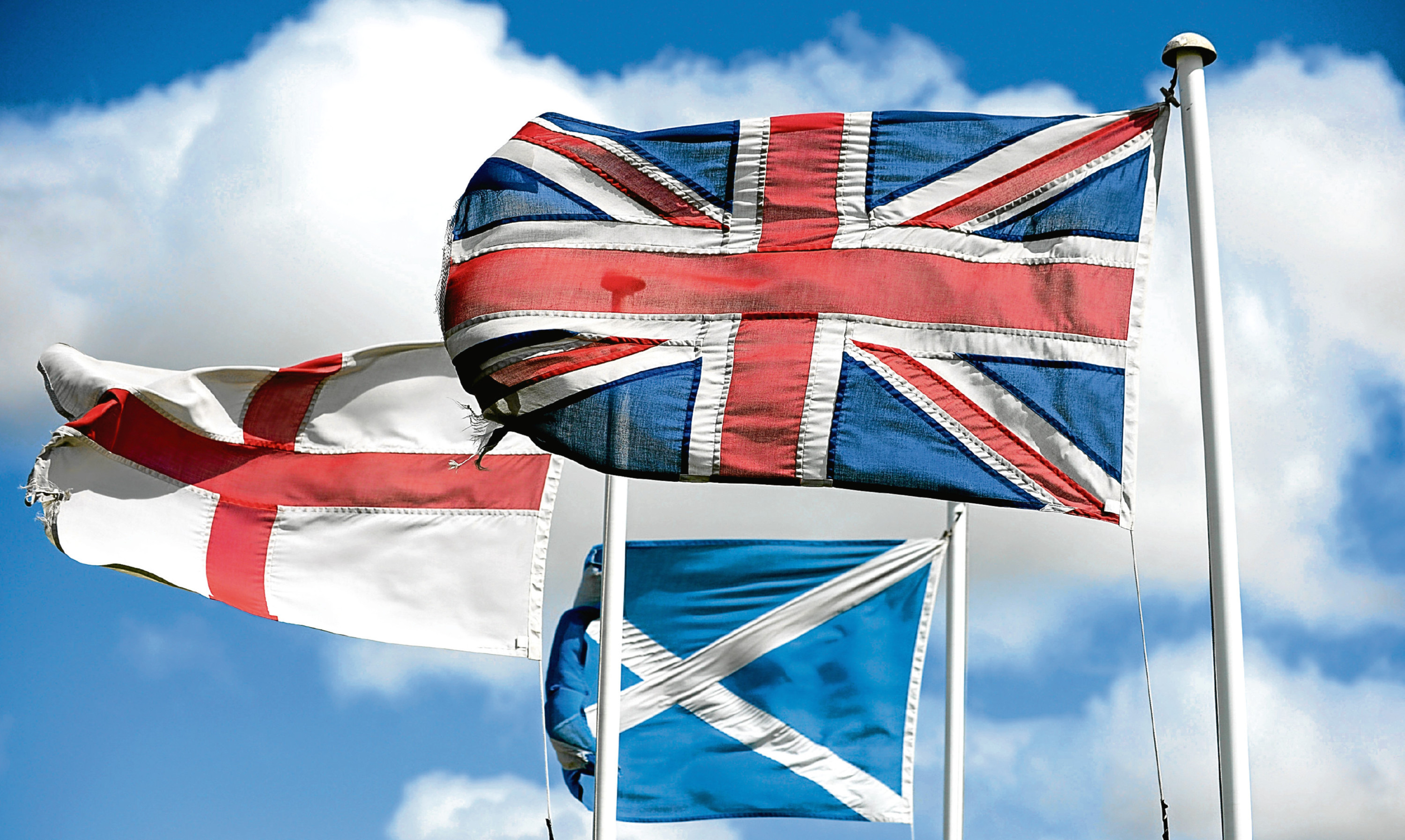 Sir, – I quite like a wee trip to England for a family visit, I have lived there in the past, but have no wish to relocate there again.
The truth is it is a very different place to Scotland, different even after three centuries of Union.
The language is different, even English, ne'r mind a wee bitty Scots leid, certainly not Gàidhlig, ceart gu leòr.
I'm taken back to 1985 and my first move to Germany.
They have their ways, their manners and their languages. Once you understand a bit then it is OK.
A lot of their words are the same: Ken, kirk, coo, even tassie.
I quite liked the Germans. Their food was good, the place clean and efficient.
I know I'm European but certainly not German, even if Ich kounn etwas Detch sprechen.
All that applies to England, except I would be more tempted by a life in Hamelin than Hereford.
Scotland is different, it's where I belong, where I love being.
Where I can speak in English, Scots or Gaelic, according to my company.
Where one conversation can flow between them, effortlessly.
Or I speak one dialect of leid to yin, and Doric tae the ithir. Acht the delight o' a buttery or rowie, tae trip aff the tongue.
We ken fine Scotland is different to England, Wales or the six counties. So do they.
The proof that 300 years have not homogenised the UK is evident in the numbers moving north from England.
The Europeans wishing to stay tell more of our worth. And their homelands would have us back in a trice.
It is time the experiment that was the UK ended and Scotland and England kept their unique qualities.
Ye can mix oil wi watter, but afore lang it pairts.
Brian Kelly.
16 Iona Road,
Dunfermline.
Police Scotland a total shambles
Sir, – Anyone with even a passing interest in police matters will have long ago reached the conclusion that Police Scotland is an unmitigated shambles.
It was created in an unseemly rush with no thought, or time, given to working out the practicalities of merging eight different forces in to one national force.
As a result it, and the scrutinising body, have stumbled from crisis to crisis, destroying public confidence in policing along the way.
In addition the beat bobby has become extinct.
There is now more chance of meeting a martian than a patrolling police officer in the East Neuk, where police numbers have been reduced to even less than the levels that pertained in the mid '70s.
We now have the chief constable telling the Scottish Government that if things continue as they are, the force will have to shed 750 of the much vaunted 1,000 extra officers.
There are obvious risks both to police officers and the public if that reduction in numbers becomes a reality.
No wonder morale among frontline officers is at rock bottom.
It is time for the justice minister to abandon the photo opportunities and sound bites that take up much of his time, and start to fight his corner to ensure that policing in Scotland is adequately funded.
If there is no increase in funding forthcoming in the next Scottish budget, my prediction is the present crisis will spiral out of control and Police Scotland will implode.
George Thomson.
44 Viewforth Place,
Pittenweem.
Right to sack Claire O'Neill
Sir, – Quite rightly Boris Johnson has sacked Claire O'Neill, the president of the COP26 event, for taking her eye off the ball by allowing the SNP to commandeer the Glasgow Science Centre and put themselves into the middle of the November climate summit.
The same thing happened in the run-up to the 2014 referendum, when the SNP took out advertising space on all the strategically-sited billboards across the country.
Nicola Sturgeon and the SNP are only there for their own agenda – Scottish independence.
Claire O'Neill's plea to Mr Johnson to "consider resetting" his relationship with the SNP leader was, I believe, more to do with O'Neill trying to keep her job after making a woeful mistake and consequently allowing Ms Sturgeon to dance rings round her inept performance.
Allan Thompson.
56 Station Road,
Bearsden, Glasgow.
Who to trust on climate change
Sir, – In response to Dr John Cameron's letter ("COP26 and expectations", Letters, February 5) on potential 'Boris Bashing' at COP26, it hardly needs repetition, but our Boris "bashes" himself, at almost a Trumpian level.
Indeed the good doctor Cameron exposes himself to ridicule, in that 97% of climatologists (scientists that know what they are talking about) have told us, you and me, that we need to change our lifestyles.
It appears only the youngsters are paying attention, and understandably so, as they are the ones that will inherit our Earth. However, it is contaminated.
The readers of this and other paper-based news media will most probably not be affected in a big way by the predicted future climate conditions, as we could be fertilising daisies before terminal issues could affect us.
If Dr Cameron happens to be one of the 3% of climatologists that don't believe in climate change, I would like him to explain why, perhaps as a response.
If you (the reader) were a betting person and had to bet your life on something, headed up by current leaders, would you trust Messrs Johnson or Gove or Raab, or Ms Patel or Mr Javid?
Or would you trust David Attenborough, GretaThunberg or Nicola Sturgeon?
Alistair Ballantyne.
10 Hillpark Drive,
Dundee.
Decarbonising may be a waste
Sir, – Though your Leader column ("Climate emergency mired in politics", February 5) restates presently received opinions on a "climate catastrophe," very urgently demanding action – decarbonisation – that could be all wrong.
Dr John Cameron's letter ("COP26 and expectations", Letters, February 5) rightly questions the present policies.
Vital questions need answering before the UK, including Scotland, finally commits huge resources, and accepts very painful consequences, in what could still result in a likely failure to offset local and global climate change.
It is worth noting our UK greenhouse gas outputs are negligible, estimated at less than 1% of the world's total emissions.
So how could we help the situation by decarbonising?
The great bulk of CO2 emissions are produced by those nations not committed to curbing greenhouse gases – to name the USA, China, India and many more countries besides.
Also, can we be really sure that naturally occurring climate changes, resistant to our efforts, are the basis of a suspected climate emergency?
Is it justified to deprive our vital expenditures on health and welfare, education, infrastructure and defence in aid of futile "green tokenism"?
It is worth mentioning that the costs of decarbonising are in the trillions of pounds.
Dr Charles Wardrop.
111 Viewlands Road West,
Perth.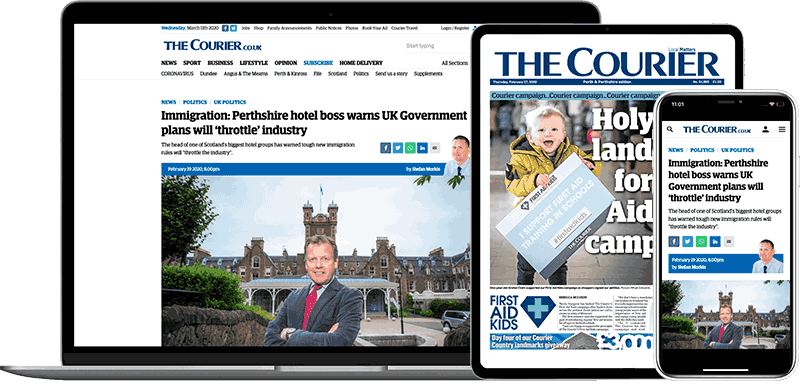 Help support quality local journalism … become a digital subscriber to The Courier
For as little as £5.99 a month you can access all of our content, including Premium articles.
Subscribe