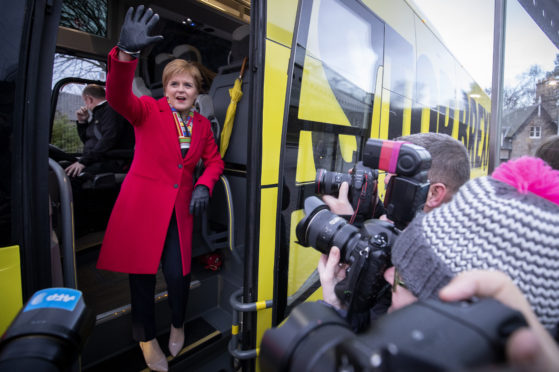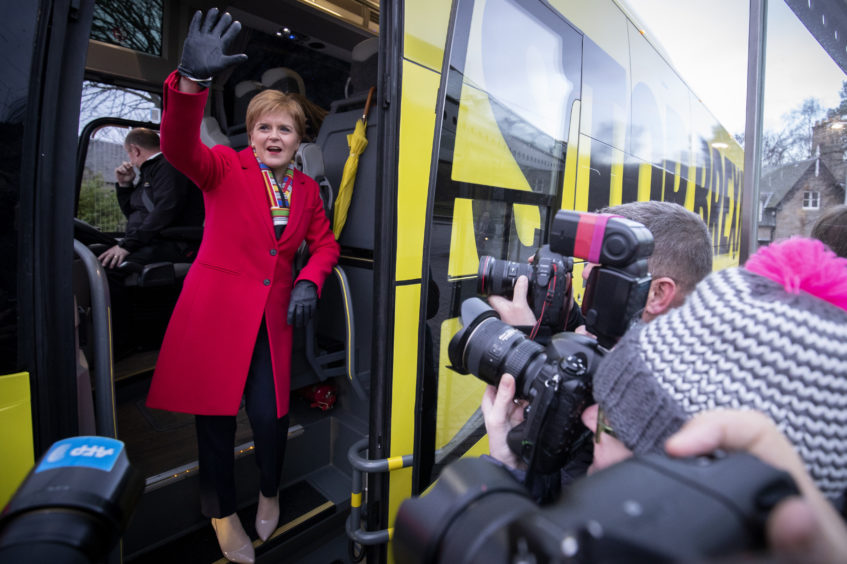 Sir, – I wish to respond to the letter by Neil Bryce (Nation must cast off blinkers, Courier, March 2).
It is rather pompous and undemocratic to suggest the Scottish electorate are blinkered when it comes to exercising their right to vote.
In December 2019 they supported an SNP landslide where 47 Westminster seats went to the party.
Thirteen years of SNP government is not a flash in the pan, but the express will of the voters of Scotland.
Ample opportunity for the people to see through "the Teflon" has been made available for the opposition to make their case.
You cannot blame "first past the post" for delivering 80% of Westminster seats and 45% of the vote and somehow suggest that this is disproportionate.
As I am sure Mr Bryce is aware, the Tories got 43% of the vote and achieved an 80-seat majority nationally.
How disproportionate is that?
In the same vein this means the Tories have no mandate for Brexit as 57% of the vote was for the Remain parties.
Sadly this is the political system that has to be worked with by all, including the SNP.
Holyrood is of course a different matter.
I cannot agree that we Scots have to accept a London-based Tory party running the show in Scotland when it has six seats and has never enjoyed a majority in Scotland since the middle of the last century.
Finally, reference to Tory policies for Scotland would have been more appropriate and welcomed.
However, criticism of the SNP and first minister for its own sake is something I now come to expect.
Dan Wood.
1 Charles Melvin Gardens,
Kirriemuir.
Wide of mark on SNP's record
Sir, – Neil Bryce makes a number of derogatory assertions about the performance of Nicola Sturgeon and her administration but offers no supporting evidence.
If he bothered to check he would discover that – although no one is claiming it is anywhere near perfect – Scotland's NHS generally outperforms its English and Welsh equivalents.
One of the most important NHS benchmarks is how quickly A&E patients are seen.
In the 12 months to December 2019, 80% of A&E patients in Scotland were seen within four hours compared with under 70% for the rest of the UK.
With regard to education, the most recent statistics for the 12 months ending September 2019 show that Scotland's unemployment rate for young people in the 16-24 age group was 9.1% compared with the UK's 11.4%.
This would suggest that the "dangerous slide in education standards" Mr Bryce talks about cannot be that bad if there are fewer young people unemployed north of the border than in the UK as a whole.
There has also been a substantial fall in the Scottish crime rate.
In 2007-2008, when the first SNP administration was elected, the number of crimes recorded per 1,000 of the population was 83.
By 2018-19 the figure was 45 so perhaps Nicola Sturgeon and her government are doing something right.
Alan Woodcock.
23 Osborne Place,
Dundee.
Political point scoring in Fife
Sir, – Craig Smith was right to highlight the political point scoring at last Thursday's Fife Council budget meeting, where the council's co-leaders proposed and seconded their joint budget proposal (Yes, council budgets are still being used to score political points, Courier, March 2).
Each was greeted with applause from their own party and stony silence from their coalition partners.
Craig was also right to say the Conservatives proposed their alternative, safe in the knowledge that it would be voted down.
However, he failed to mention the essential role the Conservatives play in giving SNP and Labour something to agree about.
They have precious little else.
Part of the surreal session stems from the odd way that the council decides its budget.
Councillors can't vote for or against part of it.
All they can do is vote for one or other complete package.
It's Budget A v Budget B v Budget C, each drawn up in isolation and unveiled late in the process.
Craig was also right to comment on the extra money that's coming from the Scottish Government, now the SNP have done their annual deal with the Greens.
Just enough to get the total back to where it was last year.
Everyone knew it was coming but the rules meant we had to balance the books without it.
It'll go back in later, once the official letter arrives.
The Conservatives were forward looking enough to say what they would do with it, including trimming back the increase in council tax.
We wait now for SNP and Labour to agree on their alternative but the smart money is on the council tax staying where it is.
It's almost unique in being an increase from last year.
Dave Dempsey.
Councillor for North Queensferry,
Inverkeithing,
Dalgety Bay and Aberdour,
Leader of the Opposition,
Fife Council.
Cherry picking up new role
Sir, – So Michael Russell, SNP Cabinet Secretary for the Constitution, Europe and External Affairs is to step down at the 2021 election, meaning Joanna Cherry now has both a Holyrood seat and a role she can claim she's aiming for en route to being first minister.
Lucky for her, unlucky for us.
Martin Redfern.
Woodcroft Road,
Edinburgh.
Decisions on 'departing vale'
Sir, – I refer to the Rev Dr Cameron's letter (Allow nature's merciful release, Courier, March 2), in which he stated that modern medicine is getting in the way of nature's merciful release – a view with which I must express my full agreement.
Society is made up of individuals, each of whom has every right when to depart this particular vale.
Not only those who suffer from a terminal illness and are suffering pain.
There are other circumstances and conditions, seemingly beyond the comprehension of certain political and medical factions, when an individual may decide to "call it a day".
What part has religion, or that of non-religion, to play in such matters?
Kenneth Miln.
6 Swallow Apts,
Union Street,
Monifieth.
Radioactive waste in Clyde
Sir, – I wonder how many people are aware that Sepa has received an application to approve radioactive waste disposal from the Ministry of Defence in the Clyde and that the increase in radioactive waste dumping will be up to 50 times more than previous levels.
I will not, for now, discuss how this is another example of the staggering contempt shown for Scotland, its people and the environment as I cannot believe your readers, of whatever political stripe, would be happy with this further poisoning of our waters with radioactive waste.
Jane Phillips.
14 Yewbank Avenue,
Broughty Ferry,
Dundee.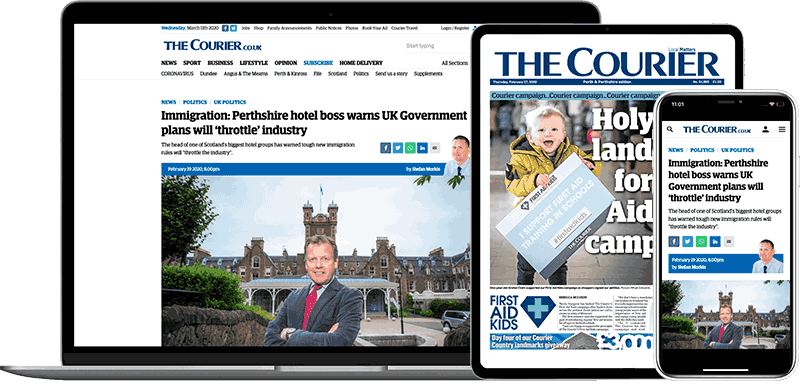 Help support quality local journalism … become a digital subscriber to The Courier
For as little as £5.99 a month you can access all of our content, including Premium articles.
Subscribe