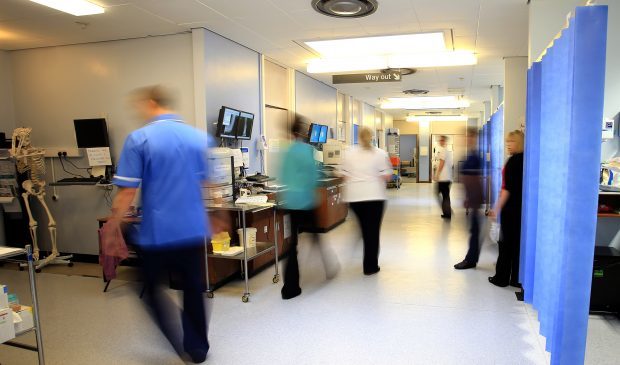 Sir, – Despite Boris Johnson's assurances, we know that vital protective gear is not reaching the health workers. Some gear that is arriving is years out of date.
I have seen reports that the wrong level of protective gear is to be supplied and there is a massive shortage of testing equipment.
The NHS has a pathetic level of necessary respirators compared to other developed countries.
I have heard some people claim that Johnson is doing a good job. Certainly if Churchillian words were backed up by actions there would be no issue but fine words are not providing hospitals and health workers with the supplies they need and certainly not quickly enough. It has to be remembered that for decades now all opposition parties have complained of the fact that the Conservative Party is systematically running down the NHS.
For the last decade Boris Johnson has been a key member of his party and must share responsibility for the inadequacies.
Some people will say that now is not the time to indulge in political point scoring. I say that is not what I am doing and that pointing out the facts is never wrong.
My last point is directly aimed at all the Brexiteers who want to stop migrants coming to our country.
Where would we be now if not for all the foreign doctors, nurses, hospital cleaners and others who are doing such amazing work to care for us all while we get through this horrible time?
Harry Key.
20 Mid Street,
Largoward.
Hate to see incompetent
Sir, – Boris Johnson's response to the Covid-19 Pandemic has been worse than could have been predicted.
He knew the coronavirus was coming. The warnings from China were stark.
Johnson could have mobilised. He could have ensured the NHS was well stocked with ventilators and PPE equipment such as proper surgical masks and he could have followed WHO advice to test the population. He could have brought in a lockdown much earlier.
He did none of these things. Instead Johnson and Dominic Cummings dithered.
Johnson followed the highly dubious "herd immunity" approach.
This approach would have let a virus with no known cure, and therefore no natural immunity, rampage through the population.
When Johnson did finally speak to lock the country down his message was confused and garbled. It was unclear who was an "essential worker".
The situation today is that NHS surgeons and consultants in England are having to buy DIY masks from chains such as B&Q.
Established firms who actually make ventilators have been sidelined.
Instead James Dyson – despite having no experience of making ventilators – has been commissioned to make them from scratch within a few weeks.
The EU have a scheme to bulk buy ventilators. Yet Boris Johnson withdrew from it.
Some British unionists laughably claim the Tories' useless coronavirus response "proves" that Scotland can't be independent.
If this is their idea of competent I would hate to see what they imagine a disaster would be.
Alan Hinnrichs.
2 Gillespie Terrace,
Dundee.
Indy Scotland's weak economy
Sir, – There is no positive side to the current crisis other than the fact that it has killed Scottish independence stone dead.
It has exposed, more clearly than any previous event, the inability of a standalone Scottish economy to weather such a national emergency.
The frailty of our economy was, of course, obvious long before this.
In 2008, the RBS needed over £45 billion of taxpayers' money to bale it out – an exercise that was hugely beyond Holyrood's resources.
In 2014, Salmond and Sturgeon were predicting an independent paradise where spending would be more, borrowing less and taxes unchanged, all on the back of oil at more than $100 a barrel.
Their predictions were £30 billion wide of the mark. In the face of a borrowing bill rising to a staggering number of trillions there are, amazingly, still SNP zealots who contend that an independent Scotland could handle this.
One of these is Ken Clark who wrote words to the effect that if Norway can do it so can Scotland. Nonsense.
Since 1990, Norway has been building up an oil fund which now has a value in excess of $1 trillion.
The fund owns 1.4% of global stocks and shares.
The UK has no such fund and it is no use bleating about what should have happened. We are where we are.
An independent Scotland would also be starting with a fiscal deficit which would be the highest of any country in Europe and with no credibility as a country worth lending to.
Denis Munro.
Beaumont House,
St John's Place,
Perth.
Political party's life shortened
Sir, – In 1752, when the calendar changed from Julian to Gregorian, there were riots when 11 days were taken from the month of September to bring the system of leap years into a more exact timing with the seasons on Earth.
Many people complained that their lives had been shortened.
I suspect that in Scotland today there is a political party which might adopt a similar position.
A A Bullions.
6 Glencairn Crescent,
Leven.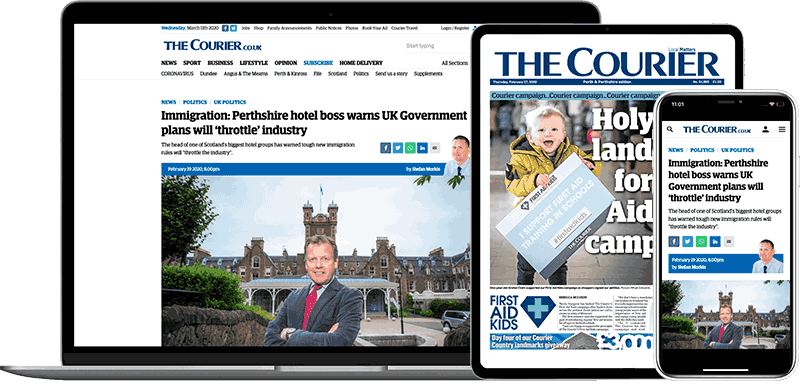 Support The Courier today.
The Courier is committed to delivering quality content to our communities and right now that's more important than ever, which is why our key content is free. However you can support us and access premium content by subscribing to The Courier from just £5.99 a month. Because Local Matters.
Subscribe