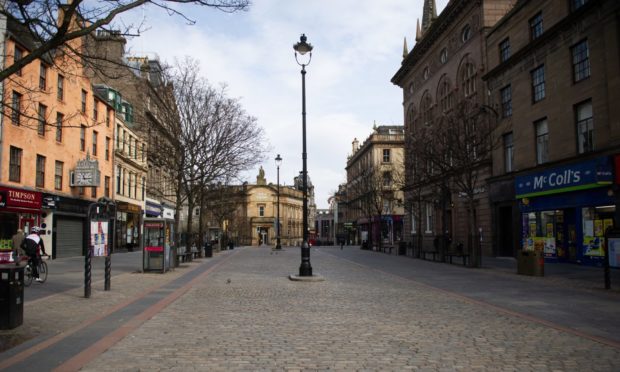 Sir, – Dominic Raab's press conference in which he revealed the five conditions for easing the lockdown was revealing, horribly so, although certainly not in the way intended.
The crux of the matter was the fifth condition: being confident any adjustments would not risk a second peak.
This is not actually achievable in the next few months.
To be confident that there won't be a further peak, requires the population to have herd immunity.
This can be achieved naturally by the virus spreading, however, with a lockdown and social distancing this could take years.
Alternatively, it can be achieved artificially by mass vaccination, if and when a vaccine becomes available.
A lockdown until this condition is met will not simply damage but destroy our economy and lead to far greater loss of life than the worse case scenario for Covid-19.
I have to conclude that the fifth condition is either bogus, or the key decision makers in this crisis are out of their depth.
Otto Inglis.
Ansonhill,
Crossgates.
Union is holding Scotland back
Sir, – Douglas Cowe (Scotland could not cope alone, Courier, April 18) states that an independent Scotland would have been incapable of managing the cost of the coronavirus experience, "without massive financial aid".
As is usual with these unionist offerings, not a shred of evidence is offered to support his claim, so perhaps he might like to consider that, with but 8% of the UK's population, Scotland has 32% of the UK's land mass and 62% of its offshore maritime area.
We have 60% of its timber production, 26% of its renewable energy generation, including 90% of its hydro generation. Scotland has 70% of the UK's fish landings, 100% of the whisky production, over 60% of the natural gas production and 90% of the UK's fresh water.
What we don't have is the 40% of our taxes that is taken by the UK Government for spending on things such as HS2, London's Crossrail, the Hinkley Point nuclear power station and Trident and a gigantic military, none of which will benefit an independent Scotland.
Mr Cowe should observe that all of the small, northern European countries are faring much better than the UK in every respect, many without Scotland's benefits of natural resources.
There is no reason why an independent Scotland should not be the same.
Only the toxic union is holding us back.
Tony Perridge.
29 Attadale Road,
Inverness.
Devolution is not working
Sir, – I refer to Alex Bell's column (Boris avoids a sticky wicket, Courier, April 16) in which he launches a personal vilification of the prime minister, in connection with Covid-19 and the government response.
It's a bit rich that Mr Bell makes no reference to the fact that health and the NHS is devolved, but no criticism whatever of the failure of Holyrood to predict the Covid-19 impact on Scotland, or lack of preparation to manage the outcomes.
It is only today that we are seeing statistics for care home deaths in Scotland, for example.
Possibly much of the problem has been caused by the lack of cohesion caused by devolution.
We had a sensible structure in Scotland, consisting of the Scottish Office, allied to powers granted to councils to manage community welfare.
That has been swept away and now we have increased centralisation of the essential management functions in our society, transferred progressively to Holyrood and with management failures blamed on everyone except the MSPs.
It is a dispiriting ongoing spectacle.
Why is this political innovation of devolved assembly so much better than what went before?
I am still waiting for some objectively informed persons to tell us all why the spend on Holyrood cannot be better used to return to the previous system and more useful investment in our public services.
Derek Farmer.
Knightsward Farm,
Anstruther.
Hope care cash reaches cause
Sir, – Is it not possible to provide a total of deaths then record just how many of theses are directly attributable to Covid-19?
Many figures give the impression that people are only dying from the virus.
It would be interesting to see the differences from what might be considered the norm.
Numerous dedicated individuals are donating and encouraging the raising of money to assist both carers and victims of the pandemic.
Hopefully these proceeds will reach the intended destination but I wonder if that will be the case. Money has the habit of diverting.
Ken Cameron.
11 St Michaels Drive,
Cupar.
Feeling sorry for gulls in the city
Sir, – I'm no fan of seagulls, indeed since I moved to Perth city centre last year, I can be heard haranguing them daily. They are noisy, dirty, belligerent and nothing short of pests in a town centre.
However, since the lockdown, gulls appear to be starving.
No one on the streets or in the parks means no litter, no leftover food thrown away, no overflowing litter bins for them to scavenge in.
I now feel quite sorry for them!
Sheena Leszke.
Carpenter Court,
Kinnoull Street,
Perth.