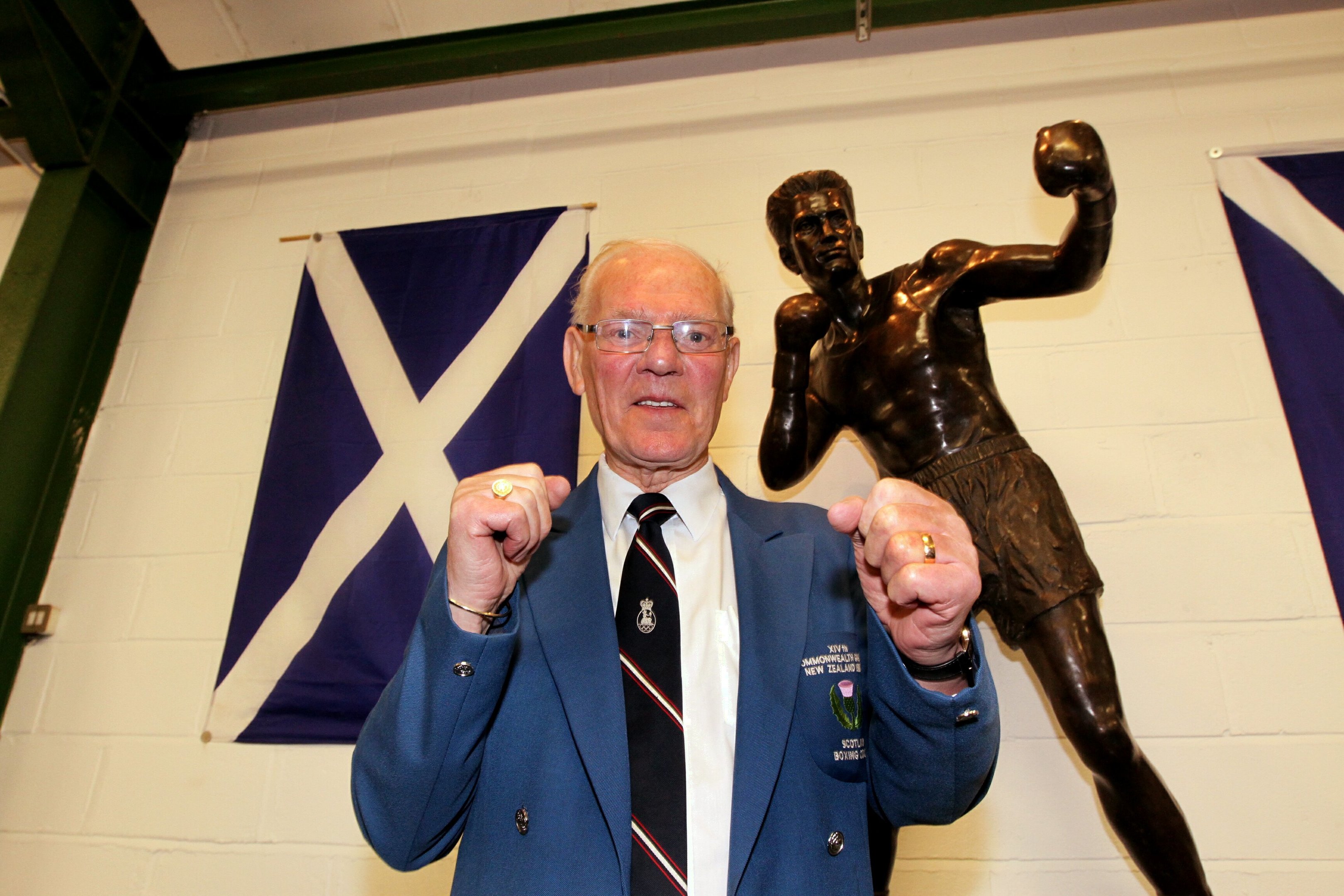 Sir, – On reading the Courier Supplement on VE Day, I came across the contribution from Dick McTaggart relating his thoughts on his childhood memories of the celebrations while at the family home of 73 Dens Road.
Being some 10 years younger than Dick, I was not around for VE day, but I well remember the celebrations for his homecoming after his boxing gold medal win at the 1956 Melbourne Olympics.
I was raised three 'closies' down and recall the bunting around his house and crowds there to cheer him as he sat on top of an open convertible sports car.
Incredibly the Val Barker trophy he won for the most stylish boxer was displayed in a front window of his house.
Hundreds of workers passed by every day on their way to the jute mills, no security in those days.
In stark contrast to the thuggery of today's heavyweight boxing, Dick was an exponent of the noble art of self- defence, unrivalled throughout the world at the time of his Olympic victory.
He was a gentleman both inside and outside the ring and a great ambassador for the city of Dundee.
I have always wondered why a 'blue plaque' has never been installed on the wall of his childhood address.
The building has recently been upgraded as part of the council insulation works and looks in pristine condition.
Surely now is the time to add such a tribute to the old family home at 73 Dens Road in honour of the man who was, without doubt, Dundee's greatest ever sportsman.
Ronald Oliver.
4 Lethnot Street,
Dundee.
Four nations to follow the rules
Sir, – Having seen the news presented by the prime minister and the first minister, I see big trouble ahead.
Why leave the lock-step, why not follow the same rules everywhere?
These differences in action between Scotland and England will create chaos in the Borders.
Which rules do people in the Borders have to follow?
Being fined in one part of the UK for what is allowed in the other.
How about people living in Scotland and working in England or the other way around?
Lockdown was done together by all nations at the same time, on the same day.
And now this?
It creates trouble for loads of companies, employers and employees, farmers etc.
I can only hope and pray that the police will show some leniency in the Borders region.
It would not be fair to fine people that are trying to follow rules given by both sides.
It has been made so complicated.
This could have been avoided if the four nations had followed the same rules from start to finish.
Mrs Maaike Cook.
Cash Feus,
Strathmiglo.
Stay home has already ended
Sir, – It looks like Ms Sturgeon will get her long awaited chance to diverge from UK guidance on Covid. The UK Government say we need now only to stay alert.
However here in Scotland we still need to stay at home. Here in Scotland we do things properly you see.
What a joke. Stay at home, if you go out for your daily exercise you could be mistaken for thinking you've walked into the middle of the Tour de France. You walk on to the next street and you are suddenly walking through the London Marathon. Turn the corner it's like you've signed up for the Kilt Walk.
It's great to see so many people out exercising.
However we are told we will be treated as adults on the Covid advice.
Stay at home finished weeks ago, so is there any need to argue over a slogan that is now redundant because the public said so.
Steven Lyall.
24 Wyvis Road,
Dundee.
Stick to Covid safety plans
Sir, – Regards Mr Lawrenson's commentary on the two metre social distance rule (Two metre rule based on 1930s modelling, Courier, May 11), correctly describes research in 2016 by an eminent scientist in MiT (Massachusetts Institute of Technology).
The results achieved using super high speed camera, proved that the aerosols of a sneeze or cough could travel up to eight metres.
With wind assistance aerosols can travel significantly further, according to one website.
The larger particles produced in a cough or sneeze fell within two to three metres in still air.
I wish to point out however, that the tests reported at MiT were performed in still air with the subject not having a protective mask.
Subsequent tests have been performed with the subject using a mask and the distance travelled is reduced significantly, in still air.
To reiterate the medical best practice.
If you have Covid symptoms – stay at home.
If you have a cough or sneeze like a common cold, but not Covid, wear a face covering' when out, to protect others from you.
I see that for the last few days, there are a lot of comments in media, seemingly seeking to poke holes in these Covid safety rules,
I wonder to what purpose.
Is it helpful?
Alistair Ballantyne.
Birkhill,
Angus.
Message is a threat to health
Sir, – The Scottish Government's ongoing, dogmatic "stay at home" message poses a threat to people's health.
Quite apart from the mental damage involved, we need sunshine so our skin can generate vitamin D3, and we know from building biology that in the average home, the volatile chemicals exuded by carpets, furniture etcetera mean the air is at least as bad as on a moderately polluted street.
With every day of this excessive lockdown, Scottish businesses will be planning for the worst case: Winding up.
That will erode the tax base on which the NHS depends.
George Morton.
29 Hudson Road,
Rosyth.
Business doing its bit for fight
Sir, – As a recent retiree to Forfar, I am in no way penning this letter as a local, but a very proud resident nonetheless.
A local business is doing its bit for NHS care givers by producing enough base material to produce one million non-sterile gowns for them.
In the coming weeks, Don & Low will pass on the material to companies with bases in Glenrothes and Wigan, England.
This success story is an excellent example of a local firm diversifying and producing exactly what is needed.
Are we there yet? Maybe not.
But if we can all turn our hands in this way, we can all do a wee bit to help in this awful situation which is exacting havoc on us.
We read about the human kindness shown to those most vulnerable amongst us.
This must include people making things which are way out of their usual product area.
Volunteers making a difference to others' lives by just being there for them in so many ways.
And local shops pulling out the stops to serve us, refuse collectors, posties, delivery personnel and so many others – not forgetting the NHS and all who work for this wonderful service.
We should be proud to add a local business to that list.
Our thanks to Don & Low for their efforts.
Linda Clark.
16 Inchgarth Street,
Forfar.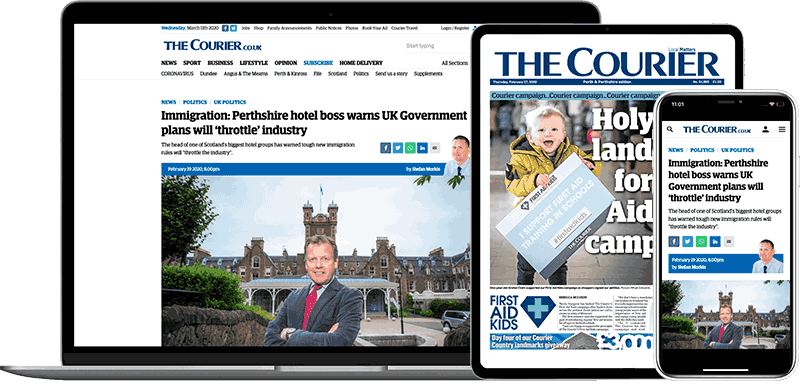 Support The Courier today.
The Courier is committed to delivering quality content to our communities and right now that's more important than ever — which is why our key content is free. However, you can support us and access premium content by subscribing to The Courier from just £5.99 a month. Because Local Matters.
Subscribe