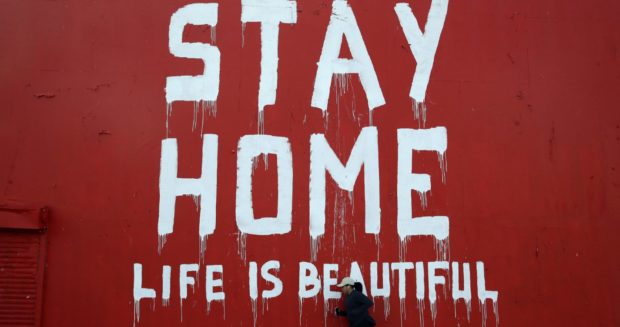 Sir, – We have learned in the last few days that even at a time of national crisis the four countries of the UK can pull apart and there is seemingly very little anyone can do about it.
Up to now, the public response to the coronavirus has been disciplined, resolute and impressive.
The measures taken seemed to be working, but at the moment of maximum danger, the consensus has fallen apart.
Most commentators acknowledge that going into lockdown will be much easier than coming out of it.
We can see now this is true, and then some.
But the claims by many that the messages are now confused are difficult to fathom.
It is not the general public who are screaming they are confused, but a whole range of political activists, commentators and opposition politicians.
Anyone who has witnessed the social media storm of the past few days will be concerned about the general levels of stupidity apparent among our political commentators.
They need to understand this.
There is no simple soundbite available for gradually relaxing the current lockdown, getting different people in different geographic locations, occupations and risk categories to do different things at different speeds according to their individual circumstances.
No spin doctor could come up with such a slogan. But this is what is required of us.
It will be apparent to anyone paying attention that people have already started to break out.
We see it in public spaces in England, but it is also happening in rural areas of Scotland like Highland Perthshire where we suddenly have the queues again at local supermarkets from people arriving from out of town. The reality is that people are rebelling, and we need to recognise that and release a bit of pressure.
I feel that replacing "Stay at Home" with something along the lines of "Be careful when you are out" is entirely appropriate.
I would agree that "Stay alert" does not convey the message we need, but just when I was thinking the first minister might be right about this, she informs us that we should "remain vigilant". This is the politics of hair splitting and small differences.
When this is all over, constitutional reform within the United Kingdom is inevitable.
There needs to be restraint on power at all levels, because if this can happen in regards to health, then we could see similar confusion in many other areas as well.
The reality at present is that Scotland, England, Wales and Northern Ireland have areas of high incidence of the virus, and huge areas where it is barely present at all. The situation is the same only different for everyone.
Victor Clements.
Mamie's Cottage,
Aberfeldy.
Now is not the time for greetin'
Sir, – Yet again we see the same letters from the same cabal of greetin' faced unionists who blame Nicola Sturgeon and the near 50% of Scots who voted for her party for everything from the great extinction to the current Covid-19 crisis.
They just can't help themselves and find fault in everything.
The whole world is trying to overcome this dreadful virus and all some can do is throw up statistics or see everything in the terms of British unionist versus Scottish independence.
We are all hurting with this virus – some more than others – through loss of loved ones.
So stop the constant moaning and put your effort into positive action. The time for your greetin' can come after we are all out of it.
Bryan Auchterlonie.
Bluebell Cottage,
Perth.
Power to put the bins out is mine
Sir, – I was pleased to see ( The Courier, May 8, page 11) that two Tory and an independent supporter were making a big play of demanding that Angus Council should put together a Covid-19 taskforce to plan for economic recovery after the lockdown.
They are part of the council's ruling group. So to whom are they demanding?
Themselves?
They could simply implement such a taskforce because they have the power to do so.
It is rather like sharing a "to do" list. Interesting and important to them. But of little relevance to the rest of us.
I have a "post it" on my fridge door as a reminder to me to put the bins out.
This is a demand for action for me, not anyone else.
After all, I have the power to put my own bins out.
Brian Batson.
7 Lour Road,
Forfar.
Forecasts with a big pinch of salt
Sir, – "Forecasting-prediction is very difficult, especially if it's about the future", said Nils Bohr, the father of the atomic model.
That ironic truism applies especially to computer models, where "Garbage-In-Garbage-Out" bedevils so many forecasts, as John Cameron rightly notes (Courier letters, May 9).
Short-term weather forecasting and climate alarmists' dire, confident warnings have proved very often in error. Nor, it seems, do these "experts" apologise, even for crass failures
The lesson is that we and politicians should take predictions with a large pinch of salt, especially when much is at stake.
That applies to short, long term and the very long term weather and climate forecasts, where those in charge have so often proved wrong, seemingly without learning from the errors.
Huge money and resources are very often at stake.
Therefore, we can and must not confidently depend on computer models' forecasts re, for example, politics, economics, Covid-19 and like pandemics and, especially, "climate chaos", where alarmist statements could scare us all.
In all these and other critical areas, different experts' conclusions inferred from models always differ hugely.
Intellectual humility and a big pinch of salt are vital for reliable, honest analysis and prediction by scientists and politicians.
Charles Wardrop.
111 Viewlands Rd West,
Perth.
Declare climate emergency
Sir, – I was pleased to read in recent issues of the Courier of Mike Robinson's ambitions to make Perth Europe's most sustainable small city.
This ambition has been backed by Bo Asmis Kjeldgaard, an ex-mayor of Copenhagen.
But these ambitions are due to the climate emergency.
I took part in last year's walking/cycling ride which started off opposite the Bike Station and ended up at Perth and Kinross Council headquarters on the High Street.
I was presented with a letter from the current provost by Councillor Willie Wilson.
I had been asked to forward a letter demanding that PKC declare a climate emergency from the march's organisers to Provost Melloy.
Unfortunately the protesters demands were not met.
Scotland's Climate Challenge Declaration has been signed by the Scottish Government and many Scottish councils but PKC declined.
I fear that any sustainable vision for Perth will not advance very quickly when the current administration won't declare that there is a climate emergency and the opposition is not trying to get them to sign the declaration.
Elspeth Maclachlan.
122 Dunsinane Drive,
Letham, Perth.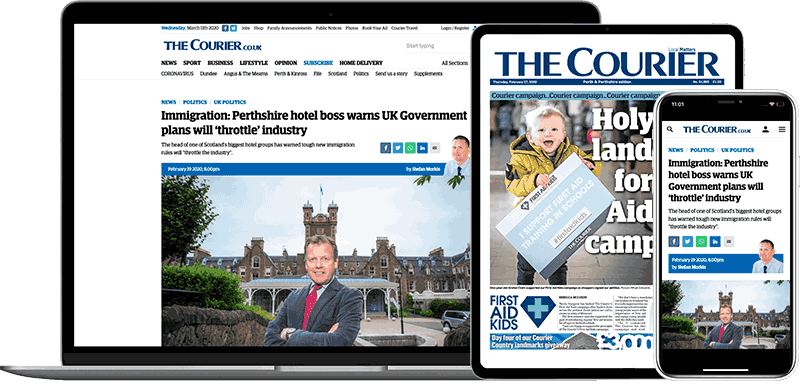 Support The Courier today.
The Courier is committed to delivering quality content to our communities and right now that's more important than ever — which is why our key content is free. However, you can support us and access premium content by subscribing to The Courier from just £5.99 a month. Because Local Matters.
Subscribe